'Pawn Stars' expert says Jackie Robinson contract is authentic
September 10, 2017 - 6:25 pm
Updated September 11, 2017 - 9:25 am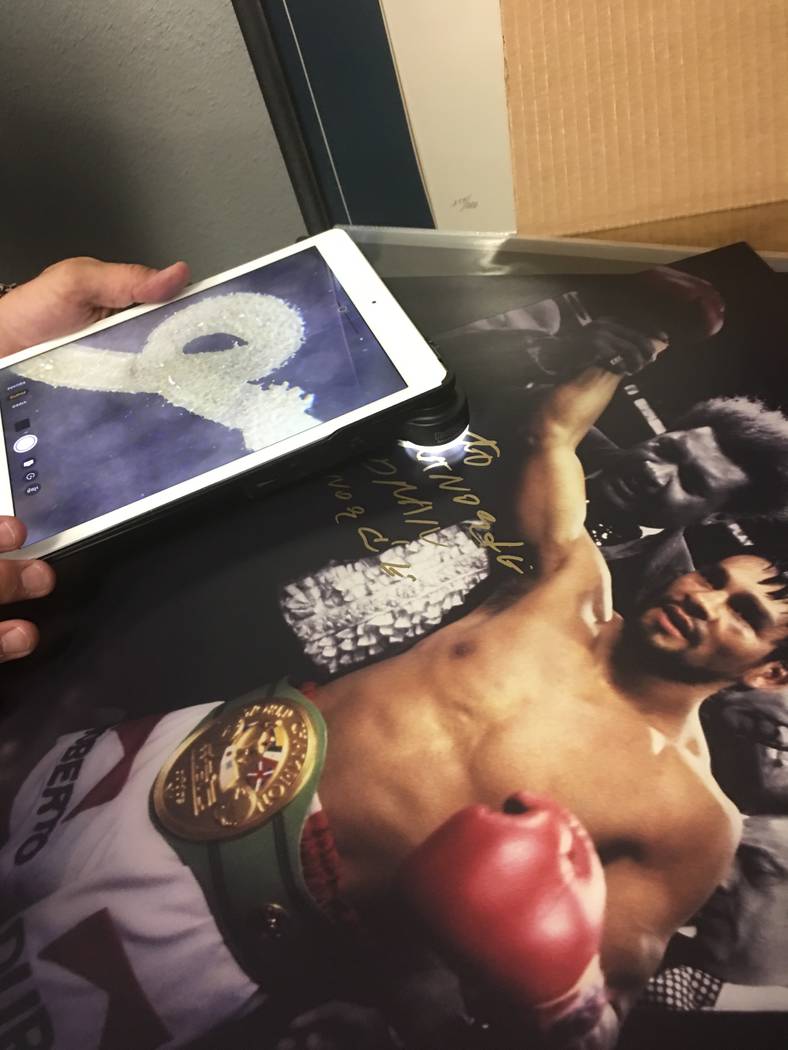 "Pawn Stars" is the link between Las Vegas and the most relevant baseball document in history.
The show's signature-authentication expert, Beckett Authentication Services' Steve Grad, has verified the signatures on the first contract Jackie Robinson signed with the Brooklyn Dodgers in 1947. Grad has also verified the signatures on Robinson's first contract with the Dodgers to play for its top minor-league affiliate, the Montreal Royals, in 1945.
Those documents were appraised at $36 million in 2015. They're being auctioned online in October (specific date not yet announced) by Goldin Auctions, with the Jackie Robinson Foundation's approval. The auction closes Nov. 16. The contracts would be among the most valuable ever sold if they fetch the appraised value.
The Robinson documents are historically significant and extraordinarily rare: Just three contracts were signed by Robinson, Major League Baseball Commissioner Ford Frick and Dodgers General Manager Branch Rickey. One contract went to the Dodgers, another to the league office. Those two have vanished.
The lone copy is held by the auction consignor, Collectors Cafe, which purchased the document in 2013 for an undisclosed sum. Robinson held the contracts originally, but they were purchased by the Brooklyn Historical Society. An anonymous financier then purchased the documents and Collectors Cafe made its purchase four years ago.
Grad reviewed and authenticated the signatures a few weeks ago at what he described as a "lockdown facility" in New York City.
"You look at these documents and they are really part of history," Grad said Saturday in a back office at Gold & Silver Pawn. "It's just amazing that this contract is the only one to have survived."
Grad has been featured on "Pawn Stars" since 2013, appearing on 96 episodes entering the series' 15th season, which is filming at the store at Pawn Plaza. He uses a nifty device, a Proscope Mobile that attaches to an iPad, to view detailed images of autographs.
The idiosyncrasies, style, texture and pressure applied an autograph usually indicate whether a subject signed a piece. Grad has noted inconsistencies in such signatures as Joe DiMaggio (a frequent forgery) and Roberto Clemente (who often assigned clubhouse employees to sign memorabilia under his name).
Grad doesn't always break hearts. He reviewed an authentic piece of history brought into Gold & Silver years ago expressly to have it on the TV show: The Beatles' first management contract with Brian Epstein, signed by all parties in 1962.
"They didn't want me touching it, or handling it, at all," Grad said. "I can understand why. That is real history."
The Space is jazzed
Las Vegas jazz fans now have a weekly hang with top local artists. The Space announced a Tuesday night series that starts at 9 p.m. Oct. 3 with John Abraham & Old Skool Kool. Oct. 10 it's Michelle Johnson, followed by Charles McNeil on Oct. 17, Pepe Jimenez & Groove Culture on Oct. 24, Uli Geissendoerfer on Nov. 7, Ronnie Foster Trio on Nov. 14, Naomi Mauro on Nov. 21, Glasses on Nov. 28 and Jonathan Karrant on Dec. 5.
The series features the city's top jazz performers. Johnson is established as the city's "First Lady of Jazz" and is also headlining at Myron's Cabaret Jazz at 8 p.m. Friday with "Tapestry Unraveled," her tribute to Carole King. Sax great McNeil has backed Boz Scaggs and Lyle Lovett. Jimenez, the drummer for Santa Fe & The Fat City Horns, toured and recorded with Carlos Santana from 2013-15. Foster, a famed soul-jazz organist, has backed George Benson and appeared on Stevie Wonder's landmark 1976 album "Songs in the Key of Life." Keyboard master Geissendoerfer directs the UNLV Latin Jazz Ensemble and was music director on "Viva Elvis" at Aria.
Cover for these shows is just $10, a value in the "ridiculous" range.
More skating action
We're going to have to open a separate Kats! Bureau just to keep up with Billy and Emily England.
Fresh off their dazzling appearances on "America's Got Talent," the sibling skaters are to appear at 3 p.m. Tuesday on "The Ellen DeGeneres Show" on KVVU-TV, Channel 5. DeGeneres is also featuring "Magic Mike Live" on her show Friday.
Good placement
Imagine Dragons' "Believer" is played when Fox returns from a commercial break in its NFL coverage. As in, Russell Wilson is sacked by Clay Matthews as "Believer" plays in the background.
John Katsilometes' column runs daily in the A section. Contact him at jkatsilometes@reviewjournal.com. Follow @johnnykats on Twitter, @JohnnyKats1 on Instagram.