Pole-dancing robots to take stage at Las Vegas club during CES
Updated January 5, 2018 - 12:56 pm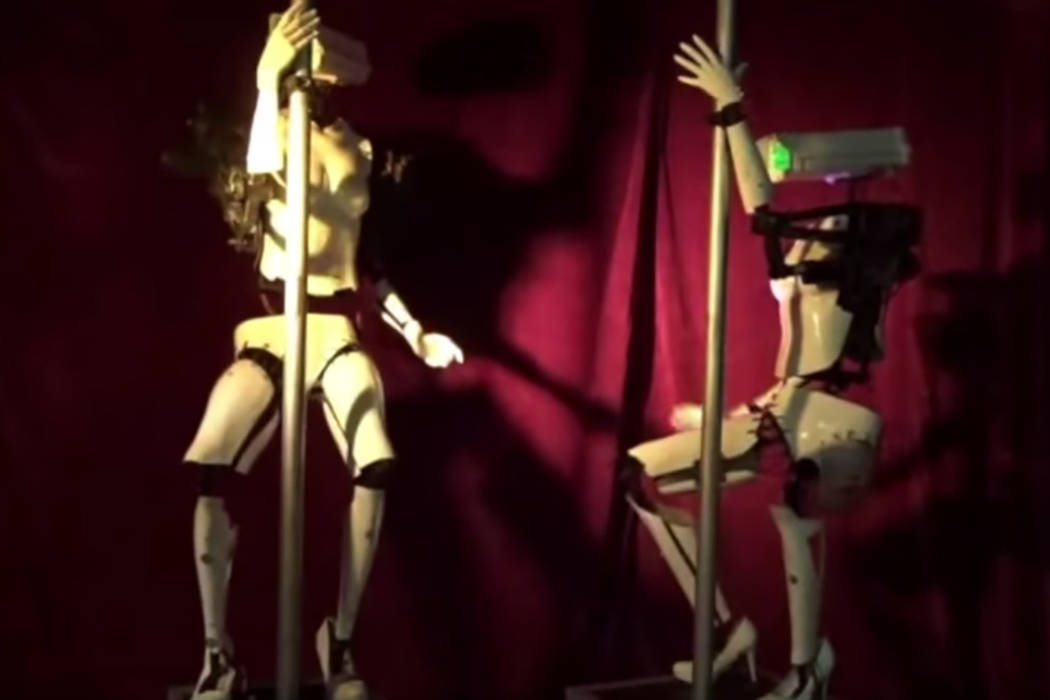 It's joystick time at Sapphire Las Vegas.
The gentlemen's club at 3025 Sammy Davis Jr. Drive in Las Vegas is presenting a pair of robotic exotic dancers next week to coincide with the Consumer Electronics Show. The electronic twins, dubbed #R2DoubleD and #TripleCPU, will be unveiled at the club at 8 p.m. Monday.
"We thought this would be a great way to tie into the CES crowd," Sapphire owner Peter Feinstein said during a phone chat today. "These robots are interesting because of the technology, and they're a lot of fun. They really are art pieces, originally."
True. The twin bots were created by U.K.-based artist Giles Walker, who build the tandem in 2008. Sapphire Director of Marketing Shai Cohen caught a YouTube clip of the robots during an street exhibit in Australia. They are billed as the only robot adult dancers anywhere in the world (if there are any others out there, they seem to be working underground).
Walker will join in the unveiling on Monday. CES exhibitors can RSVP at 702-869-0003, but the bots are open to anyone from Tuesday through Jan. 12.
In an interview with online publication The Verve in December, Walker explained that the robots were created as a commentary on rampant surveillance throughout Great Britain. Their heads are made of closed-circuit television audio and video equipment, the message being that those who are being observed can themselves become voyeurs.
"At the time (when I made them), they were putting CCTV cameras up all around London, and Britain was becoming the most surveilled society in the world," Walker said. "So I was playing with this idea of voyeurism, and who has the power in that relationship; whether it's the voyeur or the person being watched."
But at Sapphire, these two will mostly groove on metal poles to create buzz for the famous gentlemen's club. Guests are invited to take photos, tip (with nuts and bolts, evidently) and interact with the dancing twins. The club claims, "Their motherboards bring all the boys to the yard!"
The club owner is eager for the duo's week-long residency.
"We thought, 'Why not have some fun with it?" Feinstein said. "This is Las Vegas."
Contact John Katsilometes at jkatsilometes@reviewjournal.com. Follow @johnnykats on Twitter, @JohnnyKats1 on Instagram.