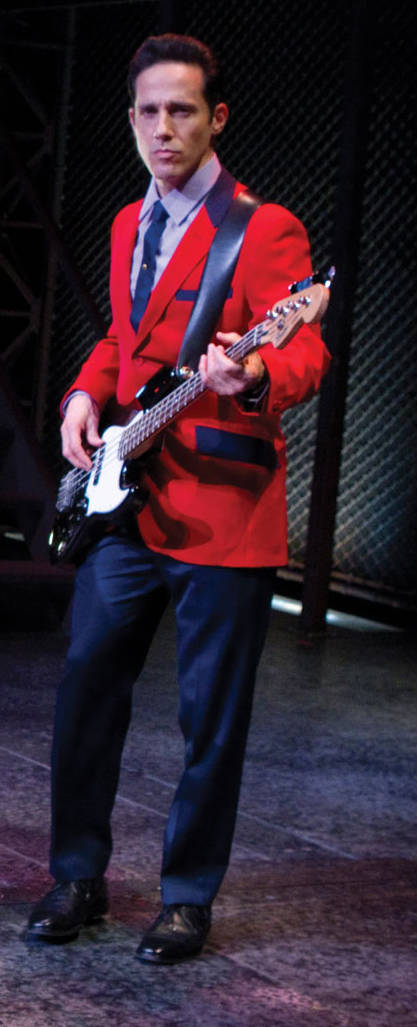 The Kats! Bureau at this writing is Grandview Lounge at South Point, where Bart Torres is hosting the new version of Highway Vibe's "Las Vegas Connection" radio show. The show's lineup is known as BMV: First names of Bart, Michael Libonati (South Point's entertainment director); and Vanessa LeGrand (who performs regularly at Grandview).
The show airs twice on Thursdays, from 7-9 a.m. and again from 3:30-5 p.m. Performers and news-makers from around the city are the guests. Today I appeared with ex-"Jersey Boys" cast member Travis Cloer, headlining at The Space at 7:30 p.m. Oct. 26.
As they say, I am walking in tall cotton.
More from the scene:
The Trop's Purple hue
Purple Reign, the Prince tribute show that ended its two-year run at Westgate Saturday night, has found a new home at Tropicana Theater (as predicted here several days ago). Jason Tenner and his backing band and dancers will open at the famed venue at 9 p.m. Nov. 1.
Apart from the Vegas stage show, which has headlined multiple venues over the past 20 years, Tenner has recorded two albums at Paisley Park's PRN Studios, which is operated by members of Prince's family. One of the releases is a collection of Prince covers; the other is a lineup of Tenner's originals with his New Power Soul band.
The albums are expected to be released late this year or early next.
Tenner is treating the Trop stage show, which is a partnership between Tenner and Red Mercury Entertainment, as a launching pad for a collection of Purple Reign acts he hopes to send on tour. The Blue Man Group had a similar strategy, starting as a single show and then expanding into multiple productions.
"We're just grateful for the opportunity to do this on the Strip," Tenner said. "The room is great, and people can see us without having to take a $25 cab ride to find us."
No elephant for Lance
Remember the idea that "Master Magician" Lance Burton would arrive at the opening of the 68th annual Zelzah Shrine Circus at Boulevard Mall riding an elephant? Alas, the circus has no elephant, and does not use any exotic animals in its current production.
"People are not too keen on using exotic animals in circuses these days, obviously," Burton said Thursday afternoon. "There are no elephants. Only people who are dressed up as elephants. So, I'll just come in and talk to the audience about the Shriners."
The benefit for Shriners Hospitals is otherwise filled with traditional acts and runs 11 a.m., 3 p.m. and 7 p.m.Saturday and Sunday.
No. 7 for NF Hope
The annual "NF Hope Concert" has been around so long it dates back to the days of the Las Vegas Hilton (known today as the Westgate).
The fundraiser for neurofibromatosis research will begin at 11:30 a.m. (silent auction) and 1 p.m. (performance) Sunday at Palazzo Theater. Event founder Jeff Leibow and his wife, Melody, will appear onstage with their daughter, Emma. Emma, 8, was diagnosed with the condition — which causes tumors to develop on any nerve throughout the body with no warning — when she was 9 months old.
Performers at the event include Ruby Lewis from "Baz — Star Crossed Love;" Nicole Pryor of "Phantom — The Las Vegas Spectacular;" Mark Shunock of The Space and "Magic Mike Live" with his wife, Cheryl Daro; Clint Holmes and his wife, Kelly Clinton-Holmes; the vocal group These Guys Worldwide; Michael Shapiro and Paul Johnson of "The World's Greatest Rock Show" at Stratosphere; Planet Hollywood magic headliner Murray Sawchuck; and the Tenors of Rock .
The emcee is my buddy Chet Buchanan of KKLZ 98.5-FM. C.B. does a lotta good in this city and also wears some groovy Seattle Seahawks cufflinks. These are things we know.
'Enough is Enough'
Vin A. Adinolfi of Bronx Wanderers wrote a song in something like 10 minutes on Oct. 2. Why so fast?
"I was pissed off," Adinolfi says.
Adinolfi debuted this song, titled "Enough is Enough," on Wednesday at The Composers Showcase of Las Vegas at Myron's Cabaret Jazz at the Smith Center. The performers who took the stage throughout the evening, led by music director Keith Thompson, joined Adinolfi for a real "We Are The World" moment. Adinolfi is also working on a documentary about the development of the song.
"I've only lived in Las Vegas for a year," said Adinolfi, who moved to town last year to headline at Bally's Windows Showroom. "But now this city is more my home than New York."
Who Was Where
Comic Jim Norton at Mike Tyson's "Undisputed Truth: Round 2" at MGM Grand on Saturday … O.J. Simpson, still shopping it up Monday at Burlington Coat Factory in Summerlin.
John Katsilometes' column runs daily in the A section. Contact him at jkatsilometes@reviewjournal.com. Follow @johnnykats on Twitter, @JohnnyKats1 on Instagram.