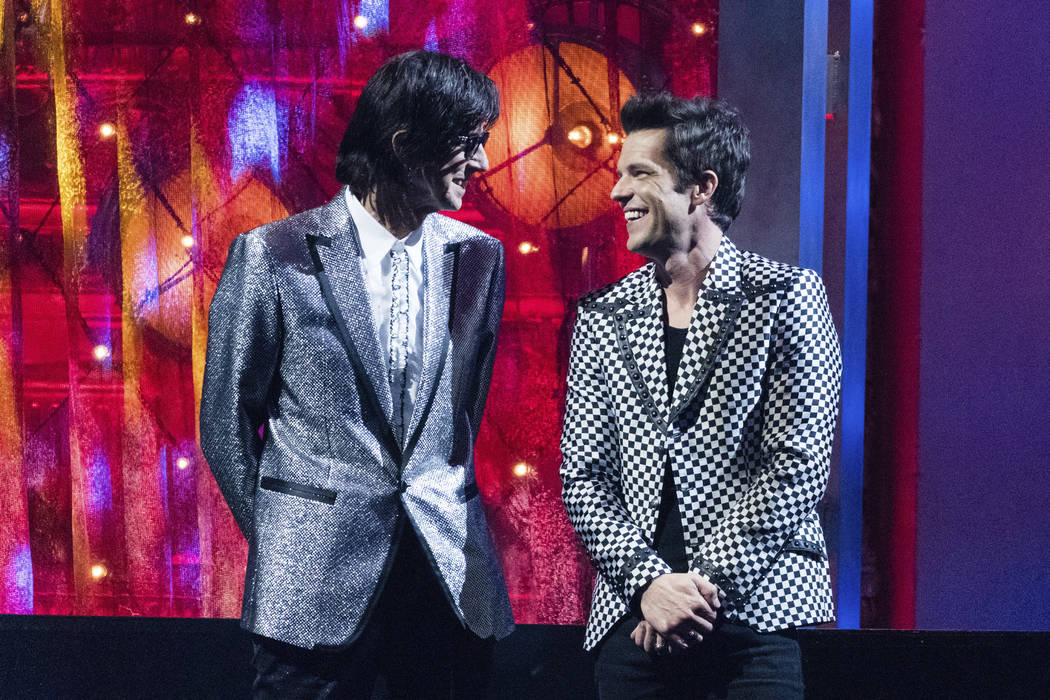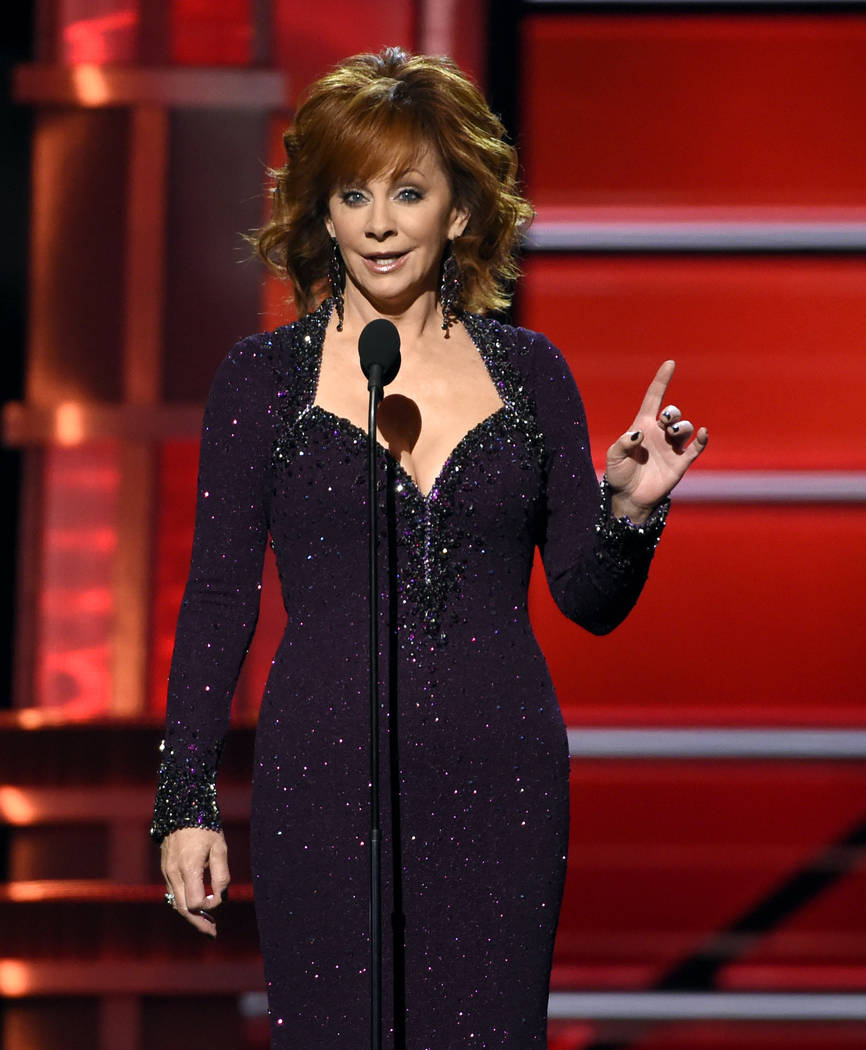 The Kats! Bureau at this writing is the MGM Grand Garden Arena, where the Academy of Country Music awards show just started. Reba McEntire is the host, and she called out previous hosting tandems Luke Bryan and Dierks Bentley, plus Bryan and Blake Shelton.
Operating solo, McEntire said, "I guess they figured it only takes one woman to do the job of two men!"
Shelton, seated next to his lady, just-announced Zappos Theater headliner Gwen Stefani, stood and applauded.
Shelton was to finish the night with a free show at House of Blues at Mandalay Bay, a performance he announced on Twitter just before the ACM Awards telecast.
McEntire, who has hosted the show in past years, added Las Vegas color to her opening monologue.
"I went to see the Reba at the 'Legends' show," she said. "She was so convincing that my son Shelby went up to her and asked if he could borrow $20."
That son, Shelby Blackstock, is a race car driving champ whose half-brother, Brandon Blackstock, is married to Kelly Clarkson.
And McEntire performed a duet with Clarkson during the show.
Got all that?
More from the scene:
Route 91 tribute
The man who helped bring Route 91 Harvest festival to Las Vegas wrote a heartfelt message on Instagram prior to tonight's show.
Live Nation Country Music President Brian O'Connell posted a photo of Las Vegas Village, Route 91's 15-acre site, with the message, "I see you Route 91, right outside my window. I feel the spirit of what you stand for, and more importantly, I feel the spirit of those lost and injured. My resolve is unwavering to not let HATE win over LOVE. I feel you Route 91, BECAUSE IT MATTERS. – BOC #route91harvest."
There has been no formal word if talks between Live Nation and MGM Resorts International, which owns both the Village and Las Vegas Festival Grounds to the north, will lead to a return of Route 91 to the Strip.
Flowers' tribute
On the topic of awards shows, Brandon Flowers of The Killers introduced The Cars at the Rock & Roll Hall of Fame on Saturday night.
Flowers mentioned growing up as a fan of the Boston-based new wave band, and he talked of where he lived in his early teens. It was not Las Vegas.
"It was 1994 and I was a 13-year-old misfit kid living in a small town smack dab in the middle of Utah," Flowers said. "We're talkin' no-stop-light small. We're talkin' 'settle our differences at the water tower after school' small. Sometimes it even felt untouched by the previous four or five decades."
Anyone who has driven Interstate 15 through Utah knows Nephi, about an hour south of Salt Lake City. I recommend the Hi-Rev coffee at the Pilot Flying J …
Flowers continued that his older brother Shane introduced him to The Cars. "There were a lot of great bands bands passed on to me by my brother — and there have been many others since — but The Cars were the first band I fell in love with."
The Killers also opened the show in Cleveland with a spirited medley of Tom Petty's "American Girl" and "Free Fallin'." "American Girl" has been in the band's set list, off and on, for years.
After the show, Flowers told Rolling Stone magazine, "We had the opportunity to open for him a long time ago and we weren't able to do it, and I never met him. So it's sad for me."
Killers manager Robert Reynolds says that show was most likely a festival, early in their career.
Hugh betcha
On the topic of the Rock Hall …
"Raiding the Rock Vault" at Hard Rock Hotel boasts two Rock & Roll Hall of Fame musicians. Bass-guitar great Hugh McDonald was inducted with Bon Jovi, with whom he has recorded and toured with since 1994 and joined officially in 2016. McDonald performed with the band in its most recent show at T-Mobile Arena in March and is in the "Rock Vault" lineup at Vinyl at Hard Rock.
"Rock Vault" producer Harry Cowell said today, "I am beyond proud," of McDonald's honor.
J.T. throws it down
He wants to rock your body … from the Groove Pit … #JustinTimberlake #ManOfTheWoods @TMobileArena pic.twitter.com/tiZuqIYsiS

— John Katsilometes (@johnnykats) April 15, 2018
Random ruminations on Justin Timberlake's crazy entertaining show Saturday night at T-Mobile Arena:
— The projection and lighting were dazzling, with interlocking video scrips at the center and projections facing each other on opposite sides of the arena.
— Good use of flannel from J.T., the rare artist who can groove while dressed as Jethro Bodine or Frank Sinatra.
Requisite, funky cover of a #Beatles classic … #JustinTimberlake #ManOfTheWoods @TMobileArena pic.twitter.com/jI4RRcGfUh

— John Katsilometes (@johnnykats) April 15, 2018
— The simulated campfire, at the base of simulated trees, was imaginative but not entirely unique in Las Vegas. Shania Twain lit a fake fire at the Colosseum at Caesars Palace four years ago.
— J.T. can really dance, but he has copped — by my count — five of my moves.
— J.T. needs to be in residency on the Strip, anytime now.
Multiple-JT action (with some #Elvis fashion effects) #JustinTimberlake #ManOfTheWoods @TMobileArena pic.twitter.com/6NbTpV5Xao

— John Katsilometes (@johnnykats) April 15, 2018
John Katsilometes' column runs daily in the A section. Contact him at jkatsilometes@reviewjournal.com. Follow @johnnykats on Twitter, @JohnnyKats1 on Instagram.