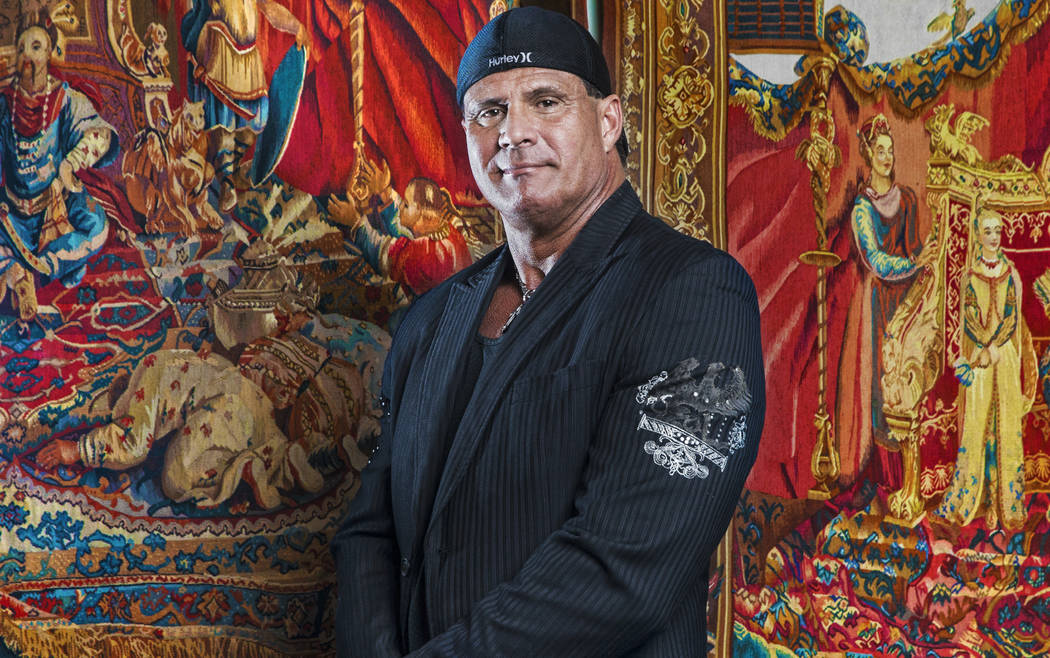 Jose Canseco as a star on the Strip?
"Who would have thought?" said the former major league slugger, laughing. "I never thought I'd see the day, either."
Canseco is one of three former athletes headlining a new show called "Renegades," opening Thursday at Caesars Palace's Cleopatra's Barge. Former Chicago Bears quarterback Jim McMahon and Jimmy King of the famed University of Michigan "Fab Five" college basketball team will join Canseco for the first leg of the production.
On Feb. 8, Terrell Owens, the hugely prolific and opinionated receiver who starred with the San Francisco 49ers, Philadelphia Eagles and Dallas Cowboys, replaces King in the lineup.
After that, a new roster of sports "Renegades" will be introduced every three months.
The conceptually innovative format, which runs about 90 minutes, blends one-on-one interviews with host and comic Martin Montana (alas, no relation to 49ers great Joe Montana, who is not expected to be in the show) followed by 15-minutes of inter-athlete conversation in which they will also ask one another questions.
Then, the real showstopper: unfiltered questions from the audience.
"This is a no-holds-barred conversation, where we are going to let it all hang out," said Canseco, a Las Vegas resident and best-selling author of several books including "Juiced: Wild Times, Rampant 'Roids, Smash Hits and How Baseball Got Big." "I want it to be that way. There will be a whole range of emotions. It will be funny, angry, sad. You're going to hear what we have to say in a very, very tight, up-close setting."
A show for the times
As they say in the biz, timing is everything, and "Renegades" leverages Las Vegas' long history of innovative entertainment while simultaneously capitalizing on its advancing image as a major-league sports destination.
Once known in the sports world primarily for hosting singular spectacles such as major prizefights and NASCAR races, the city is now front and center in the professional athletic universe. The Vegas Golden Knights' unprecedented inaugural season success has made the expansion team the darling of the National Hockey League and the players citywide celebrities.
The impending arrival of the Raiders for the 2020 NFL season adds more hardware to the city's growing trophy case.
The show's founder and financial backer is Rich Lenkov, a top Chicago attorney and producer behind documentaries including "The Perfect Storm: The Story of the 1994 Montreal Expos" and " '85: The Greatest Team In History," about the Chicago Bears famously led by the aforementioned McMahon.
Lenkov also has been involved with successful Broadway shows such as "Rock of Ages."
"Renegades," however, is a new kind of entertainment, a heady combination of sports fandom and the frisson of excitement that comes with being near a standout athlete, which will happen when the stars of the show move into the audience to talk to ticket holders directly during the Q&A.
"Part of the fun is that it will be different every night," Lenkov said. "This is not a situation where you see these guys at an autograph signing for two minutes and then they leave. You will really get to experience these guys in an up-close, informal way.
"Maybe you've heard these stories, but maybe you haven't," he added. "A lot of us know Jose Canseco testified in front of Congress or Terrell Owens had some interesting touchdown celebrations. … This is really going to take you inside the huddle and inside the locker room and behind the scenes of that congressional hearing, that you've never heard before and cannot hear anywhere else."
Lenkov's co-producers Michael Speyer of entertainment investment company Stage Ventures of Toronto (which has backed Base Entertainment productions on the Strip), and fellow investor Jordan Fiksenbaum of Las Vegas. The group is leasing Cleopatra's Barge from Caesars Entertainment for this open-ended run. For on-site creative direction, Lenkov has enlisted Eric Jordan Young, the performing emcee of "The Cocktail Cabaret" at Cleopatra's Barge and also resident director of "Baz: A Musical Mashup" at Palazzo Theater.
Damian Costa, vice president of operations for Caesars Palace, said he'd long hoped a show like "Renegades" would come to Vegas.
"This growth in sports in Las Vegas is something I've watched happen for a long time, and I've thought, 'Why not offer a paid ticket to see sports talk and entertainment combined and make it available?' " said Costa, who is also a charter member of the Southern Nevada Sports Hall of Fame's board of trustees. "We want to go after that person who is a fan of sports, in the type of show where you are informed and entertained."
Tyson trickle-down
Athletes have performed on the Strip before, of course, most notably and recently Mike Tyson in "Undisputed Truth: Round 2" at MGM Grand.
UNLV history professor Michael Green said some shows are legitimate, but many have been more of a novelty. "And I think there is a certain level of novelty in this show," he said.Canseco had not even considered the possibility of telling his story onstage until watching an HBO documentary chronicling Tyson's stage show.
"I was skeptical at first, but when I saw Mike's show, how he was able to hold a show together, it worked," Canseco said. He was in.
Unlike Tyson's show, "Renegades," will not be heavily scripted and is likely to be as unpredictable as its stars. In December, Canseco went rogue on Twitter — not an uncommon occurrence — mocking the #MeToo sexual harassment campaign with a post saying he'd been groped and fondled many times by women, and hey, he never complained.
Mr. 40/40 even joked about being beaten and molested, describing the experience as "kind of a turn-on."
Caesars Entertainment officials and the show's producers noticed those posts, too, and Canseco swiftly deleted them from his account.
"That was just to promote the show, and I want to apologize to people who took it seriously," Canseco said. "In a show like 'Renegades,' we're going to say stuff that we feel, and that was me being comical and funny. I said the wrong things, but it was to promote the show. I just did it with some strange remarks."
Canseco doesn't sound like a man ready to rein in his attitude.
"This is what we want, and that's why it's called 'Renegades,' " he said. "I want things to get out of hand, to be crazy and entertaining, and for the fans to be involved. This is entertainment, and this is Las Vegas."
Famous sports figures nothing new for Vegas stage shows
Boxing great Mike Tyson has appeared in "Undisputed Truth" and its sequel, "Undisputed Truth: Round 2" in a series of residencies on the Strip since 2012. In 2013, NFL legend Terry Bradshaw starred in "A Life in Four Quarters" at The Mirage.
But those stage shows were hardly alone among Vegas productions featuring star athletes. A sampling of other shows on the Strip where famous sports figures took the stage:
Boxing legend Sugar Ray Robinson played the Sahara in 1953 and, in 1967, was in an adaptation of The Odd Couple at Caesars Palace, with Tony Randall as Felix and Mickey Rooney as Oscar.
In 1963, Milton Berle and the Los Angeles Dodgers Sandy Koufax, Don Drysdale, Willie Davis, Duke Snider, Frank Howard and Maury Wills played a four-week run at Desert inn.
Also in 1963, the Dodgers again played the Sands with Joey Bishop. It was Drysdale, Willie Davis, Tommy Davis, Howard, Bill Skowron and Ron Perranoski. Drysdale was singing, "I Left My Heart in San Francisco," when Bishop summoned Perranoski to finish the song.
In 1968, pitcher Denny McLain appeared in the Riviera lounge after winning 31 games for the Detroit Tigers. He did pursue a performing career as a side job to his pitching duties.
Wills played the Sahara in 1969, and he was known as a talented musician who played banjo and sax.
John Katsilometes' column runs daily in the A section. Contact him at jkatsilometes@reviewjournal.com. Follow @johnnykats on Twitter, @JohnnyKats1 on Instagram.