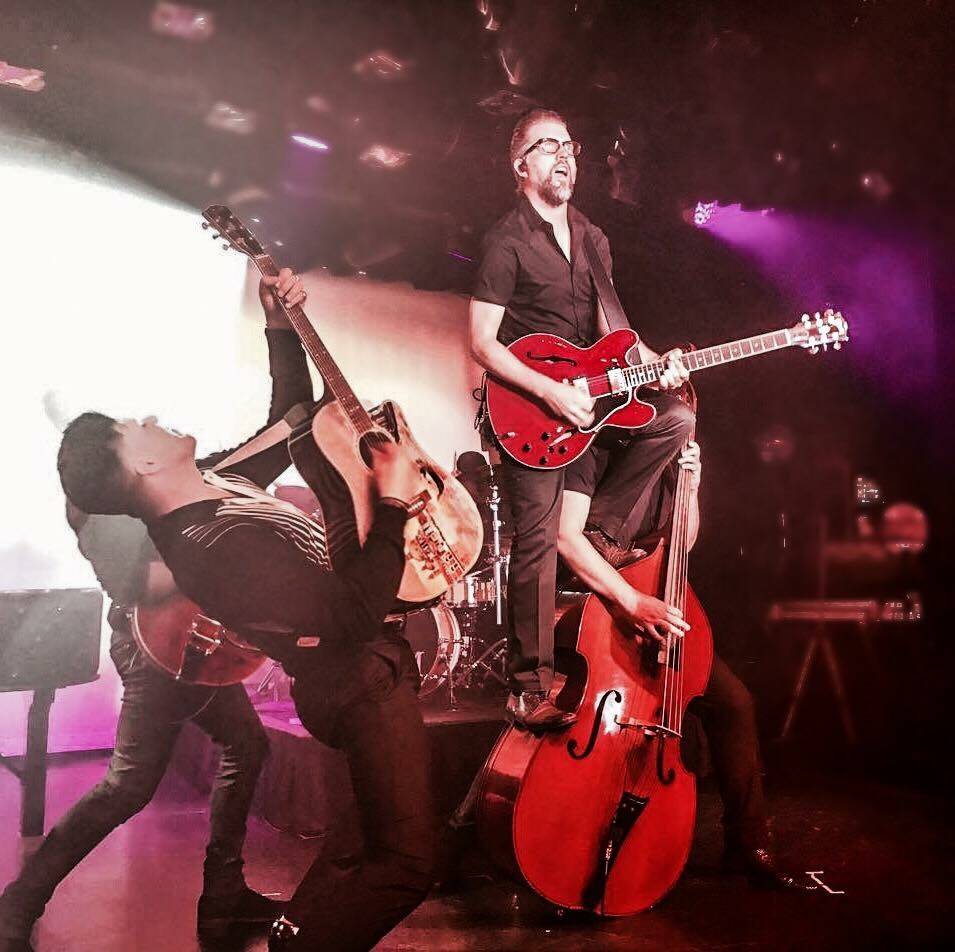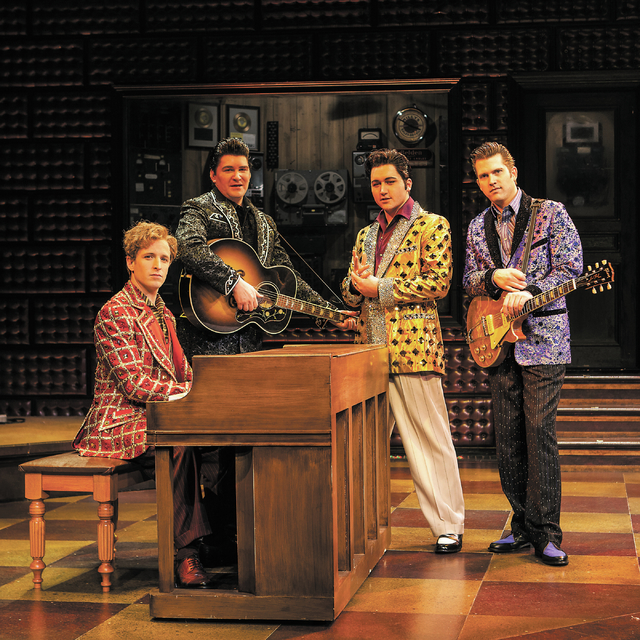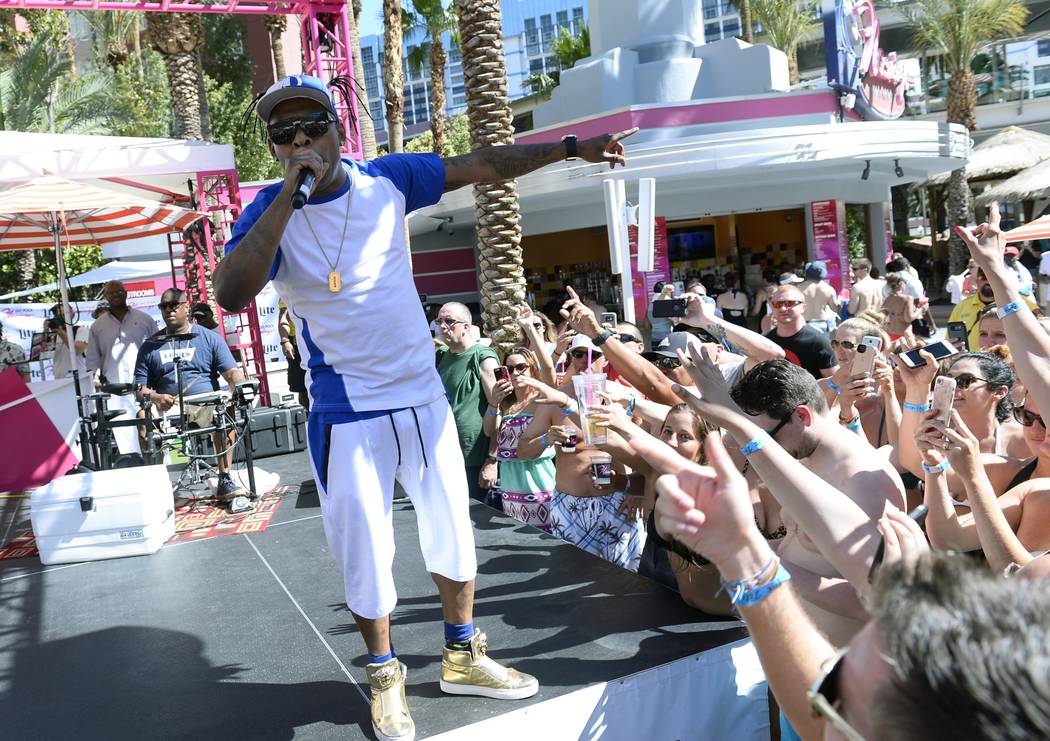 Notes from around VegasVille, where we are losing one of the Strip's "Million Dollar" men, but gaining some social-media voyeurism.
From the scene:
Grooving to England
Rob Lyons, a column fave ever since the opening of "Million Dollar Quartet" at Harrah's in February 2013, is leaving Vegas for London. Lyons plans to leave in mid-June to beat the pavement for work on the city's West End. His wife, Roisin Lyons, has a job as a grade-school teacher in the area.
Lyons, who originated the Carl Perkins role in the rock 'n' roll musical, has backed Frankie Moreno for several weeks in the aftermath of "MDQ's" closing in December. He says the decision to move the family to England was very difficult, given his new role in Moreno's stage show, but was up for this "grand adventure."
Lyons' final show at Golden Nugget is June 10. During his time in the city, he achieved his goal to return "groovy" to the lexicon. That, and some fantastic rock artistry, shall be his enduring legacy.
Santana's legendary sidemen
Current members of the legendary R&B duo the Isley Brothers — vocalist Ronnie Isley and his younger brother, guitarist Ernie Isley — joined Carlos Santana at House of Blues on Wednesday night. The lineup played a four-song sampling of an album on which they collaborated, due out this summer. Ronnie Isley, a founding member of the Isley Brothers, appeared on "Santana IV."
Wandering around
Bronx Wanderers founder Vinny Adinolfi recites an Old Vegas story during each show at Windows Showroom at Bally's: When Elvis was playing the Las Vegas Hilton, Wayne Newton once scrambled onstage in a waiter's outfit to deliver a cocktail. The King busted up. During a show a few months ago, Adinolfi told the story once more — and Newton arrived, again, in a tux while carrying a tray with a drink. The video of that moment now plays during every Bronx Wanderers show.
About the Lounge
As we await word on upgrades that will likely take out the Lounge at the Palms, some triviata about the space: The walls are lined with videotape left behind from the 2007 MTV Video Music Awards, held at Pearl Concert Theater.
This is yet another instance where I might know too much about venues in VegasVille …
Coolio in the poolio
You might know that rap star Coolio launched Memorial Day Weekend at Flamingo's Go Pool on Friday. You might know that he lives in North Las Vegas and has a recording studio in his home
Coolio performed "Fantastic Voyage," "1, 2, 3, 4 (Sumpin' New)" and "C U When U Get There." He closed the show by leaping into the drink and performing, "Gangsta's Paradise." Splashy, for sure.
Fiery return
"The Summer of the Dragon" is upon us. This is the run of 40 straight shows by Piff the Magic Dragon and his canine sidekick, Mr. Piffles, at Bugsy's Cabaret at Flamingo Las Vegas. Show times at 8 p.m.
The show's run began May 22. As always, Piff (real name of John van der Put) bills himself as "The Loser of 'America's Got Talent,' " having reached the Season 10 finals before losing to ventriloquist Paul Zerdin.
Piff's show is a mirthful mix of magic, comedy, costuming and dog-sitting. He debuted as a side act in "Vegas Nocturne" at Rose. Rabbit. Lie. at the Cosmopolitan, and remains the lone member of that cast to headline his own show on the Strip.
Oh, Kendra …
Expect a ribald ride on social media with Kendra Wilkinson during her run in "Sex Tips For a Straight Woman from a Gay Man." Before tonight's opening at Paris Las Vegas, Wilkinson informed her 2.7 million Twitter followers of a grooming requirement to play her role of Robyn.
For specifics, hit her page. A lot of information therein.
Kickball event booted
On the topic of major life changes, the Vegas celebrity kickball event planned for Monday at Symphony Park outside Smith Center has been postponed. This whole operation is like organizing a barn dance — it sounds great outta the gate, but takes a lot more planning and coordination than anticipated.
We're waiting for word on a reschedule, and also training for this event.
John Katsilometes' column runs daily in the A section. Contact him at jkatsilometes@reviewjournal.com. Follow @johnnykats on Twitter, @JohnnyKats1 on Instagram.