Sales woes during F1? Vegas producer puts on a show anyway
Updated November 16, 2023 - 8:35 pm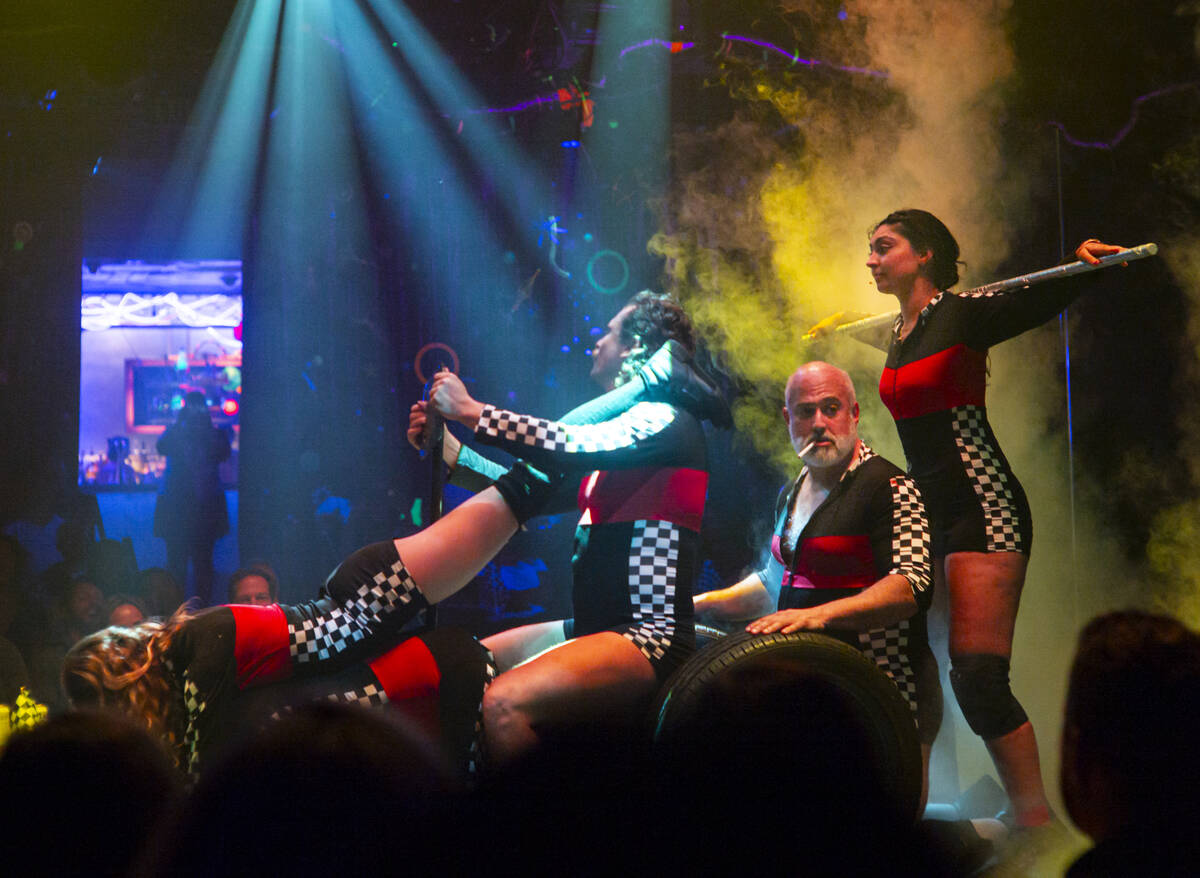 Ross Mollison is dependably bullish on Las Vegas. And he is trying mightily to remain Red Bull-ish, a reference to the F1 racing team powered by the energy drink company.
Mollison assessed his F1 financial prognosis in a phone chat Wednesday morning.
"I feel like I need a good session with my therapist," said Mollison, founder of the Vegas production company Spiegelworld who has attended F1 races around the world. "I love Formula One so much, and we've put so much into making it great, yet it's going to be the worst week of live entertainment in our history."
Mollison has taken down "OPM" at Cosmopolitan and "Atomic Saloon Show" at Grand Canal Shoppes at the Venetian on Saturday night, with the juggernaut "Absinthe"at Caesars Palace standing alone on race day.
Post by @johnnykats1

View on Threads
The self-dubbed Impressario outlined the city's show-business challenges in percentages.
"I think if you can get 50 percent of business this week, you will have done damn well," Mollison said. "I think that's where we're kind of targeting."
Mollison also said some ticket buyers might jump in during the nights before and after the race.
"My view on these big sporting events, is what we lose on the night or day of the event event, we pick up on the day before the day after," the man who engineered the Gazillionaire character explained. "When there's a massive hockey match, when there's a Raiders game at Allegiant Stadium, people will get sucked over from Caesars to attend the game. But then they'll turn up the day after, because they are not here for just one day."
Mollison's sunny optimism shone through when he described "Lights Out!" the late-night show he build specifically to run during Vegas Grand Prix. The show was unveiled, and also took its victory lap, at midnight Wednesday at "OPM" theater at Cosmopolitan.
The second-floor venue was filled with invited VIPs and some paid attendees, with a $100 food-and-beverage minimum and fare served from neighboring Superfrico. What they saw was a one-time-only production.
"Lights Out!" was the first project developed in Spiegelworld's circus town of Nipton, under the eventually problematic title "Box Box." The name change was due to litigation from The Box adult cabaret in New York City's lower east side, along with (as described in a Spiegelworld statement) "a California storage facility and a boxing gym in Pasadena."
The comedy-musical production was entirely themed for F1. The original title, "Box Box," is term for a pit stop. The similarity in names for anything else, Mollison asserts, is entirely coincidental. So is the fact that "Lights Out!" describes how a lot of Vegas shows are dealing with F1 week.
The Box nightclub's legal posturing is especially interesting. Those with a walking-around knowledge of Spiegelworld know of the interlocking relationships between the Box and Mollison's company. The Box is where several Spiegelworld performers, including original "Absinthe" Green Fairy ant "The Sweets' Spot" creator Melody Sweets, headlined before moving to Vegas. Former "Absinthe" and "OPM" artist Emily England is actually booked at the Box this New Year's Eve.
And, lest we forget, Box co-producer Simon Hammerstein developed The Act adult club at Grand Canal Shoppes at The Venetian. Spiegelworld's "Atomic Saloon Show" performs in that space now.
Consequently, inside jokes about the litigation were stitched in to "Lights Out!" including a number where the cast chanted, "Box! Box! Box! Box!" as the audience joined the mocking chant. They might have well had been shouting, "See! You! In! Court!"
The cast was led by a freshly mulleted performer-director Max Baumgarten (producer Harry M. Howie and Rob the Robot from the early days of "Opium"), with a crew of Bill O'Neill, Courtney Pauroso, Chad Damiani and Reshma Anna Meister. Behind the scenes, Spiegelworld creative mind Sam Fishman joined the entire cast in conceiving the show's intricately funny script.
The team worked through a variety of tasks in a mere second. Solving a Rubik's crew, devouring a banana graduating from college (including chugging a beer and being diagnosed with an STD), and performing a "pole position" act. As is the case with everything Spiegelworld touches, the show was energetically performed, fully realized and sharply written.
But there is no plan for "Lights Out!" to perform again in front of a paid audience.
"This is how much I love F1," Mollison says. "I'm putting a show on, for fun, to celebrate Formula One coming to Las Vegas."
The show was supposed to run three nights, then cut to a single performance, as F1 cut into its demand, too.
Minutes after Wednesday's performance, Mollison grinned at his creation, its cardboard set pieces already being stripped away to show the "OPM" spacecraft. Little checkered flags littered the floor as I asked, "What's next?"
"I don't reckon I know," Mollison said. "What about a Super Bowl show? Let's get to work on that."
Oh, man. Here we go. "Tee It Up." It's not just a football term. It's a title that might not get you sued.
Cool Hang Alert
Vocalist Nikki Logan is center stage at Maxan Jazz from 7 p.m.-10 p.m. Friday. We met Logan as a backing singer and onstage sidekick of Michael Grimm. This show is her own showcase. Fab talent. A $40 F&B minimum, no cover, reservations encouraged, go to maxanjazz.com for intel.
John Katsilometes' column runs daily in the A section. His "PodKats!" podcast can be found at reviewjournal.com/podcasts. Contact him at jkatsilometes@reviewjournal.com. Follow @johnnykats on X, @JohnnyKats1 on Instagram.