Station Casinos exec who called out Floyd Mayweather leaves company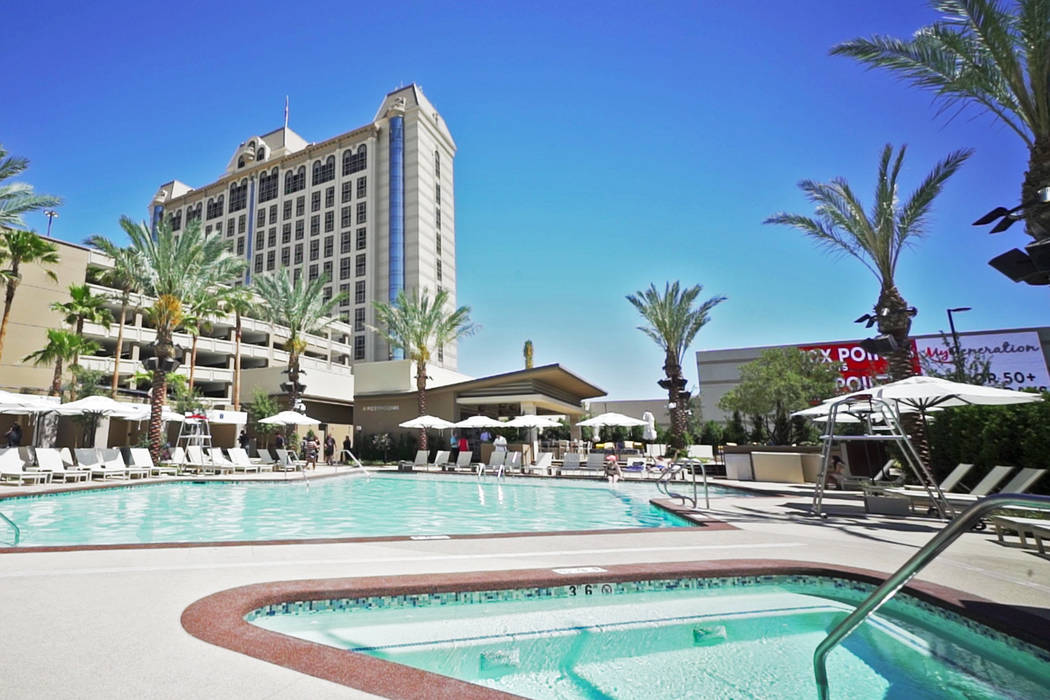 The Kats! Bureau at this writing is Aria's Five50 Pizza Bar, just off the entrance of the hotel's sports book. What I have gleaned: One of the waitresses here, Danielle Covington, had a bit part in "The Wire," in 2005.
Do an online search for, "Does Cutty Have to Slap a (Expletive)," and you'll find Danielle. She's in the denim dress.
More from this scene, and elsewhere:
The Palace guards
Bryan Lindsey's stint as Palace Station's general manager was a quick one. The longtime Station Casinos exec reportedly left his post, and the company, Thursday. He had been confirmed as Palace Station's GM on July 26.
Stacy Stagg, who has spent nearly 25 years in various roles with Station Casinos, has moved from Texas Station into Palace Station's GM spot.
What led to Lindsey's ouster has not been formally explained. Neither he nor hotel spokeswoman Lori Nelson have returned texts and phone messages asking for the "why" of it all.
Rumors abound, of course, but what we can impart, factually: Before moving to Palace Station last month, Lindsey was general manager at Red Rock Resort for about two years. At about midnight July 14, the high-ranking exec called out boxing great Floyd Mayweather on his personal Twitter account for allegedly leaving a tab open and not tipping the Red Rock Resort staff. This was just after the rain-delayed TLC show at the Red Rock pool.
Mayweather and his entourage had reserved two poolside cabanas for the performance; their final tally at the center of this dispute was about $1,700.
Lindsey also tagged Dana White on his Twitter post, asking that the UFC president teach Mayweather "how to pay his tab and tip my staff." White, commendably, is known as a generous tipper. He said in a text message last week that he was aware he had been tagged in Lindsey's tweet and that when he read it he was not upset but felt Station Casinos co-owners Lorenzo and Frank Fertitta III would be.
By the afternoon of July 15, Lindsey had taken down that post and asked that any retweets also be deleted as he worked through the episode. By then, Lindsey was in conference with Frank Fertitta.
But Lindsey has never confirmed if the issue that led to his original tweet was resolved. Mayweather has not returned texts for comment.
Lindsey was then reassigned to Palace Station, swapping GM positions with Scott Nelson, who was named general manager at Red Rock Resort. That shuffle was presented as business as usual for Station, which does routinely move its executives from property to property.
But again, there is no official reason given for the most recent shift at Palace Station, only that Lindsey was at the center of this odyssey and made it public himself. Next month, the hotel that launched the Station Casinos empire in 1976 celebrates its $192 million overhaul with a party filled with fireworks — the real kind, which the company prefers.
Magic Murray on the move
The tremor caused by Criss Angel's move to Planet Hollywood Showroom is already being felt. Sin City Theater headliner Murray Sawchuck is closing his show effective Sept. 20. He issued his 30-day notice to Caesars Entertainment on Monday.
Angel's contract with the resort company reportedly forbids any other ticketed magic shows at the resort. Expect ex-Cirque du Soleil artist Xavier Mortimer and illusionist Santiago Michel, who performs his act in Spanish, to look for new digs, too.
Sawchuck, a Vegas headliner since opening at the Frontier in 2002, will soldier on. Word from Laugh Factory at Tropicana operator (and occasional headliner) Harry Basil is the two are hammering out a deal to stage Sawchuck's show at 5 p.m. beginning in October.
Memorial for Uhrich
A memorial service for Dan Uhrich is set for 6 p.m. Wednesday at Palm Eastern Mortuary at 7600 S. Eastern Ave. Uhrich died at age 41 of a heart attack Aug. 4 after collapsing before a Nevada Pops concert at the Star Trek Convention at the Rio. He was a highly regarded tuba and bass trombonist for the pops and such bands as Walt Boenig Big Band, the Dynamic Trombone Quartet and Brass Roots Quintet. He also taught band at Lied Middle School and Whitney Elementary School in Las Vegas.
John Katsilometes' column runs daily in the A section. Contact him at jkatsilometes@reviewjournal.com. Follow @johnnykats on Twitter, @JohnnyKats1 on Instagram.