Tape Face hopes to make it stick at Harrah's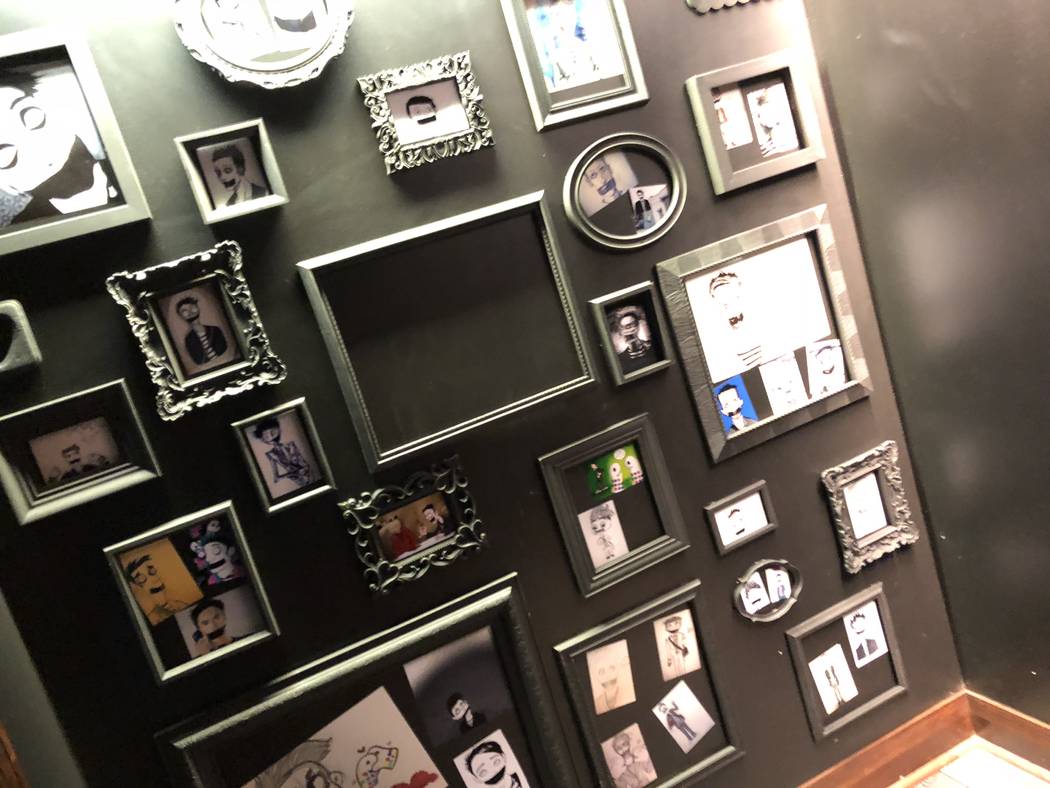 The Kats! Bureau at this writing is the sports book at Harrah's, just across the casino from House of Tape. This is a new entertainment venue in an old space, the former KGB: Kerry Simon Burgers restaurant.
If you're walking in from casino valet and hit The Greenbacks statue (the well-moneyed couple Buck and Winnie who are swimming in cash), take a hard right and you'll find Tape Face new dwelling. The Season 11 finalist on "America's Got Talent" was just out front, taping the wall leading to the 200-seat theater reconstructed just for his eclectic stage show.
The star of this show will burn through 70 rolls of black electrical tape by the time he opens for previews Friday night.
The New Zealand-born artist whose legal name is Sam Wills, wears tape over his mouth while performing his nonverbal mix of comedy and magic.
But he is actually quite articulate off-stage, joking, "Who in their right mind would want to build a theater for this Kiwi?" And, while stretching tape along his wall, "I have the exact length of each strand of tape. I don't need to measure." Asked how long each strand is, he said, "I have no idea."
Tape Face is under a three-year contract to headline his own show at Harrah's, and has a vision to bring in further projects that share his vibe. Think underground comedy, specialty acts, comedy magic. The House of Tape is outfitted as a Tape Face brand (that's why we have all the black striping at the entrance, but as he says, "I would love to build from here and start something very cool at the House of Tape."
He speaks it well, if you catch him at the right time.
Time out!
"Renegades" has been benched at Caesars Palace's Cleopatra's Barge. The game plan for this one has seemed solid, presenting sports stars Terrell Owens (fresh off his Pro Football Hall of Fame induction announcement), Jose Canseco and Jim McMahon in an up-close setting while they spin tales of their fabled playing careers. But the show went dark on March 2, announcing it was to return this weekend. Not happening.
"Renegades" producer Rich Lenkov, a top Chicago attorney, has not returned texts or phone calls for comment. Reports out of the theater were that soft ticket sales undercut the show. If Lenkov's team can pony up some new investment capital (cash, in lay terms), "Renegades" will be back. As of now, it's on "indefinite hiatus," officially.
We can only hope for a rematch.
'Opium' opens
The highly anticipated Spiegelworld production of "Opium" opened its preview period Tuesday night at the Cosmopolitan of Las Vegas. The newly named Opium Theatre at Rose. Rabbit. Lie. seats 262 (shaving about 200 seats from the days of Vegas Nocturne in that venue), with seating split between "Right" and "Wrong" sections.
This plays into the hotel's "Just the right amount of wrong" marketing campaign. The first preview drew a full standing ovation, and the show is sold out in its first week. We'll have a full accounting of Harry M. Howie's intergalactic passion project later, but for the first time since "V.N." closed after a six-month run in July 2014, Spiegelworld has two shows in residency on the Strip.
Drake and …
Impress your friends (and even casual acquaintances) with this factoid about Strip entertainment: Which upcoming headliner at Wynn Las Vegas is working on a collaboration with rap superstar Drake?
If you said Paul Anka, ding-ding-ding!
Those two are indeed working together on a song (Anka's official Instagram account has a photo of the two after a recording session on Feb. 27. More to come in an upcoming column about Anka, Drake, his history in VegasVille and his five-show run beginning May 18.
The Wheel deal
As "Wheel of Fortune" cruises into town March 24-25 to recruit contestants at Green Valley Ranch, I remember a fun assignment from a few years back. In the summer of 2009, I hung out with Pat Sajak and Vanna White during a taping of the televised word game at Sands Expo Center.
One of the puzzles, under the clue of "Title," was guessed correctly with after the following letters were illuminated "_ _ _ A L_ _ V _ _ _ _ S."
You can figure it out. Another clue, the title has to do with the legend mentioned in the next note …
Cool Hang Alert
I think of this hang as "Suspicious Minds" is performed in the distance: Pete "Big Elvis" Vallee continues to fill the Piano Bar at this hotel (Harrah's), with no-cover covers of Elvis tunes at 2 p.m. and 6 p.m. Mondays, Tuesdays, Wednesdays and Fridays.
John Katsilometes' column runs daily in the A section. Contact him at jkatsilometes@reviewjournal.com. Follow @johnnykats on Twitter, @JohnnyKats1 on Instagram.