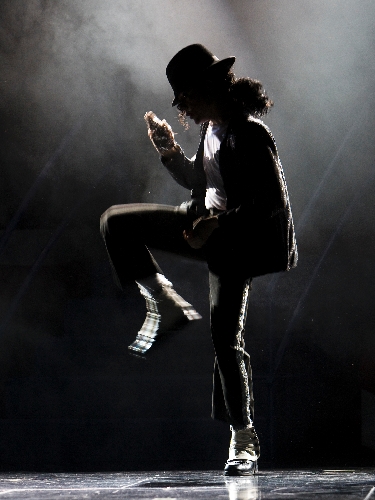 If you think Vegas just isn't Vegas anymore — too sane and self-conscious in its new respectability — most days I won't argue.
But if I'm feeling feisty, I just might send you to the Stratosphere for the Elvis, Michael Jackson, Lady Gaga, Charlie Daniels and Carrie Underwood duet (or would that be "quint-et"?) on "Heal the World."
Thankfully, we haven't forgotten our crazy old ways completely. To do so would mean not getting to mention Charlie Daniels and Lady Gaga in the same sentence. Or see their impersonators side by side.
Vegas plays catch-up on some trends, but it led the impersonator craze. The Strip had two tribute shows long before you could see them in the locals joints, or nothing else but on a Fremont Street New Year's Eve.
"American Superstars" still doesn't have the name recognition of "Legends." But it has been at the Stratosphere since 1996 (starting in the lounge before moving to the showroom), making it one of the longest-tenured titles in town.
"Superstars" generally has a more lively band and greater sense of adventure, but the competitors keep each other honest. If one gets lazy or timid about adding Lady Gaga, you can bet the other one will.
Gaga is God's gift to impersonators. All a drag queen needs is a crazy wig and sunglasses, right? And if a real female with a real voice dons the mask and outre fashions? Exceeds minimum requirements.
Autumn Belanger actually is compelling in her own wild-eyed take on the pop queen. She connects with the audience on a level seldom seen in tribute shows when she sits on the stage steps, crooning to a solo piano version of "Poker Face" (which Gaga has done on radio shows and special occasions).
Producers Donny Moore and Mark Callas deliver as much production value as they can with a commendable $40 ticket (and that heavily discounted), giving Belanger a stately red dress that breaks away to a skimpier mirror-tile outfit.
It's no surprise Vegas Gaga would be more conventionally beautiful than the real one. Extending this logic, it makes equal sense for wholesome Carrie Underwood to become Stripper Carrie Underwood (perhaps the concept for a future Jekyll-Hyde music video?), with Katie Dix putting America's sweetheart in spiked heels and micro-shorts.
Dix's voice is a little more husky Dusty Springfield, but close enough for a ballad-free set pared down to anthems ("Last Name," "Cowboy Casanova") and remembering, maybe better than you, that Underwood has covered "Sweet Child O' Mine."
Small wonder that Johnny Potash as Charlie Daniels welcomes the crowd "to the country segment of our show, y'all." Large wonder that Daniels, best known for "The Devil Went Down to Georgia" in 1979, is given equal career weight alongside Elvis and Michael Jackson.
But Potash goes back to the show's earliest days. Tradition counts for something, and so does a brisk fiddle workout on "Orange Blossom Special" to please older audiences.
Darren Lee's good-natured Elvis is also a "Superstars" perennial. But this show never offered a fair fight in the "Elvis vs. Michael" department. Jackson has always reigned supreme at "Superstars," closing the show even when the real one was alive to make that a bit awkward.
Corey Melton uses a long "Billie Jean" dance solo to let the crowd appreciate that he moves more than he sounds like the king of pop. Melton and his producers are bold enough to cover Jackson's controversial "They Don't Care About Us."
That allows you to say you saw it in the same show as "Orange Blossom Special," and that variety isn't dead after all.
Contact reporter Mike Weatherford at mweatherford@ reviewjournal.com or 702-383-0288.
Review
"American Superstars"
7 p.m. Sundays-Tuesdays; 6:30 and 8:30 p.m. Wednesdays, Fridays and Saturdays
Stratosphere, 2000 Las Vegas Blvd. South
$39.99; $44.99 for show and buffet; $29.99, children ages 5-12 (380-7711)
Grade: B-