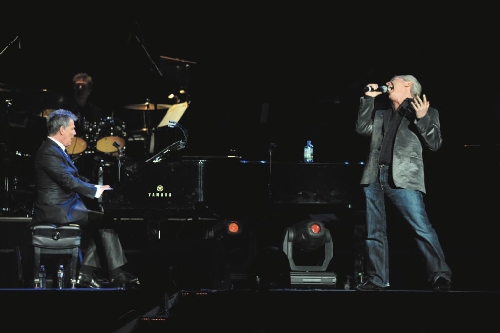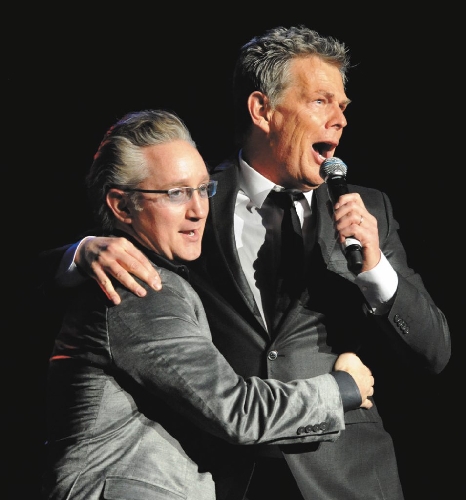 Everyone has a dream, and for an astonishing number of people that dream is to sing.
Even for purveyors of topless vampire entertainment.
The relativity of show business success was driven home at the last "David Foster & Friends" concert at Mandalay Bay.
Tim Molyneux is an independent show producer who defies the odds for a little guy going up against big corporations with his campy "Bite" at the Stratosphere.
But that's nothing like being Foster, the record producer who has helmed hits for most pop or "popera" stars you can name, from Celine Dion to Jackie Evancho.
Fate brought these two together, even if fate involved Molyneux screaming like a maniac and waving his arms like he was on "Let's Make a Deal" to get Foster's attention.
You see, Foster's version of the game is to give a random audience member a shot at the mic. You can see for yourself on YouTube that when Molyneux starts belting "At Last," Foster hauls him to the stage and stands aside.
"Honestly, I've been doing that bit for five years and I don't think I've ever had anyone come up and kill it the way that guy just killed it," Foster told the crowd.
But Molyneux was a bit disingenuous when he told Foster he was "a stay-at-home dad." Not only did he leave out "Bite," he neglected to mention his work as a performance coach, helping country acts such as Joe Nichols and the Eli Young Band make the transition from honky-tonks to theater stages.
Still, he ranks himself as an amateur singer. "I haven't been paid to sing in almost two decades," he says. When he fell into the business side of shows, "I put aside the passion for singing, because I was making money as a director and writer and producer."
But lately he's been asking himself: "What do I really love? Spending time with my little girl each day has rekindled that passion for singing. Singing to her and seeing her face light up made me rethink, I want my little girl to know who I am.
"At the end of the day, I want her to know her daddy has this passion for music, this passion for creating. I'm a showman ."
Molyneux is well aware that Foster is now in charge of the Verve label. And his business side probably tells him that even if one arena crowd loves you, 42-year-old white males aren't at the top of the talent-scouting list.
But that doesn't kill the excitement in his voice, which sounds like a young "American Idol" hopeful.
"I would love to be an international recording artist. That's my dream," he says.
And given his experience, he promises to be a low-maintenance one: "You don't have to spend a lot of time, energy or money on me."
Contact reporter Mike Weatherford at mweatherford@reviewjournal.com or 702-383-0288.