Casting director keeps 'Tony N' Tina' in matrimonial bliss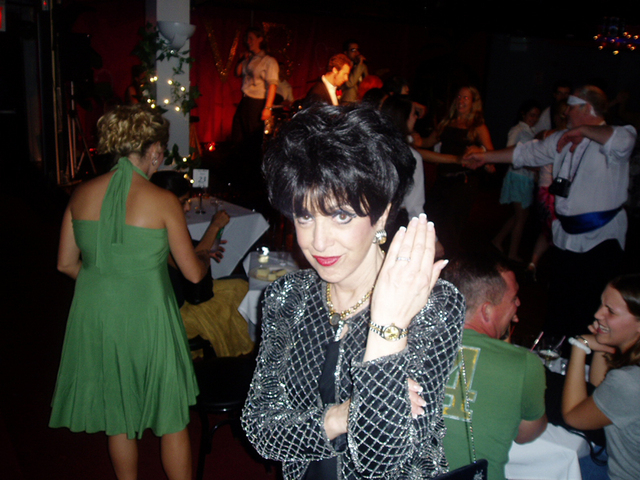 The nightly improv comedy "Tony N' Tina's Wedding" is an ensemble work that doesn't depend on any one person.
Except it sort of does.
"I'm the glue there," says Barbara Lauren, who for 12 years has been the casting director as well as playing the mother of the bride. After some compromised years, the show is now rebuilding momentum in a perfect-fit venue, the former buffet at Bally's, with an infusion of energy and investment from new producer Ken Walker.
If you haven't seen "Tony N' Tina," the one cardinal rule is that the actors never break character. Even when she is showing this repeat visitor the kitchen to explain how food service has improved, she is doing it as Mrs. Vitale, not Barbara Lauren.
So I hadn't talked much to the real Lauren, and really didn't understand how uniquely qualified she is — or how lucky the show is to have her — until last week. That's when I visited the new office for Barbara Lauren Casting, in an industrial park east of the Palms.
A nice studio with video equipment, green screen and comfortable waiting room will come as good news to actors who have learned not to take even air-conditioning for granted after auditioning in warehouses, dance studios and hotel rooms.
"It was time," she says, after years of renting space as needed, paying an hourly rate and rolling in an equipment cart.
"I just like things the way I like them, and I want to present myself well to clients," Lauren says. "I don't think you get your best performance if actors aren't comfortable. … Now everything's really conducive to comfort and a professional presentation on tape. It's really the most I could ask for."
Lauren also teaches acting and commercial-audition technique in her new studio, which, like the "Wedding" gig, combines two careers.
As an actor, she worked on Broadway in "Godspell" and "Fiddler on the Roof," and replaced Diane Keaton in the original run of "Hair" in 1972. She came to Las Vegas as the lead singer of the Tropicana's "Folies Bergere" circa 1977.
In 1979, Lauren moved to Los Angeles and behind the scenes, to the casting side of the business. She followed family back to Las Vegas in 1998, burned out and happy to become "a lady of leisure." But Los Angeles contacts kept calling her for projects, and "it just snowballed again. I was sucked right back in."
When "Tony" came to town in 2002, the Long Island native thought it sounded like fun to spoof an Italian wedding. She auditioned too late to be in the earliest shows at the Rio, but the producers still needed to cast the priest and wedding singer.
"I said, 'I'll find them for you.'" From then on, Lauren was the show's casting director, as well as performing in it more than 4,000 times.
Acting became "a little hobby for me," she says. "God knows I didn't do it for the pay. I'm in it 12 and a half years and I still love it. I'm asked why. Because it's different. I laugh every night over something, because it's improv."
Sometimes audience members take the interactive component a little too seriously, she says, and get "handsy" with actors. She intervenes, still as Mrs. Vitale, to simmer things down.
At her new studio, Lauren is also a bit of the den mother, "helping them get head shots, helping them do things right."
The two jobs fold together well. Those auditoning for TV spots are sometimes asked, "Do you know about 'Tony N' Tina's Wedding'?" And the current "Tony" priest, Dom Calandra, landed a small part on the Las Vegas episode of "Modern Family," which Lauren cast.
Lauren hopes her new studio will get busier with Nevada's new film tax credit that went into effect in January. But she doesn't see the day when she won't get to Bally's by 5 p.m. to make sure the 17 or more players show up, and redistributing roles to cover the important ones if someone doesn't.
"I adore the kids. I have no kids, so these kids are my kids,"she says. "I'm such a yenta. I'm everybody's mother."
Contact reporter Mike Weatherford at mweatherford@reviewjournal.com or 702-383-0288.