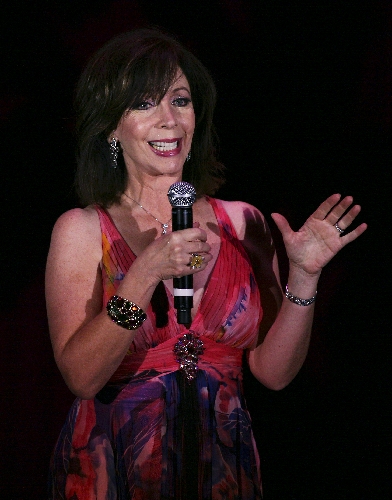 Stand-up comedy lets you age gracefully. Or gracelessly, if that's your goal.
Rita Rudner and Bobby Slayton both reopened separate showcases on the Strip last week. The coincidence gives consumers a choice between right and wrong, clean or dirty, shopping porn or porn porn.
And it offers fans a chance to revisit old friends who happen to be friends themselves. (She is part of his opening video montage. He was in a workshop reading of a comic play she and her husband wrote three years ago.)
Co-billing these two never will be a good idea though, given the clashing volume and timbres.
Rudner is calm, classy and unerringly rational, even when explaining her irrationality in the well-appointed Showroom at The Venetian. Over at Hooters (where else?), Slayton is hopped-up, perpetually PO'd and aims to offend, even though he's just mining old sexist, racist stereotypes to show how ridiculous they are. (That is what he's doing, right?)
Shoulda been a '90s sitcom, these two. Cute couple. Opposites, but alike. Both create comic stage personas with cartoonish voices targeting unnamed, irritating spouses. Their points of view are as old as stand-up itself, attempting to explain men and women. The twist here is that Rudner became the decade-long draw on the Strip, while Slayton — whose comedy is more in line with the misogynistic drift of the town — has struggled to find a foothold here.
Both comedians are in their mid-50s, inviting new perspective on jokes they have told for years. If there's a stand-up's version of a midlife crisis, it's the challenge of updating and perhaps even modifying the original Rita Rudner and Bobby Slayton, without betraying the characters they've worked so hard to create.
Rudner is unwavering in her approach, so any shift in perspective may come from the audience. Her prim defense of extreme shopping and lack of cooking skills now may be the voice of a generation, not a gender.
She calls her age out early on, with a joke about not going topless because she doesn't want to poke someone's knee out. "Hey, it's not that funny," she reprimands after it gets a big laugh.
But later, Rudner can get away with saying — because she still models free-flowing ballroom gowns and shows off her shoes — "I don't want to be in good shape. I don't want to be one of those women who looks great from the back and then turns around and frightens people."
These jokes become merely a subtext when they are but two of maybe 200 in a set. Few comedians have such as grasp of the one-liner.
New lines about modern irritations such as self-checkout lines ("It took six hours and a call to the suicide hot line") land between the classics, such as a riff on the department store's "free gift," and people on the Strip: "I demand an explanation," she says of those "walking around looking like the airlines lost their luggage."
Rudner's sense of self never wavers, and neither does Slayton's career-long defense of masturbation, porn and other byproducts of frustrated fidelity.
But he does allow himself and his family to age in real time, the authentic details providing a convincing way to say he's just kidding after going full Don Rickles on minorities in the audience. He's lived in the Bay Area. He knows better. That's why he's doing it anyway.
This half-honesty at least suckers you into the punch line. Slayton's grown daughter and her biracial boyfriend live in his house, and he confesses he still likes having his daughter around. But his wife is looking forward to an empty nest. "We can have all the sex we want," she tells him.
"Why, you movin' out, too?"
It's fun to have the old "Raging Bully" back, after a failed attempt to run his own room at the Tropicana seemed to zap his comic mojo. Slayton works himself into an X-rated aneurism about Siegfried & Roy, psychic John Edward and even Kathy Griffin. Like Rudner, the classics are augmented by current frustrations, such as airport scanners and pat-downs: "I kind of enjoyed it, and it doesn't make me gay. It makes me married a long time."
Pick your poison, but both veterans prove humor isn't just wasted on the young. If Whitney Cummings or Daniel Tosh aren't speaking to you, count on your old friends.
Contact reporter Mike Weatherford at mweatherford@ reviewjournal.com or 702-383-0288.
Reviews
Rita Rudner
8:30 p.m. Mondays and Wednesdays; 6 p.m. Saturdays
Showroom at The Venetian, 3355 Las Vegas Blvd. South
$53.90-$108.90 (locals discounts available); 414-9000
Grade: B
Bobby Slayton
8:30 p.m. Thursdays through Saturdays
Night Owl Showroom at Hooters Hotel, 115 E. Tropicana Ave.
$39.95 (866-584-6687)
Grade: B+