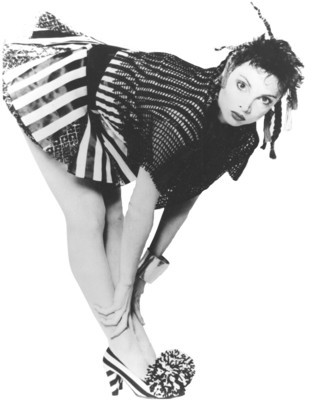 She has been a choreographer for more than 40 years, at least 30 of them teaming her with Bette Midler.
But every resume credit, be it an acting role in "Easy Rider" or choreographing David Byrne's herky-jerky movements in Talking Heads' "Once in a Lifetime" video, goes by the wayside whenever the chant begins:
"Oh Mickey you're so fine, you're so fine you blow my mind, Hey Mickey!"
Toni Basil's "Mickey" was a No. 1 hit in 1982, a time capsule of the earliest days of MTV. And, to a large degree, it still defines the 64-year-old Basil. She's used to it. After all, it was her idea to make a cheerleading video and star in it wearing her old cheerleader's uniform from Las Vegas High School, class of 1961.
Thanks to YouTube's making the video readily available again, "I feel like I'm more recognized now than when 'Mickey' was a hit," says Basil, who is choreographing Midler and 18 dancers in the new "The Showgirl Must Go On" at Caesars Palace.
"We have a pretty eclectic overview of theater and show business," Basil says of her long career with Midler. "I come from a very vaudevillian family. And yet I'm so deep into the pop culture, and she is too."
To prepare the new production that debuted this week, Basil leased a house near the same neighborhood near Maryland Parkway and Desert Inn Road where she grew up. "I feel very connected to Las Vegas. It's my hometown," she says.
When Las Vegas was small, stars came here but weren't from here. For years, Basil bridged the short list of indigenous hitmakers between the late Bill Chase, a Bostonian based here when his band Chase recorded "Get It On" in 1971, and Mark Slaughter, whose pop-metal band Slaughter broke in 1990.
"I don't know how people get into show business if their family's not in it," she says. Her father, Louis Basil, moved the family from Chicago to Las Vegas in the mid-1950s to became the Sahara's bandleader. Her mother was a member of Wells & the Four Fays, an acrobatic comedy act that performed on Ed Sullivan's show the same night as the Beatles.
"I was brought up in it, so it was just a natural place for me to be," Basil says. "If your family's in farming, you go into farming."
Knowing Las Vegas lounge icons such as Louis Prima and Freddie Bell, and seeing most of the big names who played the Strip, "I really had quite a background without even trying," she says. "It just kept being laid at my feet."
Cheerleading also shaped Basil's career, for some reasons that later became obvious and some less so. A cheerleader is a form of choreographer, she notes. "You stage things, for halftime entertainment and pep rallies. Street dance, or teenage social dance, always has woven into the cheerleading factor."
Basil relished her high school years — "There's nothing better than being head cheerleader, let me tell you" — but headed to Los Angeles soon after graduation. She soon found her combined knowledge of pop and classical dance useful to the makers of teen-oriented movies such as "Viva Las Vegas" and "Pajama Party."
"People who were trained dancers, not many of them were into the social kind of dance that became so popular, like The Twist and all the go-go stuff. I was able to theatricalize what is now called street," she says. "I was young and my timing was great."
Basil's two-album career as a pop singer stemmed from an invitation to make videos for a British producer. One of them reworked an older song called "Kitty," which Basil changed to "Mickey" and added the opening cheer. "The chant lives on more than the song," she says.
The BBC saw the videos and asked her to do a music special. "That brought 'Mickey' to No. 1 in Britain and Australia," she says. "It wasn't until after that that I got an American deal."
Basil met Midler in 1975, at a "Saturday Night Live" cast party. Basil's street dance troupe The Lockers performed on the third show of the first season. The two instantly hit it off, sharing a zeal for cabaret tradition and earlier eras of show business.
"Her talent has such a wide range, from very dramatic theater to stand-up comedy to a spoof of Broadway to absolutely contemporary music," Basil says of Midler. "You have to kind of work with her, have to have a wide range of knowledge of music and of theater. Because she refers to everything."
Basil's work with Midler ranges from her breakthrough movie "The Rose" in 1979 and her filmed concert "Divine Madness" the following year to the HBO special "Diva Las Vegas," filmed at the MGM Grand Garden in 1997.
"We both admire lots of opposite ends of the poles. It's not like we're stuck in classical or we're only into hip-hop," Basil says. "I think that's what makes her show so constantly a surprise. It's just filled with so many ideas and styles."
Contact reporter Mike Weatherford at mweatherford@reviewjournal.com or (702) 383-0288.
what: Bette Midler "The Showgirl Must Go On" when: 7:30 p.m. Tuesdays-Wednesdays, Fridays-Sundays where: Colosseum at Caesars Palace, 3570 Las Vegas Blvd. South tickets: $100-$255 (731-7110)