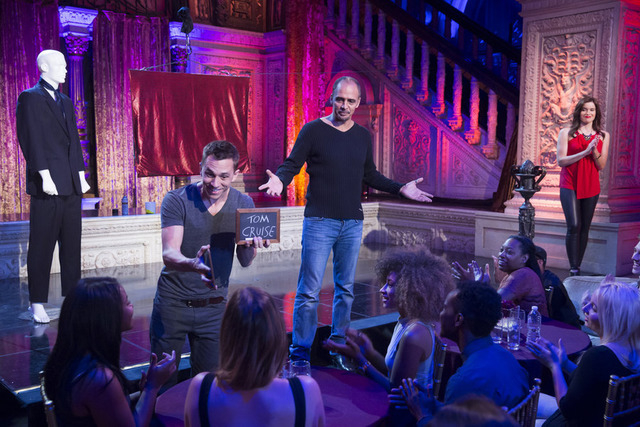 A couple of things you will see on Syfy's "Wizard Wars" Tuesday that you don't see in Las Vegas:
A) New illusions created in a competitive setting, not just the same old stuffing of women into cabinets and stabbing them with swords.
B) The larger illusion that young, attractive people actually sit and watch young, attractive people perform magic in cool nightclubs.
"We did kind of build this ideal magic venue," Rick Lax says of the latter, created in the Los Angeles Herald-Examiner building that's seen new life for film and TV production.
In Las Vegas, he agrees, "most magic shows are not set up that way. They're not that intimate and the audience isn't that attractive and young."
But maybe A can help make B come true.
As I wrote in February (when "Wizard Wars" was first scheduled to air, then abruptly postponed), Lax created the concept of a magical spin on the Food Network's "Chopped," and sold it based on a YouTube pilot filmed in his Las Vegas apartment.
Now the Las Vegas writer and Penguin Magic associate is the producer and magic consultant for six professionally produced hours of "Wizard Wars," starting Tuesday. Penn &Teller serve as the judges and wise sages to less-known local magicians such as Shimshi and Justin Flom.
"Wizard Wars" joins what seems to be a boomlet of television's renewed interest in magic. It's not even the only show where Penn &Teller judge less-famous magicians. Their British series "Fool Us" is in the midst of a U.S. airing on the CW.
The CW also is running "Masters of Illusion," with a host of Las Vegas-based magicians. Viewers are responding to "The Carbonaro Effect" with Michael Carbonaro on TruTV.
"Magic goes in waves," says Murray Sawchuck, who recently filmed "Extreme Escapes" with Riviera headliner Jan Rouven for a September launch on Reelz Channel. "If we really knew what was going to hit next, we'd all be millionaires."
Sawchuck, Nathan Burton and Tommy Wind all compete on "Wizard Wars" with magicians who aren't trying to sell tickets on the Strip.
Whether it helps them individually, the rising tide could push Las Vegas magic in the right direction.
"It should show people that if you really focus on creating something from the ground up, it is possible," Lax says. "But for a lot of magicians, the incentive to originate just isn't there."
Just as Syfy's "Face Off" taught Hollywood makeup secrets to laypeople, "Wizard Wars" is "the first show where you kind of get to see the magician's thinking and the process," not just the result performed on stage.
And if the result in Las Vegas is a live version of "Wizard Wars"? "Wouldn't that be wonderful," Lax says with a laugh.
Contact reporter Mike Weatherford at mweatherford@reviewjournal.com or 702-383-0288.
Las Vegas magicians featured on "Chopped"-style competition for illusionists