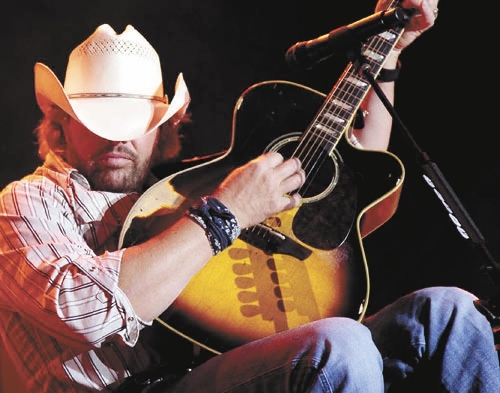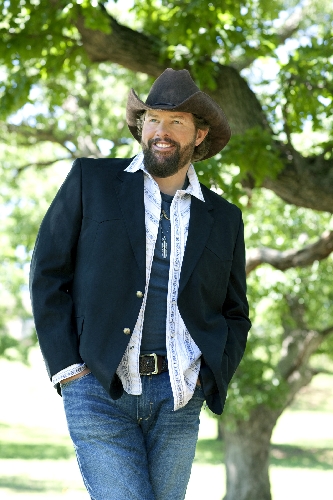 Talk about trade imbalance. It's easy for Toby Keith to sell you fine Mexican mezcal, harder for him to offer shirts made in the USA.
Both are on the mind of the Oklahoma country singer and entrepreneur, who brings his "Locked & Loaded" tour to the outdoor stage of Red Rock Resort on Saturday. Keith's new single is "Made in America," and the hootch is called Wild Shot. There's a connection. Read on.
SAYING NO … AND SOMETIMES YES
Keith, 50, now has his hands in a record label, a racehorse farm, a private golf course, and 11 locations of I Love This Bar and Grill, which originated at Harrah's Las Vegas.
"I never had grand visions of going out and doing this stuff. I get 1,000 things thrown at me every year and we throw 999 of them away," he says.
"What I do every day is write songs, perform and enjoy life. If it's going to put one single thing on my plate that's more than what I already do, then we don't even do it."
But when something does make sense, such as a signature mezcal, he explains the rules: "You understand I don't want one more thing on my plate. You have to run it. … I'll put my name to it, I'll back it. … But I'm not going to go around and take a bunch of my time trying to hawk liquor. I'm not a liquor salesman.
"Same way with those restaurants," he adds. "I'll come to the grand opening and get it launched, but you have to manage it and run it."
BUT ABOUT THAT MEZCAL
With 11 restaurants projected to grow to 40, "I wanted to have my own brand of liquor to sell in there," Keith says. "I'm gonna sell a certain amount in my bars. If (Wild Shot) is all we offer in mezcal … that's an instant kick in volume that most people opening a brand new liquor wouldn't have."
Whiskey, which by most evidence is Keith's drink of choice, is too slow to get to market. Every barrel currently undergoing the aging process is spoken for, he says.
But mezcal — the smokey-tasting cousin of tequila with the worm in every bottle — is a rising star. "It's really catching on big time among the college crowds," he says. "It's not to be shot with the lime and the salt. It's more to sip and enjoy like you would a brandy or a good Scotch."
T-SHIRTS ARE TOUGHER
This summer's single "Made in America" is shooting up the airplay charts (No. 13 on Billboard's country singles at this writing), perhaps a timely boost of patriotism in the weeks when Congressional debate over the debt ceiling brought the country to the edge of default.
But Keith says the song was written last summer, and lyrics about his father "spend(ing) a little more at the store for a tag in the back that says 'USA' " tie back to efforts with label-mate Trace Adkins to reopen a shuttered garment factory.
He hasn't given up but, well, mezcal is easier.
To get the factory open, and the jeans on the shelves of stores such as Sears, would create a price point $5 or $6 higher than the competition, no temptation for "the average mom pushing a basket with three kids."
"It hasn't stopped us yet, but might as well just donate your money to the needy," he says.
So Keith offers a few American-made shirts and hats at the merch stand, albeit at a higher price. "If enough people would get on that, it would really help this country," he says. "It just blows my mind that we can go all the way to China and buy a T-shirt and bring it back here and print my picture on the front of it, and buy and produce it for about half of what it takes for me to call over here to some factory in the U.S. and buy the same shirt."
A "mentality switch" among buyers could parallel the organic food movement. But then again, if the country sinks into deeper recession, Keith says a lot of people will be growing their own food and sewing their own clothes again. "If it gets bad enough, you'll get down to where you take your resources and make it happen. It was that way once upon a time, and we just can't keep paying more out than we're getting in."
LONE WOLF
Keith has deep roots in Las Vegas, and ties that run deeper than other places he performs. If Station Casinos entertainment director Judy Alberti asks him to play the new outdoor venue at Red Rock, he does it.
In the mid-'90s, when Keith was a midlevel singer yet to crack the top tier of country stardom, he was asking $20,000 per show but settling for $15,000. Station would pay him $30,000, then pay double for back-to-back shows on a weeknight.
"They always took good care of me, and you don't forget when it doesn't matter financially any more," he says. "You just don't forget people who helped you when you needed help."
His new album comes out in the fall, and he says he hasn't had "one blip on the radar, one hiccup" since he walked away from the Nashville establishment.
"Basically the awards part of the industry, which is the royalty in town — the powers that be — they never did support me." Trying to play the game "wasn't getting me anywhere."
"So I just went out on my own. I said, 'You know what? I'll never be bigger than country music itself, but I'm better than you are and you don't support me. So I can do this. And the reason I know I can do this is I've watched you guys do it, and most of you aren't any good at it.' "
Contact reporter Mike Weatherford at mweatherford@ reviewjournal.com or 702-383-0288.
Preview
Toby Keith
7:30 p.m. Saturday
Amphitheatre at Red Rock Resort, 11011 W. Charleston Blvd.
$43-$125 (547-5300)