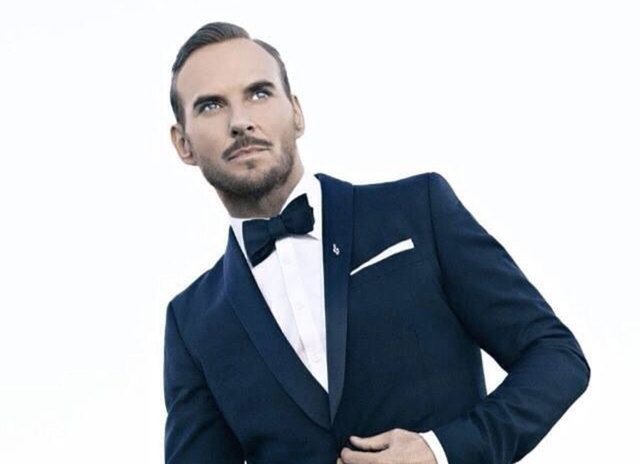 TOO LATE? OR ABOUT TIME?
Nope, not talking about Clint Holmes' return to the Strip as a headliner after nearly 10 years. I'm talking about the new show's 10 p.m. start time.
It may not be bedtime for the 70-year-old entertainer, who looks and runs around like he's 10 years younger. But what about his audience?
Producer Ken Henderson agrees the late start might be an issue for locals, who got used to 2 p.m. or 8:30 p.m. chances to see Holmes in the Cabaret Jazz room at The Smith Center for the Performing Arts.
But Henderson and his co-producers at the Palazzo are aiming this one at tourists, and the producer points out the obvious: The late start actually gives them time to sit down and eat somewhere. Granted, this optimism is the "glass half-full" result of having to share the theater with "Baz — Star Crossed Love," but a lot of producers wouldn't even put on their game face.
Nightclubs take a lot of blame for killing a lot of the late shows. Golden-age stars such as Wayne Newton routinely performed at midnight (hence his "Midnight Idol"nickname) and sometimes even at 2:30 a.m.
But now the assumption is that younger people like to club-party and older people like to sleep. Late shows are more the province of topless cabaret or dirty stand-up comedy than a class-act entertainer with an older-skewing demo.
An added irony is that because of this, sit-down dining with tablecloths and celebrity-chef cuisine has come to be seen as another competitor to ticketed shows, not something you do in a combined evening. Producers will claim showgoers actually like to eat at 5 p.m. or hit the food court, either because they are "packing so much into their Vegas vacation," or their body clocks are on Eastern time.
I kind of shrugged and figured they must be right, even as my visits to the Del Taco drive-up multiplied while I watched the average show time scoot back from 8 p.m. to 7:30 and even to 7 p.m. or earlier.
But I also hear people in their 50s and older wish the Strip had more late-evening options which don't involve stripper poles or thumping techno music.
If you've said that lately, consider your bluff called. Let me know what you think about this Clint situation: Good idea? Or doomed to failure because "Baz" gets the early time slot? Or else just vote at the box office. …
Caesars Entertainment isn't exactly over-sharing when it comes to the fate of a historic lounge at Caesars Palace, but there are some assurances that entertainment will continue there.
Yes, British pop star turned retro crooner Matt Goss is moving on after Sept. 24, and will be replaced in some fashion. But it's not that anyone is unhappy with him or the room's entertainment format, says Jason Gastwirth, who oversees marketing and entertainment. The company, in fact, wanted to give Goss a countdown campaign and all his fans a last chance to see him.
Goss performs in a cool if technically challenging area of Cleopatra's Barge, one of the few identifiable features from the '60s-groovy era of the casino that turns 50 in August.
Gastwirth is more tight-lipped about the room's future, but says any modifications will honor the room's history if they address more practical concerns such as sightlines and sound bleed to the adjacent bar. …
If you're intrigued by long-form comedy — a single stand-up organizing an hour or so around a theme — there are a couple of new(ish) ones to choose from. Oddly enough, both riff on the self-help movement.
"Tommy Lama" is a stage persona developed by veteran New York stand-up Tommy Savitt. His afternoon show in the Tropicana's Laugh Factory is billed as "A self-help comedy satire."
And Tom Rubin has a new name, "Yes You Can't!" for his send-up of Tony Robbins-style gurus, which was delivered in the form of a PowerPoint presentation when it was called "Failure is an Option" last winter at the Sin City Theatre.
I called it a promising concept in need of more work when I reviewed it back then. Maybe there is more than a new title when it reopens Thursday at the El Cortez, a casino where the Fiesta Room was not previously known for ticketed shows.
And from the Still Glad You Called? department: I checked back with hypnotist Marc Savard this week to see if he was still eager to talk about hypnotizing Miesha Tate, after her nose-breaking first-round loss to Amanda Nunez in UFC 200 last week.
Before the fight, the longtime star of "Comedy Hypnosis" at the V Theater was happy to point out Tate's hypnotherapy session with him was the focus of a pre-fight web video.
Is he still proud of it now? Yes, because "I've gotten a bunch of calls from other fighters," he says.
And Savard is always happy to promote the therapeutic side of hypnotism as a balance to turning people into porn stars in the stage show. So, if say, the thought of public speaking triggers "organ language" in a negative way, "why would it not work in a positive way as well? It's just a lot less measurable."
As for Tate, whom he hypnotized after meeting her at an Animal Foundation calendar signing and then appeared on her podcast?
"She lost the fight at the weight cut," he says of Tate's close shave in making weight. "My (input) was all about focus and peak performance."
The Review-Journal is owned by the Adelson family, majority owners of Las Vegas Sands, which operates The Venetian and Palazzo.
Read more from Mike Weatherford at reviewjournal.com. Contact him at mweatherford@reviewjournal.com and follow @Mikeweatherford on Twitter.