For Las Vegas Strip illusionist, 'innocent until proven guilty' doesn't hold in show business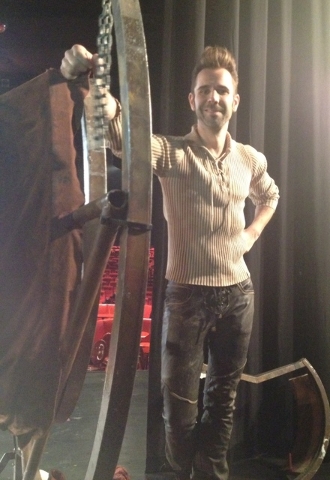 Almost a year ago, I watched Jan Rouven pose for photos with a line of people who had just seen his show, as he did after every performance.
One couple was so enthusiastic, they were going to talk it up to everyone they knew back home.
Rouven's manager and partner Frank Alfter smiled and said, "See? People like him."
They don't anymore.
Whatever becomes of the German magician in U.S. District Court, his career as a performer is almost certainly over, after he was charged this week with one count of receipt or distribution of child pornography.
"Innocent until proven guilty" still holds in court, as Rouven's attorney Jess Marchese tried to remind everyone after he and his client denied the allegation in court.
But it doesn't work in the marketplace with a charge so toxic.
The Tropicana wasted no time closing Rouven's "Illusions" (alternately known as "The New Illusions"), despite the collateral damage of 12 dancers suddenly losing full- or part-time jobs.
Who could second-guess the hotel's decision? Some of those same dancers were sensitive about the Review-Journal even using a show photo — one in which it was clear a dancer and Rouven were onstage — in connection with the story of his arrest.
The charge is so grave that Las Vegas magician Murray SawChuck, who also has performed at the Tropicana, thinks it will be a while before he or any magician can work at the hotel again.
"Here's the problem. Jan Rouven wasn't that famous. Most people don't remember his name and they can't even pronounce it properly," SawChuck says. "The Tropicana is more famous than Jan Rouven. No matter who's in there, people are going to go, 'Is that the guy?'"
SawChuck posing with Rouven and fellow magician Tommy Wind is only one of many, many photos still on Rouven's Facebook page. Dozens of them show Rouven with youngsters or families in front of the backdrop logo for his show.
There he is with Siegfried Fischbacher, one of the two most famous German magicians of all.
There he is in front of Mendoza Elementary School, where he visited to read to students for Nevada Reading Week.
Tapping a keg at Hofbrauhaus.
Appearing on "Valley View Live!" on KTNV-TV, Channel 13.
Schmoozing with hotel concierges.
All the things an almost-famous entertainer does to immerse and ingratiate himself in the tourist corridor and larger community to build a word-of-mouth following.
And the thing is? It was working.
On and offstage, Rouven was a likable presence. Alfter, who shares the home involved in the FBI's investigation, was always pleasant to deal with as well, and that cannot be said of all managers of Las Vegas entertainers.
Rouven and Alfter seemed realistic about their roles on the Strip when they opened shop at the bygone Clarion, the lowest rung on the Las Vegas show ladder in 2011.
"(A)ll the people who didn't know the business landed somehow at the Clarion, and those people expected to open the doors and have thousands of customers because they thought, 'We are the biggest and the greatest,' " Rouven noted then, in my first interview with him.
But even my first review of his show called him "likable." And just about every time I review a magic show — especially those which share familiar illusions — I write that its success depends on the personality of the magician and his bond with the audience.
The show gained enough traction to move to the Riviera, where I wrote that Rouven "often looks and sounds like Dana Carvey imitating Siegfried. But soon you're on the side of this charmingly vulnerable fellow, who is what the 'Saturday Night Live' cartoon used to call 'ambiguously gay' in his stage presence."
Rouven and Alfter seemed almost clairvoyant in leaving the Riviera for the Tropicana before the Riv's surprise closure. And they claimed the Trop's president Alex Yemenidjian, bought his own ticket to come scout the show incognito, based on its strong word of mouth.
But by the end of last summer, the FBI was running an undercover investigation of a file-sharing network dealing in child pornography. In January, FBI agents seized two computers and an external hard drive from Rouven's home, and now allege the hard drive contained 3,235 videos and 105 images of child pornography, some showing children engaged in sex with men.
Marchese has said he will be able to prove the hard drive was not in Rouven's possession. Those more familiar with the FBI than I am say the case progressing this far is itself a sign that it is a solid one. (Marchese on Friday was preparing a challenge to U.S. Magistrate Judge Peggy Leen's order to hold Rouven without bail as a flight risk.)
People do seem genuinely shocked. SawChuck says his phone blew up during a business meeting with more than 70 text messages and calls.
One of the "Illusions" dancers, Nicki Taylor, says she was similarly left unemployed and unpaid in 2011, when magician Steve Wyrick's show abruptly went belly up at the then Las Vegas Hilton.
But from Taylor and other cast members I get a sense of both practicality and futility. A job like this shouldn't be their only one to begin with; for six nights a week, Taylor finished "Illusions" and then dashed to the Flamingo to be in "X Burlesque."
And it's not like there's a lot of precedent for a better way to have handled this than the Tropicana's knee-jerk reaction.
The dancers know like everyone else, that regardless of Rouven's fate in court, all the goodwill he built up in four years has unraveled. And the word of mouth so crucial to any entertainer now goes in the other direction.
Read more from Mike Weatherford at reviewjournal.com. Contact him at mweatherford@reviewjournal.com. Follow him @Mikeweatherford