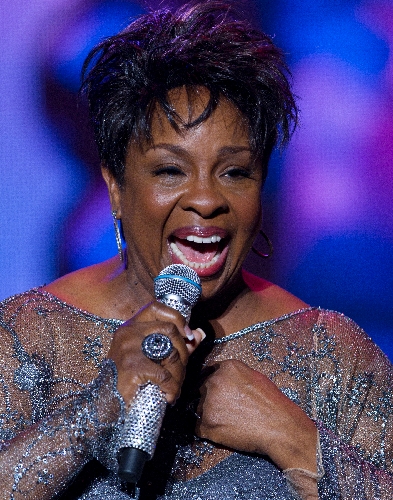 Gladys Knight jokes onstage about having a streamlined production because she couldn't afford fireworks. But really, when she's talking or singing, no one's looking at anything else.
The charisma that radiates from the stage? You can call it "old school." But you either got it or you don't, and it's not an age thing. Cher, 64, fills her stage up with clutter. Garth Brooks, 49, does Las Vegas shows so sparse that Knight's looks busy by comparison.
Old school is relative, but Knight's new Tropicana show is at least old Vegas: She's talking directly to people who sometimes talk back but still hang on her every word.
"This ain't the first time we've been broke, this country or us," she says during between-song chatter that's almost as entertaining as the music. "Let our kids know so they won't be all frightened: We can make this work."
Amen, we shout back. Coming from her, it's more encouraging than any word from Washington.
The new show is called "A Mic and a Light" but it isn't really that spare. Six band members and five singers are spread out on a spacious band set, and there's even a rear video screen with graphics and film footage.
Last week was the first of open ticket sales after some warm-up shows for hotel staff and the like. The order of songs shuffled around during the phase-in. But if this is where it comes to land, the first hour perhaps depends too much on the star's effusive personality.
The background singers stay perched on the bandstand, only getting into motion after the star summons that ball of energy known as brother Bubba (Merald) Knight.
The original Pip's galvanizing dose of James Brown and Prince clears the decks for the torchy miniset that inspires the show title, with Knight perched on a stool in front of parted red curtains for rich versions of "The Way We Were" and "Someone to Watch Over Me."
As she closes in on 67 (her birthday is May 28), Knight's voice is huskier and missing some of the old sparkle in the upper range. You notice it by comparison if classic hits such as "Best Thing That Ever Happened to Me" are burned into your memory.
But, like Frank Sinatra at that age, she has also learned to play to her strengths. She knows how to sell a song, and that's with seniority.
An unexpected take on the country chestnut "Please Help Me, I'm Falling" turned out to be one of the evening's high points because of dramatic interpretation, not high notes. Likewise, "I Hope You Dance" simply had more heft and deeper layers of experience than Lee Ann Womack's country hit.
You get the required list of hits, including a thumping "I've Got to Use My Imagination" and a triumphant "Midnight Train to Georgia" closer. But two new songs preview a promising new album and keep the set from entirely looking back: the recent single "Settle" and a club-modern update of "I (Who Have Nothing)."
This night's show was long by casino standards — more than 100 minutes — yet some of the songs seemed rushed; perhaps one medley too many. The musical arrangements also tend to be uniform and densely keyboard heavy. My vote would be to trade in a couple of singers for a horn section, but the combined vocal power of a gospel sequence is undeniable.
"Next time y'all come, I'm gonna feed you!" a delighted Knight proclaimed at the end. She's clearly happy to be back on the Strip, and anyone old enough to care will be, too.
Contact reporter Mike Weatherford at mweatherford@ reviewjournal.com or 702-383-0288.
Review
Gladys Knight "A Mic and a Light"
8 p.m. Tuesdays-Thursdays,
9 p.m. Fridays and Saturdays
Tropicana, 3801 Las Vegas Blvd. South
$77.50-$110.50 (739-2417)
Grade: B+