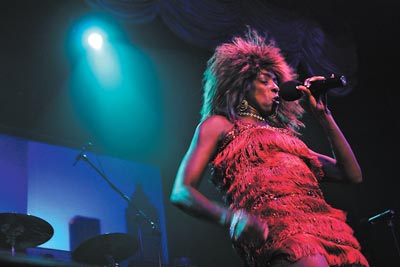 I wish I could quit the Krave.
Sure, I try to dismiss the misbegotten place, officially known as the Harmon Theater when it's hosting ticketed shows, but arguably more familiar by the gay club name it assumes in the late-night hours.
The body count of failed shows there have a common link, or lack of one. The club doesn't connect to the Miracle Mile Shops at Planet Hollywood; you can only get to it from outside. By the usual laws of Vegas, it should have been bulldozed by now to make way for some new grand idea.
Except for one thing. Once you're inside, there's nothing quite like this setup anywhere else in town. The room can affect a classy supper club vibe that elevates an effort such as "Hitzville — The Show."
Producer Bill Shack remembers and re-creates the room's first incarnation as the Blue Note jazz club. "Hitzville" patrons sit down to tablecloths and candles and help themselves to a buffet of Southern soul food by chef Jon Landry. It sets a great tone for the Motown revue, which wouldn't work nearly as well playing to rows of theater seats.
And "Hitzville" needs all the help it can get. Not that it's a bad show. It's just a modest one, lacking a name headliner on a Strip loaded with over-the-top competition.
The revue also molded to its surroundings last year in the Hilton's Shimmer Cabaret, playing as a no-rush 110-minute lounge revue. It now has tightened to a more urgent 80 minutes, and is all the stronger for losing the idle chatter.
It's still a simple affair, alternating between the four-man group Fair Play and three women fronted by top-billed belter Jin Jin Reeves. She's a powerhouse, they're smoothly casual and they make for good contrast trading off in front of a five-piece band.
The "z" in the title avoids any legal infringement; an official Motown revue was said to be in the running for Mandalay Bay. It also allows the set list to wander from Detroit to the Philadelphia sound of The O'Jays, the Atlantic recordings of The Drifters and the '80s hits of Tina Turner.
Nevada has a statute protecting "Legends"-type tributes, but this one still takes no risk. There are no rear-screen projections of the Motown greats. No one even dares speak their names. Instead, the transitions are, "They always gave you a supreme effort." Or, "There were four of them, and they topped the charts."
Reeves can sing pretty in a Supremes medley but tear the roof off the full-throated Turner and Gladys Knight hits. None of the male voices balance her force, but Dan Mitchell does justice to the Four Tops catalog and Ron Stevenson is an amiable co-host. "You know we're just one step from the paramedics," he says after one display of matching-suit choreography.
I used to watch a country tribute called "Honky Tonk Angels" and think it was a pity the singers couldn't perform out of costume and be more of their own selves. Here that wish is granted. Beyond Turner's big '80s hair, the Motown stars don't lend themselves to the costume gimmick anyway.
But it also shows why the "Legends" approach has an edge in theatricality and visual excitement. "Hitzville" fills a missing niche on the Strip, but often feels like the backup group that's doing the warm-up song before the big star arrives.
Is there any real Motown vet out there who could come headline the thing? Just a thought.
Contact reporter Mike Weatherford at mweatherford@reviewjournal.com or 702-383-0288.
REVIEW what: "Hitzville — The Show" when: 7 p.m. Wednesdays-Sundays where: Harmon Theater at Planet Hollywood Resort, 3667 Las Vegas Blvd. South tickets: $66.61-$77.61 (836-0836) rating: B