Hypnotists no longer are bottom-rung entertainment on Strip
December 5, 2013 - 11:40 pm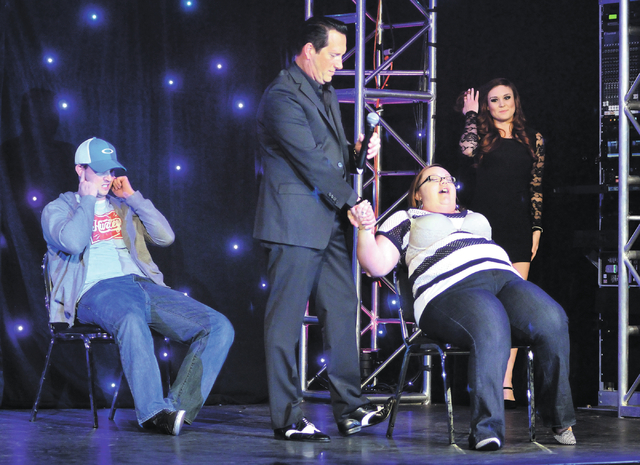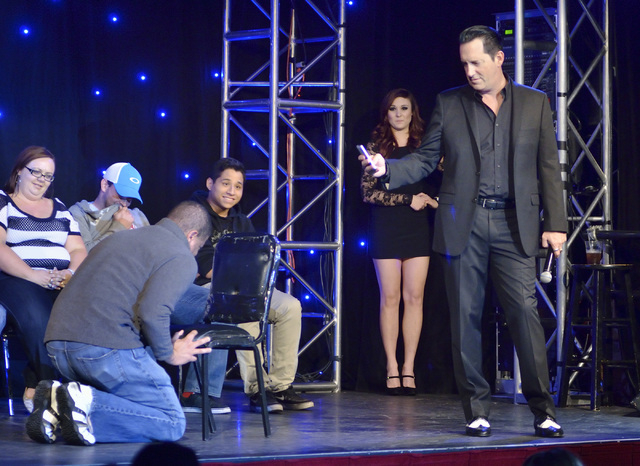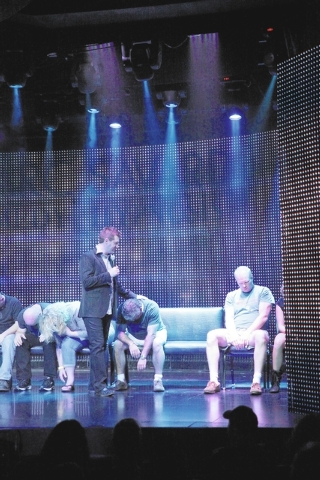 Hypnotists are cruel bastards, but also kind of underappreciated.
It's an undeniably guilty form of voyeurism to watch Marc Savard give a guy jock itch, or Anthony Cools cast another one with "hoop burn," causing him to dog-scoot the stage trying to put it out.
And perhaps this was one answer to Cools' persistent question, "Why can't a hypnotist get an A rating from you?" It's just so cheap.
Still, how do you not laugh? Cools and Savard both deliver more consistently than many a stand-up act, and their longevity has done much to deflate the stigma of hypnotism as bottom-rung entertainment.
Cools has been in town 10 years, and continuously at Paris Las Vegas since 2007, when fellow Canadian Savard dug into the V Theater at next-door Planet Hollywood's Miracle Mile mall.
That's a lot of handshake orgasms. Yes, they balance the pain with pleasure. But each is dependable, a long way from a predecessor who used to phone in to see if he had sold 40 tickets, then cancel his show if he had not.
Consistency is one thing, but quality control was perhaps the final objection to Cools' constant lobbying for his show to join the A-rated leagues of the Blue Man Group.
The blue guys don't make you depend on your fellow audience members. As Savard asks a "Riverdance"-ing subject in mock outrage, "You wouldn't go to Blue Man Group and do that (stuff) would you?"
Hypnotism had a big head start on the reality-TV era. Audience narcissism — coming up and joining the show, instead of watching quietly — pre-dated Twitter and the selfie by decades.
And both these shows somehow survived the death of embarrassment and privacy. There's still a whole lotta wrong up there, even if it will all be proudly displayed on Facebook the next day. A section of Savard's show is state-fair clean, but Cools' is proudly dirty, delivered with the perfect smirk.
No matter how "real" you think hypnotism is, there's no arguing it's good theater. But it's also a bit of a craps shoot when it comes to who will go up there and what they will do when they get there.
Cools finally convinced me that people having sex with chairs could be at least A- entertainment. Oddly enough, it was by getting through the worst show I've ever seen from him.
Never before had I seen empty chairs on the stage after the call for volunteers. And a couple in this batch ignored his announcement that there is no need to bother if they're drunk or high: "Drunk Girl, not even close," he finally told one as he scooted her off the stage.
And yet he did more with less. My friends who had never seen the show didn't know what they were missing as Cools worked plenty of magic on a half-dozen subjects, supplying the arch expressions and verbal wit to offset their slapstick.
"I do this for a living. This is how I make my mortgage payment," he noted as the show reached its most infamous segment, the "porno auditions" allowing the cast to display their "creative love-making techniques."
Savard is more the sincere guy, less flip in his stage persona and trying harder to explain hypnotism as a "superconsciousness," where an idea "becomes your reality."
But he too goes the deadpan route to balance to an act that escalates the raunch level gradually, taking its time to get to the mistreatment of blow-up sex dolls.
On this night, Savard was blessed with a range of quality volunteers, including a hip-hop dude, a guy in white tourist shorts (always funny in November) and an amazingly tall guy who looked very much like the shambling Frankenstein monster that hypnotized people become in old movies.
But you realize it's no accident that both of these long-running hypnotists run a tight ship. The audience may be the stars, but they had better hit their marks. Savard plays the puppet-master to the point of making his minions into human voodoo dolls.
Physical comedy is again the norm here, but Savard is quick to leverage any unexpected bonuses.
One lady waved away some pretend marijuana, explaining, "I can't. I work in the medical field."
"Well, it's medical marijuana," he told her.
"I'll try it."
If you're trying to decide which hypnotist to go see, it's not a huge choice beyond the personality of the hosts: Cools somehow makes the whole show an extension of his personality, the keeper of the college party house. Savard is the guy who might really help you quit smoking.
Cools offers an added bonus set of smart stand-up from Matt Markman for early arrivals. But for better or worse, the main shows are similar in structure, from the volunteers as orchestra players to the "sleep guns" and the weed and the orgasms.
Savard's one showpiece not seen in Cools' show is a belt that turns into a snake to terrorize the subjects. Yeah, he sure seemed like a nice guy when you went up there.
Contact reporter Mike Weatherford at mweatherford@reviewjournal.com or 702-383-0288.
Review
Anthony Cools
9 p.m. Tuesday, Thursday-Sunday
Paris Las Vegas, 3655 Las Vegas Blvd. South
$55.75-$88.75 (877-374-7469)
Grade: A-
Marc Savard "Comedy Hypnosis"
10 p.m. Saturday-Thursday
V Theater at the Miracle Mile Shops at Planet Hollywood Resort, 3667 Las Vegas Blvd. South
$39.56-$60.56 (702-260-7200)
Grade: B