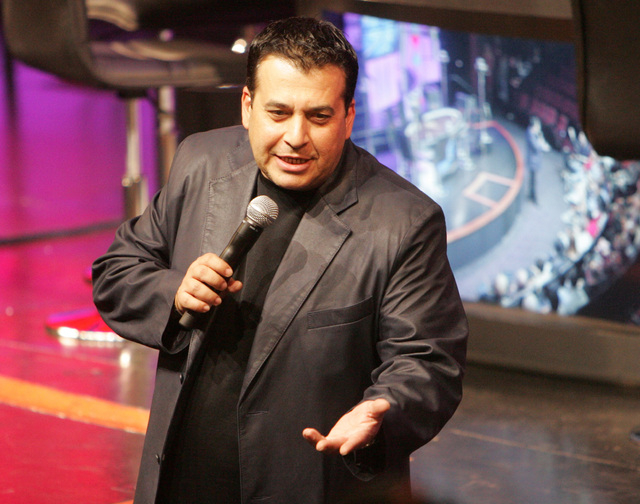 Here's the joke I thought up:
In the old Vegas, the Rat Pack guys would lend money to a hardworking cocktail waitress.
In the new Vegas, it's the entertainer who hits up the cocktail waitress for a loan.
Funny, huh? No, just sad really.
A long court history of unpaid personal loans came to a head last week for comedian Vinnie Favorito. Caesars Entertainment Corp. pulled the plug on his long-running show after a complaint from a Flamingo employee, who already had gone through court channels to collect $7,567.
Other creditors came forth after the news broke, including a former neighbor who is still trying to collect $60,000 from $109,000 he lent to Favorito over the years.
But Lorelee Main-Ford says the final straw was Favorito borrowing $20 from a bar assistant.
"You're a celebrity. You're representing Caesars Entertainment. What are you thinking?" she says.
She's right, if technically wrong. One of the other differences between the old and new Vegas is that most entertainers aren't paid by the casino. Favorito was one of many who contracted his showroom space through a third-party producer.
But how many people know that?
Granted, it's not that Rat Pack era, when big-name entertainers on the marquees were the main reason to walk from one casino to the other. But showroom headliners still hold their own amid the billboards for celebrity chefs and nightclub DJs.
Even Favorito, who worked the smaller cabaret and not the main showroom, was well marketed on the property.
"You know how hard it was? Everywhere I turned, he was there," Main-Ford says. "Billboards, pictures, when you cash in your (slot machine) ticket, his picture pops up. That was the killer. This guy owes thousands of dollars and he's on the cash-out ticket on the machine. It was like torture."
Main-Ford says that years ago, a high-rated "Diamond" player — the second-highest ranking in Harrah's Total Rewards program — had complained to a previous hotel president about Favorito borrowing money.
"If I had borrowed money from a player I would have been fired," she says.
But a high-roller hobnobbing with an entertainer? Another piece of the old-Vegas legend. The Rat Pack hanging out in the lounge after the show. Frank Sinatra and Dean Martin dealing blackjack. If a customer and an entertainer end up friends and doing side business together, who's the casino to poke its nose in that, right?
Some of Favorito's creditors say he has a gambling addiction. They say court proceedings have established he earns between $150,000 and $300,000 per year doing his comedy in the small showroom. It's not Britney Spears-level money, but certainly enough that it's fair to ask why he has to borrow so much.
Asked via email, Favorito offered a sideways answer: He has gambled "since I was a kid" but "it's Vegas (and) most people gamble here."
More legend, dating back to the smoky, bourbon-drenched mythos of the '50s. Casinos loved to hire the likes of comedian Joe E. Lewis. They knew he would reinvest his paycheck at the tables, perhaps even owing them a free show to pay off his markers.
Even Diana Ross, who's back in town, was a known regular at the blackjack tables in the 1980s. The relationship that first brought Celine Dion to Caesars Palace included her husband's skills in the poker room.
We all know celebrity is a double-edged sword. In an email last week, Favorito wrote: "The problem with being an entertainer is if you have a hangnail it turns into you cut someone's finger off. Stories blow up."
We also see how much celebrities give back. Hardly a weekend goes by when celebrities aren't giving their own time to some form of charity benefit.
Being an entertainer in this town is still a privileged license, but the trust level works both ways.
Another cliche about the old Vegas is that things like this wouldn't have happened when the mob ran the show. I suspect in this case, Favorito is happier to be working in the new Vegas.
Read more from Mike Weatherford at bestoflasvegas.com. Contact him at mweatherford@reviewjournal.com.