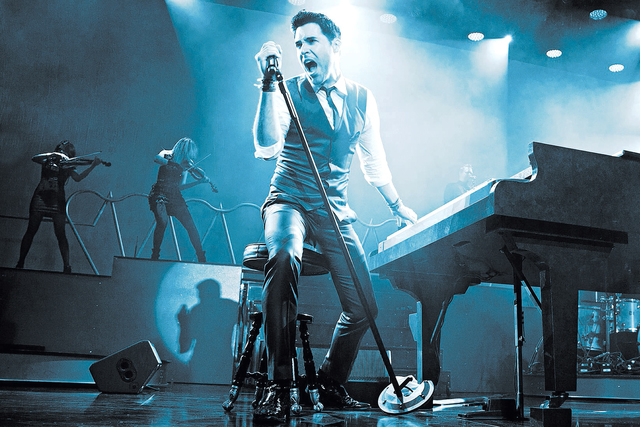 What's it like for casino showman Frankie Moreno to work with an actual stage director?
"It's impressive. It's very new for me. And he keeps using all these crazy terms, like, 'Going upstage, downstage,'" Moreno said.
"I just tell him, 'Go towards Paris (the casino),'" director Vincent Marini added with a laugh.
Moreno and the vocal quartet Human Nature coincidentally reopened on the Strip the same week, with new shows and obvious parallels. Both are "down front" performers who had to build their name value from the ground up, instead of arriving as stars (except for Australians who knew Human Nature as a "boy band").
But here's a less-obvious comparison: Both have made the jump from simple bandstand sets to more elaborate productions full of video and props — even a "keyboard car" in Moreno's case — overseen by directors with backgrounds in legitimate theater.
Marini is credited as executive producer and director of Moreno's show, which was set to soft-open this weekend at Planet Hollywood, with a formal opening night May 4. He's the former artistic director of North Carolina's state theater, the Flat Rock Playhouse, and now works as creative director for Base Entertainment, which bankrolls the new Moreno venture.
"He's making sure that 50 people are all thinking the same thoughts," Moreno said during rehearsals last week. "It's crazy. I'm glad I'm not him."
Rather than continuing the single-set showcase Moreno offered for three years at the Stratosphere, Base has invested in a more elaborate production with visual changes for every segment, more like the diva showcases at Caesars Palace and the larger Axis at Planet Hollywood.
"What we try to do is make it so that from number to number you never know what's coming next," Marini says. "There's a lot of variation in the way the numbers are staged, the way they look and how we're presenting them."
"It's so overwhelming, the amount of work going into it," Moreno added.
Marini working for Base, which co-produces the comic variety show "Absinthe," shows how entwined local show business can be. "Absinthe" was co-created and directed by Australian director Wayne Harrison, who also directed the new Human Nature show, "Jukebox," at The Venetian, as well as their Motown tribute before it.
Harrison spent the '90s as director of the Sydney Theatre Company and helmed the closing ceremonies for the 2006 Commonwealth Games. Though variety-show directors are arguably more "invisible" than those who helm plays and musicals, Harrison says it's "rewarding, not thankless… I wouldn't be involved if I didn't like or respect Human Nature and get a kick from what we create together."
It's a tricky balance to keep the personalities of Moreno or Human Nature in front of the bells and whistles. Though fans would argue these examples, the danger is ending up with "hit the mark" spectacle such as Cher's last showcase at Caesars Palace or Britney Spears at Planet Hollywood.
"I guess the cliche stands. The art conceals the art," Harrison says. "When I work with Human Nature, I don't want to get in the way of them or their music. Everything is about showcasing them and allowing them to ease from one musical statement to the next (as seamlessly and invisibly) as possible. I also try to do it inventively."
The new "Jukebox" theme, with a nod to "Back to the Future," helps as "a reference point to allow for the all-important details," Harrison says. Those range from "why a song is chosen" to "how it is choreographed, what appears on screens as supporting material, even what the boys are wearing." …
Most longtimers know Dondino as the quintessential old-Vegas lounge performer. Once a fixture at the Four Queens, the singer left town for Branson, Missouri, in 1993 before returning two years ago.
Now he and his spouse, Donna Gummelt, have lassoed a big topic. They are shooting and editing a documentary, "Cowgirl To Showgirl, Just Like That" through their Dondino Productions.
The original plan was to focus mostly on the story of Las Vegas philanthropist Cindy Doumani. But as anyone lured into the fascinating history of showgirls can tell you, "It is a much bigger project than I originally thought it would be," Donna says. "Research tends to make the subject material larger and larger. Each interview and story brings in another interesting story, and so on."
The couple have interviewed veteran "Folies Bergere" creators Rich Rizzo and Jerry Jackson, and visited the surviving "Lido de Paris" in Paris for the film they hope to complete by fall. And when they started all this, they never anticipated the closing of "Jubilee" would make the project even more bittersweet. …
The arrival of the T-Mobile Arena had me asking how the Strip could book five arenas within four miles. Well, Saturday did a good job booking four out of five of them. On the Strip we had George Strait at the T-Mobile, Pentatonix at the Mandalay Bay Events Center and the Jones-St. Preux UFC fight at the MGM Grand Garden.
Away from the Strip, the Orleans Arena hosted the 24/7 Comedy Fest. The Thomas & Mack Center was the one arena taking a post-basketball snooze.
With five arenas to talk about, it's easy to forget there's a sixth one at the Primm state line, not to mention concert venues both large and small at the Arizona state line in Laughlin.
What's left for those venues? Well, not quite Billy Joel, but still some odd bragging rights.
The "first set of final world tour dates" has Kenny Rogers playing The E Center at the Edgewater in Laughlin June 25. No Vegas date yet. Perhaps Rogers is counting on a Strait-type deal that would still let fans come see him here after "The Gambler's Last Deal" caps his traveling.
And The Monkees will release their first new album in nearly 20 years on May 27. But so far it looks like you will have to go to Primm and the Star of the Desert Arena to see the Pre-fab Four on Sept. 16. Remember that place? Yeah.
Read more from Mike Weatherford at reviewjournal.com. Contact him at mweatherford@reviewjournal.com. Follow him @Mikeweatherford.