Jackie Evancho, the 11-year-old with a big voice, joining David Foster's 'Friends'
December 23, 2011 - 1:59 am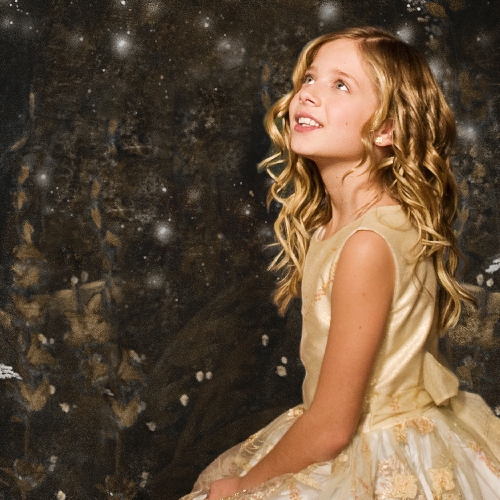 Being a better singer than Lady Gaga (at least in technical terms) doesn't stop Jackie Evancho from wanting to do a duet with the pop goddess next year.
"I do listen to pop. I basically listen to anything on the radio," says the 11-year-old who captured the public imagination with her operatic, big-as-all-outdoors voice.
Offstage, Jackie likes to swim in hotel pools and looks forward to spending Christmas at home in Pennsylvania. "I'm crazy about my home," she says in a telephone chat.
"She's a real kid," says producer David Foster, who hosts the young singer Thursday as the only billed guest in his third "David Foster & Friends" concert of the year at the Mandalay Bay Events Center.
"She shows no signs of being who she is when she's not performing," Foster says. "She's out running and playing with the dog, hitting her brother, the typical stuff.
"Coupled with that though, she's obviously complex," he adds. "Her musical brain is very complex. She sits and works things out at the piano; she plays violin. She's a true prodigy."
Foster discovered Jackie three years ago, when she entered one of the talent contests he conducted in tandem with his tours. "Even at age 8, she was incredible," he says.
Jackie says the movie version of "Phantom of the Opera" brought out her singing abilities. "I went to watch the movie with my mom and my brother Jacob. It was really good, and I loved it so much, I ended up doing a talent competition because my mom had heard me singing the songs around the house."
However, the talent contest was the first of her two infamous second-place finishes. The bigger one came when the rest of the world discovered her on "America's Got Talent" last year. Las Vegas-based Michael Grimm pulled the upset to become the surprise season winner of the NBC talent contest (Jackie says she still keeps up with Grimm on Facebook).
Foster produced "Dream With Me," Jackie's full-length album debut (after a Christmas EP), released last summer. She says it tested her singing skills, which have not been shaped by as many years of vocal coaching as some listeners would assume.
"There's tons of songs that are a really hard challenge for me," she says, citing "Ombra Mai Fu" from Handel's opera "Serse." "When I first started out singing that song, it was very complicated for me."
But Foster says Jackie "thinks like an adult" in the recording studio.
"Here's the thing you need to know about Jackie. And this I know unequivocally. The most amazing thing about her is to me, not her voice, although that is completely amazing and it shocked me," he says.
"But the most amazing thing about her is the way she understands what she's supposed to do. She understands better than most adults I work with. If you give her an idea, she gets it. If you tell her this is the arc of the song, she gets it. If you tell her she should unload at this point of the song, she gets it. She glues herself to the music."
Jackie keeps the holiday spirit going on her new "Heavenly Christmas," and her favorite songs on the album aren't necessarily the most operatic.
"Walking in the Air" was "the one I was excited to sing," she says. "The tune is all exciting and it's interesting. Most Christmas songs have the same feeling. Silent and mellow. This one is big and exciting." She also likes "Believe" because, well, she likes "The Polar Express" movie it came from.
Foster says the most common question he fields about Jackie is what will happen down the road. Will her voice change in adulthood? Will the public still be as enthralled?
"I never have thought of her as a novelty, ever," he says. "I believe in my heart that if she wants, she will be the greatest opera singer of her time when she gets into her 20s. If that's what she wants."
Perhaps it will be combined with movie stardom. Jackie just completed her first feature-film acting role with Robert Redford in "The Company You Keep." Whatever she chooses, Foster has faith in her. (No surprise she didn't know who Redford was. But her mom did.)
"She's so smart, she knows the difference. She knows good from bad. And she knows good is the enemy of great," Foster says. "She's going to make some great records in her life."
Contact reporter Mike Weatherford at mweatherford@ reviewjournal.com or 702-383-0288.
Preview
"David Foster & Friends"
8 p.m. Thursday
Mandalay Bay Events Center, 3950 Las Vegas Blvd. South
$55.50-$265.50 (632-7580)