Jarrett & Raja's act feels like it belongs to another era of Vegas
Updated April 14, 2017 - 3:21 pm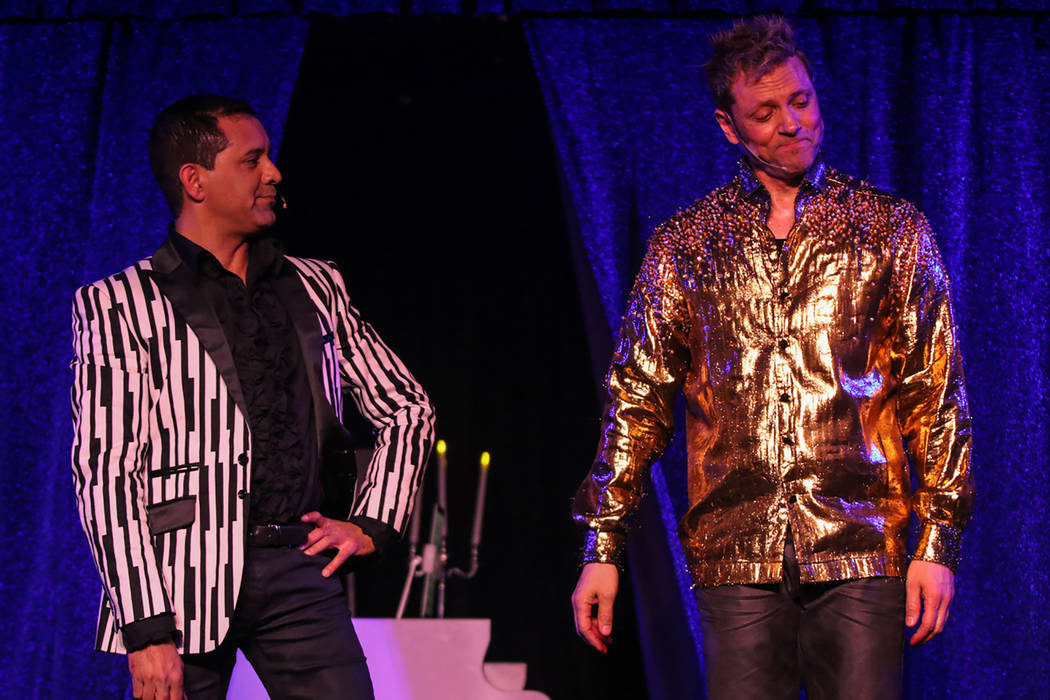 What's a guy gotta do to make it in Vegas these days?
If you're Raja Rahman, you first get shoved into a coffinlike cabinet and get yourself sawed in half in an illusion. Then, the front half of you gets wheeled over to a piano bench, where you reach up and play upside down.
"Juilliard snob," your partner calls you.
But even this might not be enough for the duo known as Jarrett & Raja and their "Magician vs. Maestro" show at Hooters Casino.
The two have blended Jarrett Parker's illusions and Raja's concert pianist skills for the better part of 20 years. So it's no surprise to find slick showmanship even in the near-desperate setting of this low-ceilinged, second-floor banquet room.
With no staging to speak of, the duo manage to squeeze in a grand piano, prop-heavy illusions and even a fine singer, J.R. Phelps, who covers some of the changeovers with make-you-smile versions of Heart's "Magic Man" and Jefferson Starship's "Miracles."
But the collective effort seems dated, a tough fit for today's Strip, even beyond the venue. This polished, family-friendly act might have cleaned up as an afternoon show back when Rick Thomas and Dirk Arthur were mainstays. But now?
Compare the conversational, casually dressed Mat Franco — the only new magician to get any traction on the Strip lately — with Jarrett & Raja's shiny Liberace wear and forced, '70s TV banter, which gives us a few chuckles but no real sense of an honest dynamic between them.
Still, they are fun guys to be around. And while the Strip seems obsessed with millennials, there's a big potential audience out there that might see the time-slip feel of the show as a positive. This doesn't even have to be your first magic show.
Some of the illusions offer unique twists on the familiar classics, such as a "mind reading" trick where a blindfolded Raja plays a song title that an audience member draws from a bowl of submitted suggestions but does not read out loud.
The show also offers a rare, dinner-in-the-room option, which gives it another card to play.
Unless the duo are simply angling to move to a more conventional theater, they may just need time to adapt. Take a deep breath and loosen the reins on a show that's too scripted for its surroundings. The real magic might come in stepping off that stage to talk to us like real people. The room's too small for us to feel so far from the stage.
Contact Mike Weatherford at mweatherford@reviewjournal.com or 702-383-0288. Follow @Mikeweatherford on Twitter.