'Jeff McBride: Magic at the Edge' and 'Scarlett — Princess of Magic'
September 5, 2008 - 9:00 pm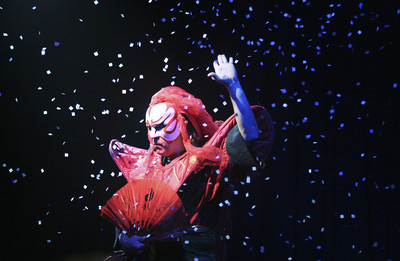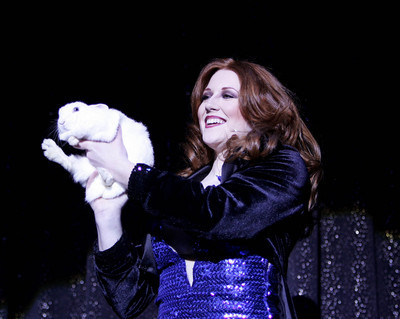 Criss Angel is one busy guy, what with a multimillion-dollar show at Luxor just around the corner.
But he wasn't too busy to scoot over to the retail mall at Planet Hollywood a few weeks ago and check out "Scarlett — Princess of Magic," a bottom-rung entry on the Las Vegas entertainment ladder at the V Theater.
I believe this tells us two things. First, that magicians, like other very specific professions, are at once a supportive and jealous breed. Second, most of the male ones were nerds when they were young, and the thought of any female practitioner in fishnets still drives them wild.
And maybe it's not just magicians. Those who remember the lovely but limited Melinda, "The First Lady of Magic," know the fascination can spill over to the larger public. That's why the newly minted Scarlett stands as good a chance of selling tickets as slick veteran Jeff McBride does at Palace Station, even if their two shows are as far apart on the magic spectrum as a fifth-grader and a doctoral candidate.
They both do the linking rings, an old staple of magic, but McBride whips them around like a kung fu master. And he doesn't call them linking rings. They have become the "sacred hoops of Black Elk," a Native American shaman.
The cosmic tone of the whole affair — all he needs is a Yes album — is either the central charm or the deal-breaker for "Magic at the Edge," McBride's three-month showcase.
The magician — who turns 49 on Thursday — dresses like an extra from the set of "The Lord of the Rings" and frames his illusions with elements of Japanese Kabuki theater and mime. No lie, he really does do that "trapped in the box" thing. But it comes off as sincere and endearing, much in the way that Siegfried & Roy eventually thawed even the iciest of hearts with the animal love.
It probably wasn't McBride's first choice to set up shop in a locals-oriented venue. But it's no bad thing for Las Vegas residents who have seen plenty of standard-issue magic shows such as Scarlett's. McBride turns the coziness of the Sound Trax club to his advantage with close-up illusions, staging them with moody theatrical lighting and music.
Much of it is charming or refreshingly original. Like most magicians, McBride pulls a youngster from the audience. But instead of trying to get the kid to say the darnedest things, he plays the sequence like a silent movie. At another point, he ventures into the crowd and seems to gobble up Christmas lights inches from people's faces.
Whatever you end up thinking of him, you'll respect McBride for the way he's absolutely marched to his own (taiko) drummer all these years, rather than taking the conventional path.
And Miss Scarlett? At least you can say this: I don't think I've ever seen another show in Las Vegas where the magician really does pull a rabbit out of a hat.
That's one of the family-friendly features of a passable matinee, but one with a dubious future until the holiday season, now that schools are back in session.
Magic at this stock level is not about the tricks. It's a referendum on whether you like the magician. This 22-year-old UNLV student found her audience mostly ready to forgive her for being very new at this, if she can relax the forced, frozen-smile delivery of stilted patter that drives a distance between them.
The collective effort lacks the unifying style or artistic tone of McBride's show, but at least gives youngsters a primer course on the classic illusions. But the lessons go both ways, judging from the day Scarlett was reminded that this is Las Vegas, not Branson, Mo., (where she might be a better fit).
She pulled an 8-year-old boy to the stage and asked whether he had seen a magic show before. Being a local lad, it turns out he had.
"Well that's really cool," she replied. When she has a better comeback, this show might be more than a development lab. Rest assured, McBride would have come up with something clever, or even trippy.
Contact reporter Mike Weatherford at mweatherford@reviewjournal.com or 702-383-0288.
REVIEWS what: "Jeff McBride: Magic at the Edge" when: 7:30 p.m. Wednesdays-Mondays where: Sound Trax Showroom at Palace Station, 2411 W. Sahara Ave. tickets: $55 (547-5300) rating: B+ what: "Scarlett — Princess of Magic" when: 2:30 p.m. Fridays-Tuesdays, 4 p.m. Wednesdays where: V Theater at the Miracle Mile Shops at Planet Hollywood, 3663 Las Vegas Blvd. South tickets: $35-$45, $15 for children (932-1818) rating: C