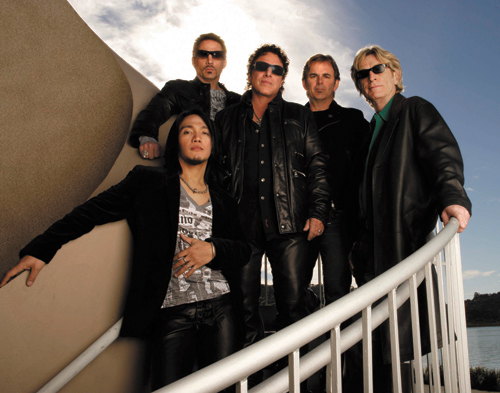 Jonathan Cain knew the "Glee" thing was going to be big.
"I've got two teenage daughters that keep me abreast of what's going on in teenage world," says the Journey man who turns 61 on Feb. 26. They assured him, "This is huge, OMG."
Yes it was. "Don't Stop Believin' " became the Fox TV hit's de facto theme song and set download sales records for a song that first hit the Top 10 in late 1981. The TV cast's remake was nominated for a Grammy, and Cain was in the audience with his 17-year-old daughter Sunday when it lost to his friends from Train.
"Good for us and good for 'Glee,' " Cain says of the song for which he plays the immortal piano lead-in as the group's keyboardist. "Glad they can get some mileage out of a song that's almost 30 years old now."
Cain says he saw it coming, even before the song's inclusion in the "Rock of Ages" Broadway musical that paved the way to "Glee." When Journey regrouped in 1998 and started to play "Don't Stop Believin' " live, "it was the one that always resonated with the kids, and they would always start charging the stage. I knew something was up. I didn't know how big it was going to get.
"It's kind of neat to see that side of it through their eyes, how the young generation perceives us," he adds. "Journey's sort of ageless in that sense. We're not like some old creeper band from the '80s with long hair that nobody cares about."
Journey, in fact, seems the one veteran group that's been aided rather than diminished by drafting a younger, sound-alike singer — 43-year-old Arnel Pineda — to replace the voice of its '80s heyday, Steve Perry. "We like his energy. He's brought a lot of heart and soul to this band," Cain says of the quintet still helmed by founding guitarist Neal Schon.
The Filipino Pineda also inspires a lot of national pride. "When you can play Manila for 40,000 people, that kind of works."
Come May, however, Journey wants to quit looking back and start living as a present-tense band again. Wednesday's audience at Planet Hollywood's concert hall is due for a three-song preview of the new album, "Eclipse," due May 24.
Cain describes it as "a concept record with some spiritual themes to it. Pretty tough, hard-hitting stuff. This is Journey with big combat boots on. And helmet and a rifle."
Cain's lyrics sustain the band's hopeful themes of "searching for soulfulness and enlightenment and love and all the stuff that Journey's about." But the album also has a larger dynamic sweep with "some darker stuff in there."
"We just felt like it was time to send a message to the world about how we feel about life in general," he says.
The album incorporates Hindu principles of Tantra, "the belief that life is kind of a weave, a circle of energy, a life force that's woven with the universe in all of us. We dove deep into it."
Cain goes so far as to call the album "one of those headphone records."
That's a genre that may take a bit of explaining for younger "Gleeks."
Contact reporter Mike Weatherford at mweatherford@ reviewjournal.com or 702-383-0288.
Preview
Journey
8 p.m. Wednesday
Planet Hollywood Resort, 3667 Las Vegas Blvd. South
$67.40-$146.60 (800-745-3000)