'Jubilee' reboot strange, generic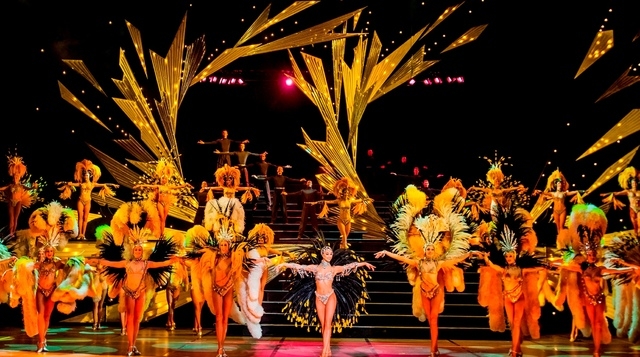 Some things never change and perhaps never should. So maybe it's no surprise, even a bit reassuring, that "Jubilee" is still camp.
That doesn't seem to be the intent though, or particularly good for business. But most of the new material in this "reimagining" falls right in sync with the sillier elements of the venerable showgirl revue, which was arguably dated from the day it opened in 1981.
The new material in this reboot by Frank Gatson Jr., Beyonce's longtime creative director, alternates between laughably strange and cruise-ship generic. But none of it is what the thing cries out for: a hip, cheeky reinvention of the showgirl.
Granted, it's no easy task. "Jubilee" is the last surviving example of the lavish feather show Las Vegas imported in the 1950s (the Folies Bergere theater remains a Paris landmark, but the show is gone). Las Vegas has opted for retro homage ("Vegas! The Show") or smaller-scale cabaret since "Enter the Night," a 1990s Stardust revue that at least got it right in places: a live, Broadway feel and showgirls given a winkingly self-aware context.
There's no such unifying tone here, and money seems to be another issue. This "Jubilee" looks more like the patchwork that the Tropicana's "Folies Bergere" became in its final years — classic costumes and scenic elements shotgunned together with new scenes carved out on a comparably threadbare budget.
In a heartfelt attempt to celebrate the showgirl, Gatson ends up mostly just talking about her. A loopy framing story is more reminiscent of "Storm," a Mandalay Bay bomb from 2001.
It's the tale of "Miss Jubilee" (Brooke Brown), a lost showgirl who slides down a stripper pole (or maybe a Bat-pole?) at the beginning, and must go back in time, a voice-over narrator tells us, to reclaim her showgirl mojo. Or something like that.
Whatever it is plops this Dorothy into an Oz we call the Strip (one in which only Caesars Entertainment-owned casinos have survived). She ducks-and-covers after being exposed to tawdry ladies and recorded catcalls such as "Who knows her outside of Bally's anyway?" Or, "Who cares about showgirls, anyway?"
When her plight isn't being voiced by "The Wiz" song "Soon As I Get Home," Miss Jubilee pops up on side balconies overlooking the audience and even crashes the "Samson and Delilah" segment in her modern-day dress. Someone call an usher, please.
Co-opting Broadway tunes for this story is at least better than the snicker-inducing narration: "Take this diamond and always keep it with you. It is like your soul. It's the only way back."
At another point, our heroine is reminded that she's a legend. "You must truly understand your magic. Understand your power and that the greatest gift is you."
If only Gatson did. For all this talk of showgirl specialty, the still-impressive display of bedazzled, often topless women are often pushed to the sidelines. Center focus goes to vocal numbers performed by an ensemble of singers. For a director who works with Beyonce, it's surprising that we get more song or dance numbers than well-integrated song-and-dance combinations.
The live singing does create more immediacy and onstage energy. The opening rollout of Justin Timberlake's "Take Back the Night," voiced by Shaun Walker, creates the false sense of optimism that this thing just might work.
Trouble is, "when the horns say all right," it's guys with saxophones miming to the sound of a recorded keyboard. Funny how "Jubilee" is supposed to be the "big" show, while the more modest "Pin Up" and "Vegas the Show!" both have smoking live bands.
Near the end of it, Chante Moore (whose opening-night status was considered temporary) does a great belting of Beyonce's "Love on Top" to kick off the closing costume parade. But this time, the contemporary song seems anachronistic and at odds with the climactic rollout of feathers and sequins.
In between, we have seen a lot of material bouncing all over the place and awkwardly fused with the show's original score. Some pieces are real head-scratchers: an elegiac number with umbrellas, or a bit with projected words such as "Provocative," "Fearless," "Adventurous."
(A lot of the lighting is just plain gloomy, something a showgirl revue should never be. Chalk it up to the compressed six weeks of rehearsals, or a misguided fixation on film projections, but this problem at least seems fixable.)
The "lost showgirl" thing eventually resolves itself, and the homestretch evens out by becoming more off the shelf and familiar.
A solid dance sequence evokes the Cotton Club era, and another projects kaleidoscopic patterns on the dancers a la the Crazy Horse Saloon. There's a Beach Boys bikini number, and an old-school R&B break from the singers where a disco ball drops down and the audience is coaxed to its feet.
You can still watch the enduring "minimusicals" about Samson and the Titanic and see something special there. Computerized opuses such as "Ka" don't diminish the stagecraft as much as make you appreciate the effort that went into it. The rest of the show was not so sacred though, making it a bigger sin that the new stuff just seems kind of ordinary.
And ordinary is something "Jubilee" should never be.
Contact reporter Mike Weatherford at mweahterford@reviewjournal.com or 702-383-0288.
Review
What: "Jubilee"
When: 7 and 10 p.m. Sunday-Wednesday, 7 p.m. Thursday, 10 p.m. Saturday
Where: Bally's, 3645 Las Vegas Blvd. South
Tickets: $65-$132.50 (702-777-2782)
Grade: C