'Lance Burton: Master Magician'
November 28, 2008 - 10:00 pm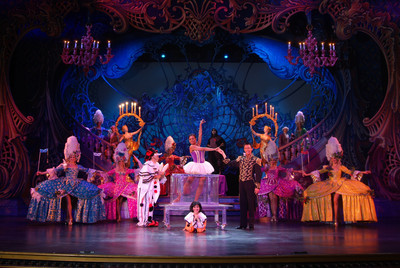 Not too long ago, the director of "Criss Angel Believe" had some words of wisdom, which I now repurpose as a Thanksgiving-weekend family entertainment tip:
"(For) those people who want to see a normal magic show, with a 'ta-da' after every trick … Lance Burton is doing a really good show — and I'm not ironically saying that — with classical magic, with the 'ta-da' and the assistant. I love Lance Burton's show."
Serge Denoncourt's point was that there is no reason to repeat what already has been done; Angel's show needed to find a new path. We know now their path led to a brick wall and that all the clutter of "Believe" only accentuates the beauty of simplicity in Burton's traditional style.
It seems we've taken our ol' pal for granted.
Go see Angel if you must, because it can't be denied Burton has been at the Monte Carlo long enough — 12 years now — to create a generation gap between a tuxedo and the shirtless, gold chains and do-rag look.
And there's no question that Angel's monster "Tronik" could put a Godzilla-sized smackdown on Burton's puny robot. Perhaps it was the ultimate ironic comment on the new Luxor competition that Burton's spiderlike robot contraption, the weakest illusion in his show, happens to be the most reminiscent of "Believe." To really drive the point home, the robot broke down at this particular show and had to be reset.
The cool production design of "Believe" — perhaps its only real strength — also accentuates Burton's failure to grow his show over the years; not reinvesting profits in new illusions, or at least not doing it often enough. "The Solid Gold Lady," a well-hyped new segment introduced in 2006 to celebrate Burton's 10th anniversary, was underwhelming in its payoff. No surprise that it was missing from this recent show, perhaps already retired.
At least the guy has exacting standards. For something new to go in, it has to be as good as the classics. It may be simple, Burton tells the audience at one point, but "the question we ask is this: Is the trick done well?"
And the answer is yes, from his opening speed-of-light work with birds, to the Corvette that appears, then vanishes again with a young lad chosen from the audience. The stunt that followed the question isn't so shabby either: Burton instantly switches places with the Lovely Assistant, who is apparently trapped amid the swords skewered into a clear cabinet.
There's a lightness and clarity to the bit that's echoed over and over again, and never any confusion about the "punch line." The likable wit of comic juggler Michael Goudeau, the longtime featured act, has spilled over into "The Magic Zone," a silent-movie-style slapstick piece in which people keep disappearing inside a red phone booth and climbing out of a mailbox.
If Denoncourt and Angel — so intent on using their illusions for storytelling — really went over and watched this show, they didn't learn enough from this piece.
"Let's see Criss Angel do this," Burton jokes as five ducks parade around the stage. We'd like to, actually. In fact, it once seemed almost inevitable that when Burton's contract expires next year, he would be encouraged to move on, avoiding competition with MGM Mirage's new golden boy.
But now, it seems just as likely that it's Angel who won't make it until Burton's next anniversary in June, and that Burton will keep rolling along as he always has. Unless … Burton moves a few doors down? "Lance Burton Believe"? In magic, anything is possible.
Nevadans who want to reacquaint themselves with this old friend should know there's a "locals appreciation" promotion running Tuesday through Dec.13, with $35 tickets for Nevadans who buy them in person; $38 online.
Contact reporter Mike Weatherford at mweatherford@ reviewjournal.com or 702-383-0288.
Review "Lance Burton: Master Magician" 7 and 10 p.m. Tuesdays and Saturdays, 7 p.m. Wednesdays-Fridays Lance Burton Theatre at the Monte Carlo, 3770 Las Vegas Blvd. South $69.50-$75.55 (730-7160) grade: B