Laughs at comedy clubs hit-or-miss
September 23, 2011 - 12:59 am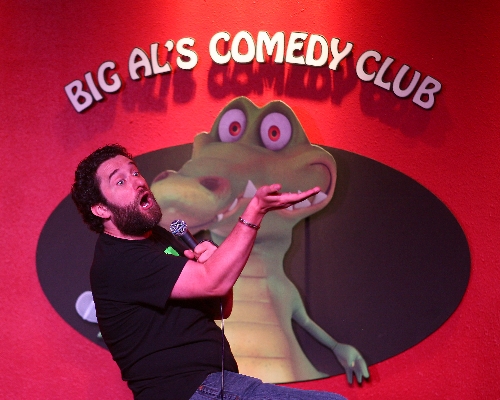 Hard times breed comedy clubs. People need to laugh — it's proven to release endorphins – and cheap-to-produce comedy showcases have popped up like so many "For Sale" signs in the suburbs.
We now have two off-Strip clubs within a mile and a half of one another, both in bygone casino restaurants and both affiliated with comedy promoter Joe Sanfelippo. Big Al's Comedy Club at The Orleans follows the usual rotating headliner/opening acts tradition. Exxtreme Comedy Show at the Rio is in flux with both its name and talent roster as it works to settle into a stable bill of resident comics.
The former Sazio restaurant at The Orleans lends a bright, cheery air to the Big Al's venture. Bold colors, hardwood floors and plush chairs up front offer a mood-lifting head start for the Thursday-Saturday operation.
Headlining through Oct. 1 is Dustin Diamond, better known to those who grew up in the early '90s as Screech from "Saved by the Bell." He was quick to get out in front of that: "Most people in this line of work start out in stand-up comedy and hope to get a (TV) show. … Come see me next year and I'll be doing security work with Gary Coleman's company."
Diamond works from the crouch, as Jerry Lewis used to explain of his physical posture, radiating a manic "we're having fun" kind of energy to sell extremely weak material.
He's probably more used to "Bell" fans his own age of 34 and younger — the set played like one from the student union activities fund — and he had fun ribbing the seniors in the crowd who "don't even know who I am, do you?" They're sure to remember at least the sexual slang he taught them.
"I'm a dirty comic, ya know," Diamond pointed out on his opening night in which his interest in "grandma porn" far outlasted the audience's. I'd say most of it wasn't so much "dirty" as "nasty." That is, if "dirty" is hot fun in the sack, "nasty" is more the odor of two guys sharing a one-bathroom apartment: "Dude, that's nasty!"
But the bill was well rounded by the two opening acts; four on this night. (Two were in town for convention work, and Sanfelippo says he lets them go up to add value to the ticket on early or single-show nights.)
Joe O'Connell has a beer-drinkin', Kevin James kind of appeal as host. If your wife wants to be on "Survivor," she would "be gone eight weeks and come back 15 pounds lighter. That's a win-win, huh fellas?" Myke Herlihy offers a slacker, deadpan delivery and a closing bit of comedy magic.
Over at the Rio, Exxtreme Comedy landed in the front room of the former Fiore Steakhouse after "The Rat Pack is Back" bumped it out of the larger Crown Theater. It has a makeshift look of black curtains and dingy lighting, its previous life more obvious than Big Al's thanks to the abandoned open kitchen. "Is that a brick oven there? We can make a pizza during the show," host comedian Anthony Padilla jokes.
Physical upgrades are promised when the name changes to the Rio Comedy Club and the show time changes to 7:30 p.m. starting Oct. 2. Geechy Guy, recently seen on "America's Got Talent," will become the lead hitter; he's been co-billed or alternating with Michael "Wheels" Parise.
On this night, Parise showed Diamond the difference between funny-dirty and gross-dirty in an extended bit about a date with a 600-pound woman. He was fine with that, but — as usually happens with online matches — she shaved 200 pounds from her real weight.
Parise's big-bellied New York attitude and his Chinese/Mexican-restauraunt accents from the era of Buddy Hackett and Shecky Greene were a good contrast to Padilla's metrosexual: "I'm not gay, but if I decided to convert, I'd be the guy everyone would say, 'I told you he was gay.' "
Parise will start his own show at the Royal Resort in October. Did we mention that hard times breed comedy clubs? But this night in two clubs proved that while the quality of a visiting headliner is a craps shoot, Las Vegas is developing a solid base of hometown stand-ups who can get the job done regardless.
Contact reporter Mike Weatherford at mweatherford@ reviewjournal.com or 702-383-0288.
Review
Dustin Diamond (headlining Big Al's Comedy Club)
7:30 p.m. Thursdays and 7:30 and 9:30 p.m. Fridays and Saturdays
The Orleans, 4500 W. Tropicana Ave.
$15.99, $12.99 for locals (365-7075)
Rating: C for Diamond, B for the overall club
Exxtreme Comedy Show
9 p.m. Sunday-Thursday
Rio, 3700 W. Flamingo Road
$39.95 (777-7776)
Rating: C- for the room, B for headliner Parise