Love or hate him, Tony Sacca is a Vegas Christmas tradition
December 6, 2014 - 10:13 pm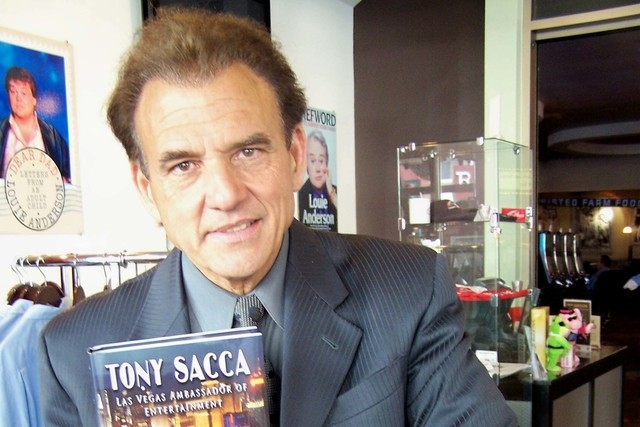 If you're not tuned in to the annual tradition that is Tony Sacca's "Merry Christmas Las Vegas" TV special, you're either new to town or unskilled in the art of deep-cable channel exploration.
Longtimers know Sacca for … well, something. Years of local TV shows and commercials add up. He's always been around and usually taken for granted. "I gotta get out of Vegas just to come back to Vegas," he says of recent discussions for a reality show with his French-chef spouse, Josette.
You're bound to have stumbled upon one of the local talk and variety shows Sacca sustained in various forms since 1986, when locally produced TV wasn't the endangered, "Why bother?" species it is today.
When KTUD-TV went off the air last year, Sacca says he thought, "Maybe this is the end of my television career in Las Vegas." But he cobbled together enough time on enough stations to have his variety show air seven times a week, including 3:30 a.m. early Sundays on KSNV-TV, Channel 3.
Sacca tapes his 29th Christmas show at 2 p.m. today at Boulder Station, with guests including Zowie Bowie and puppeteer Anthony Rais. The $25 admission benefits the Youth Foundation for the Performing Arts, for years the students of the late Helen Joy. Now it also funds lessons for students of veteran singer Denise Clemente.
Sacca taped his first Christmas special at Mount Charleston, lip-syncing to his prerecorded songs while suited up like a cowboy on a horse. "Growing up with cowboys and Gene Autry and stuff like that, I always had a desire to sit on a horse and sing Christmas carols," he says. "It was one of those fantasies."
Sacca is pretty deadpan, so you're never sure whether to laugh when he tells you this stuff.
He had another milestone this year with his published memoir, which is technically a biography, written in frequently awkward third person by Arlene Krieger.
There's plenty in it for both Sacca lovers and haters, from the TMI about "transmutational sex" to the sad unraveling of his twin brother Robert. Longtimers might remember the original Sacca Twins as disco-suited lounge lizards or fledgling TV hosts, grilling celebrities trapped between their twin desks. "I feel like I am at a tennis match," Frank Sinatra Jr. told them.
But Robert died of leukemia while battling multiple addictions. Tony carries on to delight or annoy you. In my years here, I've found those who claim to be angered by him more accurately peeved by the lack of a slicker, higher-profile TV product focused on Las Vegas entertainment. Now, those of us still aware of him are just happy he's still around.
"We gotta keep reinventing ourselves," he says. "How many entertainers can stay in this town for 30 years and keep doing it?"
Contact reporter Mike Weatherford at mweatherford@reviewjournal.com or 702-383-0288.