Maybe handstands can't get you hired
October 9, 2013 - 11:44 pm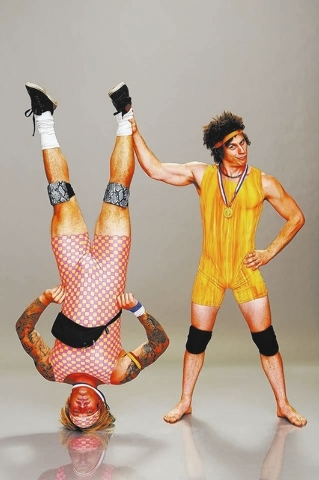 Next Wednesday at least, the KriStef Brothers will be genuine Vegas stars, playing to 7,000 seats in the MGM Grand Garden.
But after "America's Got Talent Live!" passes through town?
They're not so sure. They are keeping all doors open, but no one on the Strip has waved them through.
"I don't know if we have a disease … some kind of rash?" says Stefan Linden.
"Do we smell really bad?" adds stage partner Kristofer Saly.
The Brothers — who are not really brothers but longtime Las Vegas friends — got voted out of the NBC talent contest just short of making the final showdown of six competitors.
But the comedic hand-balancers were a shoo-in for the tour. This season's finalists are on the road for a series of one-nighters, after a stationary run at the Palazzo last year failed to attract much interest.
Wednesday's stop at the MGM arena is at least the largest venue on the tour, which is otherwise playing venues of about 3,000 people or fewer.
The talent show promises all season to make "a Las Vegas headliner" of the winner, which this year turned out to be performance artist Kenichi Ebina. He's joined on tour by finalists including rapper Tone The Chiefrocca, magician Collins Key, comedian Taylor Williamson and singers Cami Bradley and Jimmy Rose.
The KriStef Brothers are twice featured with two bits they did not perform on television. They have been working with actor-writer Erik Stolhanske of the Broken Lizard comedy troupe, and say they are now 40 minutes toward a full-length show of their own material.
In the meantime, you'd think "Absinthe," or the new Cosmopolitan of Las Vegas-bound revue from the same creators, or perhaps this Steve Wynn project-in-development called "Funhouse," would be looking to sign these guys. They fit right into this apparent new zeal for comedy acrobats.
But those show producers don't seem to watch much TV.
"Nobody's interested. They're just not getting it. That's one of the weird, awkward scenarios we're in right now," Linden says. "It's kind of unfair and kind of cruel."
"We are the furthest any acrobats have gotten on 'America's Got Talent,' " Saly adds.
Ultimately, the two would like to do less nightly performing and more in the way of television or advertising.
Hand balancing "gets old pretty fast and your body can only take it for so long," Saly says. "If we're doing something new, something fresh, something different every time, it keeps us on our feet and keeps us entertained. It's the variety which we love."
One thing the two can guarantee is a good time for the rest of the cast in Las Vegas.
"We're seasoned Vegas-partying showbiz people," Linden says. "They're in for one hell of a ride when they get to Vegas." …
The four Broadway-caliber singers collectively known as The Phat Pack will do their last show at the Plaza on Nov. 16 (resuming Oct. 24 after a two-week vacation).
When I reviewed the show in December, I said the cabaret show may well be the best thing ever presented on the long-neglected showroom stage.
Nothing has challenged that in the nine months since.
The Phat Pack rode out an in-house change of showroom management early this year, but neither the singers nor comedian Louie Anderson seem able to get any traction at the property, which seems isolated, both in terms of ownership and its location west of most Fremont Street action.
"I didn't want to give up too early," Bruce Ewing says of he and his stage partners Randal Keith and Ted Keegan. But he says the effort has been a slow drain on the performers.
"We bankrolled it ourselves, (so we were) losing a small amount of money over and over."
"We know we still have a good show" he adds. "We need to find out where it's going to sit and live."
The Pack is pursuing out-of-town bookings, where it may work better packaged in a pops or cabaret subscription series instead of trying to carve out stand-alone ticket sales in Las Vegas. …
Having gone through what its new managing partner calls "a regrouping," the interactive "Tony n' Tina's Wedding" planned this week to ramp back up from three to four shows per week at Bally's.
"Seven days a week never worked. It's too much," says Ken Walker, who now runs the show with Andrew Van Slee, and leases the former buffet where it's staged.
Walker has been financially involved with the show for more than a year as a side venture from his North Las Vegas-based Creative Light Source, which built the lobby lighting for The Smith Center for the Performing Arts.
But during the summer, he and Van Slee took over the hands-on decision making from original Las Vegas producers Jeff Gitlin and Raphael Berko.
"We're improving the cast members, the quality of the show, the food, the whole thing," Walker says. "I'm micromanaging. … That's the only way to run a show."
Berko seems busy enough without the nightly Italian wedding. He brokered a deal that's in entertainment headlines this week, one that brings "Mighty Morphin Power Rangers" co-creator Shuki Levy back to television with a new series, "Tribe of the Wild."
Those who enjoyed "Nunsense" at the LVH will be saddened to hear of the passing of Ina Jo Donovan, who played Sister Amnesia in the cabaret comedy for almost two years.
The New York native moved to Las Vegas seven years ago after a career in regional theater and nightclubs. She performed alongside sister Lisa Donovan in "Nunsense" before it closed in March.
Contact reporter Mike Weatherford at mweatherford@reviewjournal.com or 702-383-0288.