'Mr. Christmas' Andy Williams brings seasonal songs to Las Vegas
December 24, 2010 - 12:00 am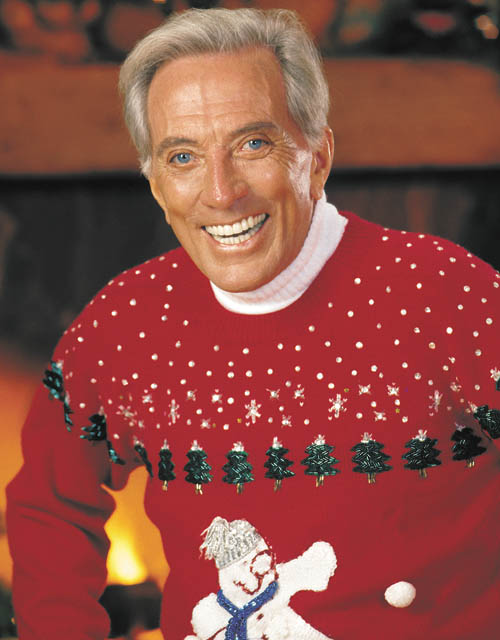 Andy Williams prefers singing "Mary, Did You Know?"
But he understands people pay to hear him sing "It's the Most Wonderful Time of the Year," and he is not going to disappoint them on Christmas Eve.
"They call me 'Mr. Christmas,'" says the singer who turned 83 on Dec. 3. And it's not just for hearing that song in every department store.
"I did a lot of Christmas albums, too. Most people just do one, and I've done six."
The singer who opened Caesars Palace in 1966 is back at the Las Vegas Hilton with his Christmas variety show, for a two-night run concluding today.
The last 20 minutes consists of serious Christmas carols. "Other than that, everything else is fun, it's 'Ho, ho, ho.' It's a Santa Claus Christmas. Then it gets kind of serious."
The show is a homecoming for singing impressionist Bob Anderson, who often works with Williams at his theater in Branson, Mo. The other guest stars are "quick-change" dance team Pasha & Aliona, the singing, dancing Warnock Sisters and Dean Church, "the fastest violin in the West."
"Wonderful Time" was written expressly for Williams in 1963 by Eddie Pola and George Wyle (whose other big claim to fame is the theme to "Gilligan's Island"), for his NBC variety show. But it wasn't released as a single. "Nobody knew it was going to be this big. It's the biggest Christmas song in the last 40 years, I guess," Williams says.
A relaxed chat — what else would you expect from the mellow crooner? — also touched upon:
■ How long he plans to keep singing.
"I know I'm going to open in September (back in Branson), this next time with Ann-Margret.
"I'm pretty sure that I'm going to keep doing it at least three more years, but you don't know what's going to happen. I don't know whether my health is going to be great. Right now, I feel great. Right now I feel like I can go another 10 years.
"Once it starts not being fun for me, then I'll want to quit. Really, that's the truth. Other than the Christmas show, we don't really make an awful lot of money."
■ His twin-city life.
Williams opened his Moon River Theatre in 1992, seeing countless Branson headliners come and go in the interim. He says the theater, once featured in Architectural Digest, is a big part of what keeps him there.
"That, and then I built a home on Lake Taneycomo. The back side is the lake and the front side is the golf course."
Isolation does set in, "but I don't stay here all the time. From January to April, I'm in Palm Springs. When we're in Palm Springs, we play golf every day. When we're here, I don't play that much because I'm working.
"I don't mind the (summer) heat, I like it. I just can't stand the cold."
■ Why variety TV worked then and not now.
"Lena Horne would sing and they would hold the close-up on her face for a whole chorus and a half, and not have it be cut, cut. The attention span of people is not there anymore."
The closest thing to old-school variety is a country music awards show, he says. "If Carrie Underwood is singing a song, they stay on her. I was looking at one of the awards shows, and it was really wonderful."
■ That other big hit of his.
" 'Moon River' is such a good song, that if some young cat came along now and did it again — maybe did it slightly different or with a little more modern arrangement — it could be a hit all over again. But nobody wants to take a chance with it. I think it's like doing 'I Left My Heart in San Francisco.' No one wants to follow it."
Not even Rod Stewart?
"Not yet, but he will," Williams says with a chuckle. But Stewart's crooning of the standards won him over.
"The first time I heard him do that, I just sort of laughed. I thought it was ridiculous. Now I like it. It's grown on me."
Contact reporter Mike Weatherford at mweatherford@ reviewjournal.com or 702-383-0288.
Preview
"Andy Williams Christmas Show"
8 p.m. today
Las Vegas Hilton, 3000 Paradise Road
$70.85-$103.85 (732-5755)