Musicians union president: Protector or obstructionist?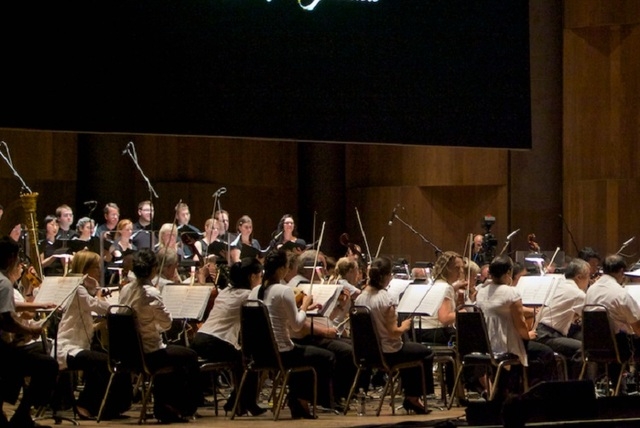 Is Frank Leone more Link or Ganon?
Or, for you non-gamers, is he the guardian of the bridge into Hyrule, er, Las Vegas, protecting our orchestra musicians from what he calls "interlopers"?
Or is he the guy who "bombed that bridge"?
Leone, the longtime president of the Las Vegas Musicians Union (Local 369), is at the center of a dispute over a planned Wednesday concert called "The Legend of Zelda: Symphony of the Goddess — Master Quest," playing the soundtracks to the Nintendo video games at the Venetian.
Back in February, the show announcement came with the participation of the Las Vegas Philharmonic and news that it would be taped to later air on PBS. Now the Philharmonic is out, and the union is calling for a boycott of the concert. While the plans to tape the show were still in place last week, the viability of a PBS broadcast was in question.
Leone says he invested "months of phone calls" and "hours and hours of calculations" trying to work out a rate for orchestra players that would include the PBS special, as well as rights to produce DVDs, CDs and digital downloads of the show.
But he says the show producer, Jason Michael Paul, stalled him and eventually "backed out of it with the device of non-communication."
Paul says it was Leone who "pretty much bombed that bridge."
"Because of him I've decided to bring an orchestra (from out of town)," Paul says. "I couldn't work with the guy. I have no understanding of why he insisted on being so rude and unprofessional. But that's up to him."
Leone says he had negotiated the union contract to about $1,100 for each of the 66 players, which he says is fair considering all the digital and broadcast rights involved in perpetuity. He claims Paul is now paying only $400 per musician for the gig, which Paul would not confirm.
The Philharmonic never signed a contract for the show. Paul "kept stalling, and in the meantime the stall gave them enough time to find an alternative orchestra for one-third the cost," Leone contends.
Both agree Nevada is a right-to-work state and that the local union can't stop Paul from using out-of-town players performing as the Video Game Orchestra, an established entity with its own website and Facebook page.
Whether the concert would still be filmed and eventually broadcast was more complicated last week. PBS is a looser affiliation of local stations than the commercial networks, and programming comes from all directions. Leone says WTTW, the Chicago station involved in this one, is signatory to agreements with the parent union, the American Federation of Musicians.
Paul says it's not a given that the parent union will side with Leone instead of with him. "We're still abiding by and working under the AFM guidelines," he says.
"The only one ripping off anyone is Frank Leone. He ripped off his local from this job by acting unprofessional," Paul says. "Everyone from the Local 369 to New York headquarters know that he's been the one who's been disruptive and not willing to cooperate."
The personal nature of Paul's counterattack echo those of two local players, whose grievances with Leone will be taken up in a hearing with national union officials later this month. That conflict stems from a heated winter meeting stemming from player concerns about the contract Leone negotiated for "Showstoppers" at Wynn Las Vegas.
Some members echo Paul when he suggests Leone "should probably retire" instead of running for president again next fall.
"This is why the orchestras aren't moving forward. They're stuck, because of people like Frank Leone. It's that archaic mentality that everyone's trying to cheat these orchestras out of work. A guy like me is trying to give these orchestras work," Paul contends.
Leone says he is not dissuaded by the "hotheads" who "hijacked" the winter meeting, and plans to run again to remain as president.
As for Paul, "I'm not letting this guy go," Leone says. "He can throw the blame on me all he wants but I'm not responsible for his reneging."
Controversies surrounding Local 369 have become an ongoing saga almost as long-running as "Zelda" itself, and it may take a Master Sword to untangle this mess.
Read more from Mike Weatherford at bestoflasvegas.com. Contact him at mweatherford@reviewjournal.com.