"Nathan Burton Comedy Magic"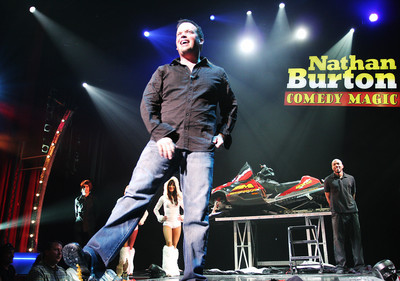 So this new Criss Angel show just around the corner is supposed to change the rules. Or at least the notion that you have only a set number of illusions in stage magic, and it's all about how you frame them.
For now, Nathan Burton is doing a good job with the window dressing.
Instead of a plain ol' levitation — where a covered body rises in the air until the cover is pulled away and, whoa, there's nothing there — Burton is levitated after he crashes the "pajama party" of his four female dancers.
There's a punch line: After he's gone and vanished, he creeps back onstage to infiltrate the party once more in a blond wig.
This is why his afternoon show at the Flamingo is called "Nathan Burton Comedy Magic." He doesn't do stand-up, or even a droll running commentary in the Mac King vein. It's a show of classic stage illusions, but the illusions themselves are redressed for comic payoff.
And for the most part, they do pay off. There's a giant toilet, and what's not funny about a toilet? It gets laughs even before the actual illusion, where someone appears to be flushed down, head first. (Toilet laughter is universal. Burton recently rented out this illusion for an independent film in Greece, and the crowd of extras loved it).
The Flamingo show is an upgraded version of one Burton debuted at the V Theater two summers ago. That one got a big lift from the magician's coincidental run on the first season of NBC's "America's Got Talent."
Clips from the TV contest now serve as a pre-curtain warm-up for the show, which also happens to boast a cool new set designed by "Got Talent" (and "American Idol") production designer Andy Walmsley.
Both on TV and in person, Burton is a likable guy, still on the young side, who pulls you into his upbeat persona and sly-grin reaction to his own trickery.
Burton's show seems to fit well in the niche between King's monologue style, and Tropicana star Dirk Arthur's larger illusions with tigers. It's family-friendly, if parents can roll with non-P.C. moments such as a "Super Beauty Enhancer" that converts a dowdy woman into one who struts to Mötley Crüe's "Girls, Girls, Girls."
The whole thing rockets along, moving through 17 sequences — including a straitjacket escape — in just 50 minutes (not counting the opening video). It could stand to slow down in places with five or 10 more minutes, particularly if those minutes are used to get to know the star a little better.
Burton does introduce his mom (she and his sister both work behind the scenes), but the magician doesn't spend a lot of time hogging the limelight. He races through a lot of his banter in a kind of a forced, TV announcer/Wayne Newton voice. And he could use a few more comebacks in case the youngster he pulls up from the audience won't play ball:
"Tell me, Noah, do you like showgirls?"
"No."
"How would you feel about going on a date with Amber?"
"Not so great."
But most small fries and their parents will find it good enough that the contrary kid's answers can be predicted and written on a blackboard hanging over the stage. Assuming, of course, you haven't seen this bit in another magic show. Like his afternoon rival Arthur, the collective impact is stronger if you haven't.
Some of the classics can only be disguised so much.
Contact reporter Mike Weatherford at mweatherford@reviewjournal.com or 702-383-0288.
REVIEW
what: "Nathan Burton Comedy Magic"
when: 4 p.m. Fridays through Wednesdays
where: Showroom at Flamingo Las Vegas, 3555 Las Vegas Blvd. South
tickets: $37.50-$47.50, half-price for ages 3-12 (733-3333)
rating: B