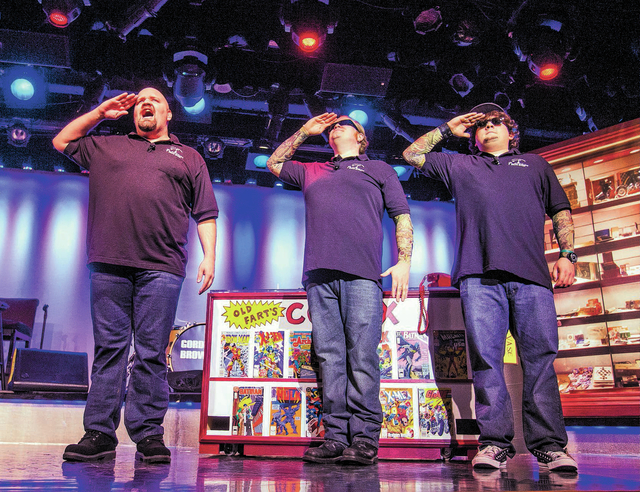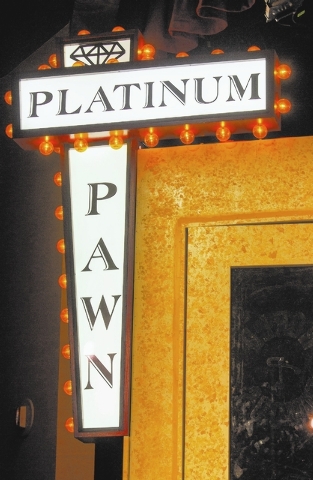 What's the difference between a "locals" show and a "tourist" show?
"Pawn Shop Live!" helps us figure it out, but not so much because it started as a community-theater spoof of the "Pawn Stars" and wound up at Golden Nugget. Turns out that's kind of coincidental.
The real line of demarcation is how feasible it is to catch a buzz at 4 p.m.
The show turns out to be the rough stage equivalent of a "Scary Movie" flick (Cheech and Chong if you're older, or Will Ferrell for everyone willing to meet in the middle). If you're on vacation, the old cliche is that Vegas has no clocks. An audience that's had sufficient time to chug or spark one will be primed for precious comic nuggets such as "Everybody you know is a fart-knocker!"
This sketch-based comic revue may also work for rabid fans of the Gold &Silver crew. As silly as it gets, it does manage to pay the boys their due respect while delivering, as the Rick Harrison character (Sean Critchfield) promises, "some cheap laughs and some fart jokes."
But if you headed straight from the office — as in, a direct line, and also straight — you'll find the spoof, well, loud.
Amplifying the volume on every little piece of business is a sure sign that even a scant hour's running time still isn't as stuffed with jokes as it needs to be.
So, in this retelling of the rise to fame for "Pawn Stars," a city councilman character (one of many played by Enoch Scott) isn't allowed to be just a comic foil. No, he becomes a cackling, cartoon villain trying to wring laughs from lines with no punch lines.
Aided by video clips, the spoof uses Harrison's written memoir for a basic thread of how young Rick grew from "a smart smartass" to an unlikely TV star. "Who wants to watch a reality show about a bunch of nobodies running a pawnshop?" he asks in one of the many nods to the audience.
The backstory is a valid building block for director Troy Heard and the cast. Most of us just started watching "Pawn Stars" at some point without knowing the Harrison family history. At several points of this send-up, we ask ourselves, "Is that really based on the truth?" So they're onto something there.
And it's surprising how quickly we accept Critchfield and Garret Grant as stand-ins for Rick and Chumlee. The same chemistry that endears us to the TV gang somehow grounds the silliness here. (Gus Langley's Corey character, perhaps true to the show, cedes the laughs to Chumlee, while the Old Man becomes a sculptured puppet given an overblown Foghorn Leghorn voice by Scott).
But the center is hard to hold. It's the Mad-magazine detours — where the show can, and should, step out to lampoon the likes of "The Hangover" or "Jersey Shore" girl Snooki — where the creators don't trust themselves to rein in the broad clowning and hit you at other comic frequency levels.
Little bits that almost work — such as Anita Bean playing Criss Angel, coming in to pawn an illusion — just don't pay enough attention to detail beyond wigs and physical posturing. Angel's "Lon-guy-land" accent makes him an easy celebrity to imitate, but Bean doesn't get close.
But shows like this are all about the jokes, and the tone. If "Pawn Shop Live!" is given time, the former will surely multiply and the latter will even out. From the rehearsal phase, the creators already were wise to go back to the TV source, adding more material related to the business of dickering over the value of odd things.
And as far as finding its audience? "Pawn Shop" might as well wait another 20 minutes and start at 4:20, the mythological stoner time. The magic hour already gets acknowledged in the show. A crowd that rolls in ready to laugh — for whatever reason — can only help. And for those with the munchies, the theater is right near the buffet.
Contact reporter Mike Weatherford at mweatherford@reviewjournal.com or 702-383-0288.
Review
"Pawn Shop Live!"
4 p.m. Tuesday-Saturday
Golden Nugget, 129 Fremont St.
$31.40-$47.90 (866-946-5336)
Grade: C+