'Pin Up' displaying more vintage cool
September 1, 2014 - 3:31 pm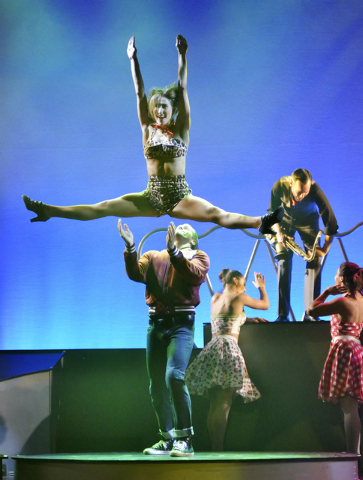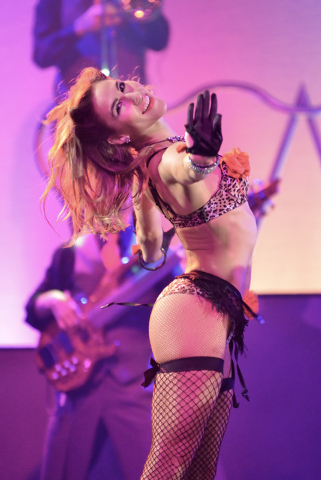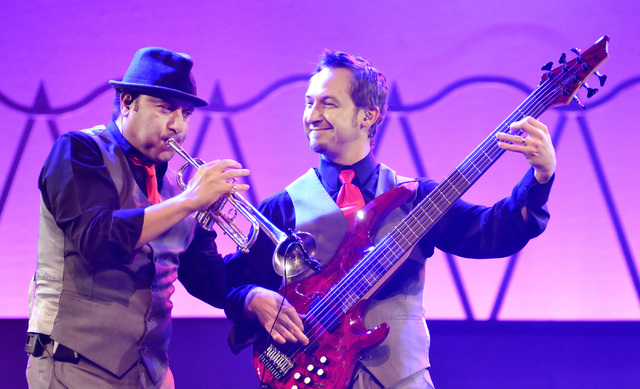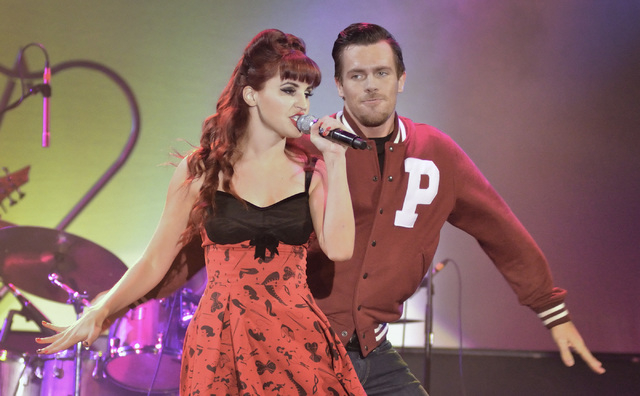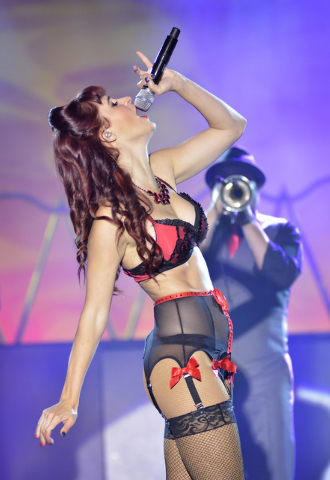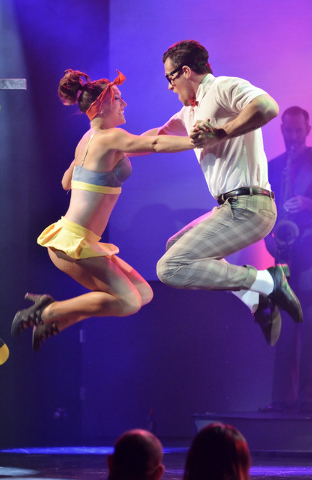 How do you tell "old school" from "old-fashioned"?
"Pin Up" is a mix of the two that lets you assign your own percentages, based on what you expect from a show.
For me, old-school cool is Megan Kovitch's cowgirl dance to the spacey surf-rock instrumental "Apache," or Playboy Playmate Claire Sinclair doing a classic bump and grind in tassels.
Old-fashioned is four dancers popping umbrellas to "I'm Only Happy When it Rains," or Rosie the Riveters running around a factory set, taunting an Archie comics nerd to the strains of "Sing, Sing, Sing."
So I'm going with at least 60 percent old school, since the Stratosphere's revue seems more stylish and defined than when it opened early last year. Back then, the not-topless dance show confused me — and apparently other customers — with what it was trying to be.
Now, thanks mostly to top-billed Sinclair doing the costumed striptease numbers you expect, "Pin Up" seems to have decided it wants to be more retro-burlesque, delivered with a punch from a brawny live band.
It still looks pretty threadbare (excuse the pun). If it continues for a third year, could they celebrate with a real set? And the old-fashioned parts still remind me of those old theme-park revues; generic dance routines that burn a lot of calories without really going anywhere beyond "cute."
But it seems like cute-puppy kicking — or at least not seeing the martini glass as half full — not to appreciate Henry Mancini's swanky "Pink Panther" song "It Had Better Be Tonight" in a mainstream effort widely discounted for hotel guests.
If it's a patchwork product that seems to reflect a lot of chefs in the creative kitchen, director Drew DiCostanzo at least plays to the strengths of the ingredients.
Sinclair pulls in the retro Bettie Page crowd, so why not run with that vibe?
And musical director David Perrico has a knack for arrangements that energize vintage tunes without "modernizing" them with synths or drum machines. So why not let "Pin Up" be the rare show in which the six-piece band becomes a foreground element?
The horn section plants itself in front of the stage steps while singer Lisa Marie Smith — a belter seldom asked to go less than full throttle — works the crowd for a Latin-tinged "Heart."
With Smith also in skimpy attire and gymnastic Ryan Kelsey as the lone male dancer, the casualties of everyone vying for attention are the four female dancers who would be the main focus in topless shows such as "X Burlesque."
Even though the women get solos as firefighters (Claudia Mitria) or stewardesses — definitely not "flight attendants" — (Janelle Ordiales) they never really emerge as individuals.
Sinclair's own face and body may have inspired the larger show's attempt to contrast cute with sexy. Though she started wearing pasties to display more of the Playboy assets in her solo numbers, Sinclair's ever-smiling baby face makes sure "Pin Up" remains the most demure and nonthreatening "adult" show in town.
A few times, DiCostanzo gets it all right in vignettes reflecting the vintage calendar girl theme and his own background in magic: Sinclair stirs a witch's cauldron as Smith belts "I Put a Spell On You" in the background. Or cozies into a bed, only to find her pillow doing a "Sleepwalk" on its own.
If only each "month" was as interesting, or that there didn't have to be 12 of them. "Pin Up" feels a little long and padded, maybe the only dance revue where comedians or specialty acts wouldn't make guys resent not seeing skin. But a tap-dance versus drum duel (Nadia Albulet and Ryan Rose) sure helps.
As the song says, "You gotta have heart." And in "Pin Up" it counts for a lot.
Contact reporter Mike Weatherford at mweatherford@reviewjournal.com or 702-383-0288
Review
"Pin Up"
10:30 p.m. Thursday-Monday
Stratosphere, 2000 Las Vegas Blvd. South
$54.99; $41.25 for Nevada residents (702-380-7711)
Grade: B