Plenty to look at during 'X Rocks'
September 26, 2013 - 8:25 pm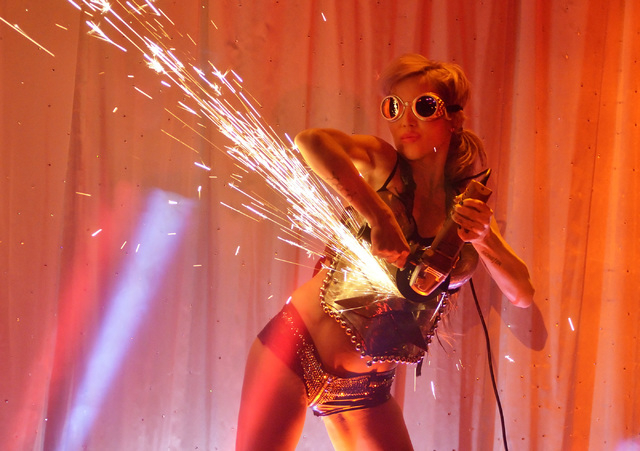 I'm not sure how to feel about this: There is so much going on in "X Rocks," I would forget from time to time that I was looking at topless women.
I hear you if you say you showed up for a sexy topless show, not a bad acid trip. When a very grown-up "Alice in Wonderland" (Emilie Condamine) goes down the rabbit hole with a hypnotic graphic spiral on the rear screen and a woozy blast of subwoofer, one person's buzz is another's buzzkill.
"X Rocks" goes to attention deficit disorder extremes to make sure that five women on a small stage don't wear out their welcome, slender and striking as they might be. It rips through dozens of thundering rock songs, bombarding the women with light and video projections.
And I think it's a good thing. This time. They got me with the giant 8-track player.
Matt and Angela Stabile's first show, "X Burlesque," sometimes came off like the married couple's professional agendas were in conflict. Angela is the former "Crazy Girl" who stepped up to prove she could produce a cute, sexy, Las Vegas cabaret show on her own.
Matt's video production background transformed the title with edgy graphics and projection. They weren't always a smooth blend. Early versions of "Burlesque" painted the dancers like James Bond title credits hijacked by an art-damaged film-schooler. A little too cool for school if you just wanted to see hot girls dance.
But over the years they finessed the formula. Now, the spinoff "X Rocks" arrives as their most accomplished production yet. I was reminded of what I used to not like in "Burlesque," yet somehow it works here.
For one thing, the technology of it blows away the little 150-seat King's Room at the Rio. The programmed lighting and video screens so engulf the little room it's like everyone is on the front row of an arena concert.
Take the title seriously, and as a warning that you might be better off at "Burlesque" If you don't want to hear Nickelback's "Shakin' Hands" or Black Sabbath's "God Is Dead?" pumped full throttle.
But the little show stays true to its premise, shaking its dancers through rock history from Jimi Hendrix's "Purple Haze" to Awolnation's "Sail."
And even though the choreography borders on repetitive in the limited space, the show never seems to exhaust its bag of tricks. Choreographer Anthony Cardella and co-producer Tiffany Koepp (Angela's daughter) keep the women busy with bathtubs, gymnastic hoops, welder's sparks and cool chairs that sprout headlights to become faux motorcycles for the Motley Crue songs.
Just when you think you've seen it all, along comes the spider web, and Alice Cooper's "Welcome to My Nightmare."
Cool. Fun. Hot? To each his own. Not sure I want to meet anyone turned on by Jennifer Tu's tough justice in an electric chair. But yeah, at least a few stretches remind us of erotic intent.
The two pairs of scissoring legs that seemed unattached to bodies, or that big mockup of an 8-track allowing Jessica Delagado to become a topless ballerina to the strains of the Whitesnake Zeppelin knockoff "Slow An' Easy."
Comedian John Bizarre tries to keep up with the jittery energy of the dance numbers, amiably working the crowd while their eyes take a break from the audio-visual bombardment. It's welcome. The Kid Rock salute is next.
You probably knew it would be.
Contact reporter Mike Weatherford at mweatherford@reviewjournal.com or 702-383-0288.
Review
"X Rocks"
10 p.m. Thursday-Sunday
Rio, 3700 W. Flamingo Road
$41.75-$63.75 (702-733-3333)
Grade: B