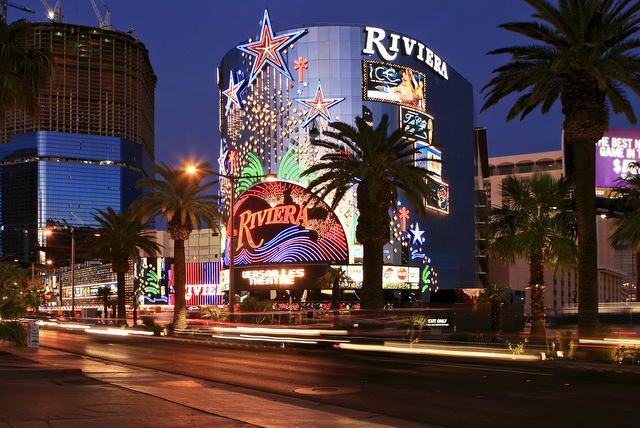 The Riviera is putting its entertainment in the hands of a new company that plans to put more shows into the building and drive traffic back to the landlocked property.
Red Mercury Entertainment, headed by former Caesars Entertainment Corp. executive Carlos Reynoso, is taking over three small showrooms and the enclosed casino-floor lounge at the Riviera, in a deal that will not affect the three shows already there ("Illusions," "Crazy Girls" and the Riviera Comedy Club).
The venture is backed by investor Darin Feinstein, part owner of the Sapphire gentlemen's club. Feinstein previously leased show space at the Rio in a similar arrangement to the one announced for the Riviera, and still has a hand in the Eddie Griffin and "MJ Live!" shows there.
"We did a really good job getting people over to the Rio, which in my opinion is a lot more difficult than getting people over to the Riviera," Feinstein says. "They're very similar properties."
It could be argued that three shows are enough for the current state of the Riviera, at least until the old Sahara reopens as SLS Las Vegas to revive foot traffic to the north end of the Strip. But it's the rare property to have five entertainment venues and has at times hosted eight or more.
Feinstein says 80 percent of Rio show patrons came from off property, and lingered to spend money there. Riviera operators Paragon Entertainment "knew we resurrected that theater and brought 30,000 or 40,000 people a month to the Rio theaters. It was just a natural fit because we had experience doing that."
Feinstein and Reynoso say they will look for new producers and titles, rather than titles that already have come and gone, to open early next year.
So far, the deal does not include the historic Versailles showroom, which remains shuttered in need of major improvements, but hasn't been a management priority. …
The Phat Pack has a new reason to celebrate on Sunday, when it makes an event of its final show at the Plaza.
The cabaret trio has found a new home, opening Dec. 11 in the Windows Showroom at Bally's. The show will keep its "happy hour" time of 4:30 p.m.; it's a decision mandated by sharing the venue with "Tony N' Tina's Wedding" and the L.A. Comedy Club, but one that's fine with singer Bruce Ewing.
"We love the time slot," he says. "We're not up against every Cirque show in town, and we'd love to see it marketed as a cocktail show."
But Ewing is grateful that those marketing decisions won't be his to make, now that the singers don't have to self-finance the show.
"We're definitely taking a step up to have a real producer," he says of Andrew Van Slee and Ken Walker, who lease the former Bally's buffet space from Caesars Entertainment.
The Phat Pack emerged from the closing of "Phantom — The Vegas Spectacular" at The Venetian. Ewing, Randal Keith and Ted Keegan crafted the cabaret show around their individual talents. Kevan Patriquin is now part of the ensemble; each show will feature three of the four singers.
Sunday's farewell at the Plaza will include guests who performed in "Phantom" and who have subbed as guest Phat Packers on occasion: Kristen Hertzenberg, Rebecca Spencer, Ben Hale (now Johnny Cash in "Million Dollar Quartet") and Joan Sobel.
Windows Showroom at Bally's is experimenting with other ideas as well.
I've thought for more than 10 years now — ever since "The Rocky Horror Show" was revived on Broadway — that Las Vegas was leaving money on the table by not trying the cult phenomenon in a showroom. (And this was before I just discovered, upon Googling, that Las Vegans Robin Leach and Penn &Teller were guest narrators on Broadway).
Windows is at least testing the waters, in the usual way "Rocky" is seen these days: screening the "Rocky Horror Picture Show" movie at midnights on Fridays and Saturdays, with live people performing along with it in front of the screen.
The venue also hosts "Dancing Just Like the Stars" on Sunday evenings. It's a two-hour instructional from Tony Delgado of Delgado dance studios. …
"Fantasy" producer Anita Mann says her dancers are not complaining about a vacation coming up in December, when the three shows sharing the Atrium Theater take a break while the theater undergoes a face-lift.
That's because "Fantasy" runs seven days a week, and has never been dark for its nearly 15 years at Luxor.
"It's better that we get out so they can do it faster," Mann says of cosmetic renovations as well as new sound and lighting equipment.
"Fantasy" will take a break after Dec. 1 and return Dec. 20. Comedian Carrot Top will hit the road, while afternoon show "Menopause the Musical" also takes a vacation.
Sean E. Cooper, the comic relief of "Fantasy" since it was known as "Midnight Fantasy" in 2000, can use the break to devote his full attention to "The Coop Show," a new effort he launches at Planet Hollywood Resort's Sin City on Nov. 22.
Sin City proprietor John Padon says Cooper's afternoon show will have more edge and a wider range of celebrity impressions than he is able to do in his "Fantasy" segment.
Cooper started doing Sin City stand-up as a middle act, "and it was hard for the headliner to follow him," Padon says of the performer he's known since both alternated the variety spot for dudes in "Fantasy."
Contact reporter Mike Weatherford at mweatherford@reviewjournal.com or 702-383-0288.