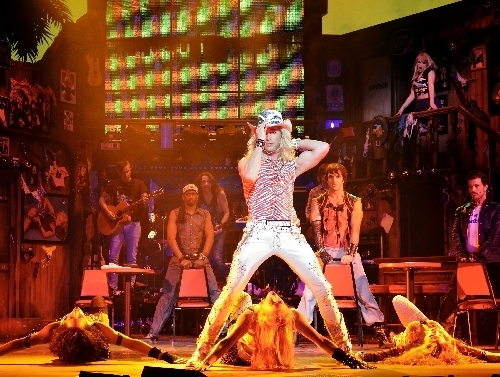 Troy Burgess lives a charmed life in Las Vegas.
A wide swath of the population will immediately get one reason. He is married to a "Fantasy" dancer and calendar girl named Yesi, whose Cuban salsa is a highlight of the Luxor topless show.
It takes a much narrower demographic to appreciate a milestone Burgess recently celebrated with his fellow cast members in "Rock of Ages."
"I've only reached a one-year anniversary thing …," he pauses. "This might actually be the first time."
The campy musical celebrated a year at The Venetian this month. It proves there is still room for a Broadway show on the Strip, even in the era of The Smith Center for the Performing Arts.
A bunch of good ones came and went, from good ideas such as "Monty Python's Spamalot" to "The Lion King" and others that seemed more like head-scratchers in Las Vegas.
Now that The Smith Center plays host to touring musicals, the list of current titles a casino would even feign interest in is very short. I can think of three: "The Book of Mormon," "Wicked" and "Spider-Man: Turn Off the Dark."
But "Rock of Ages" is not your typical Broadway musical. It has a "jukebox" soundtrack of '80s rock hits. New York theater types dismiss it as a "bridge and tunnel" show. Vendors stroll the aisles selling beer.
In short, it has "dude appeal." No coincidence that "Rock" and "Jersey Boys" are now the only Broadway titles in town.
"We all recognize that about this show, that it can bring in people who normally don't go to theater," Burgess says. "To me, the majority of folks coming here are my age (48). We're the ones who lived through those songs and that time and hold it so dear in our memories and life experiences."
When his wife joined "Fantasy," the couple bought a house in Las Vegas. Burgess didn't mind setting his career in dance and production aside to be a "househusband" and care for his young son.
"It's a great job if you can get it," he says.
But he knew "Rock" writer Chris D'Arienzo through the dance world. When he found out the show was coming here, he asked what it would take to land the part of the besieged rock club owner. D'Arienzo told him, "You better put on some weight."
"First time I'd ever heard that in my life," he adds with a laugh. Visiting in-laws in Cuba, he was "packing it on. Grandma's cookin' and avocados and beer and rum. All in all, I put on about 25 pounds for this part."
Did I mention the charmed life?
"Rock" has a largely young cast.
"For the younger ones, it's too early for them to decide to stay here unless they just want something different for their lives," Burgess says. "They need to go and do other things and discover more about life and their industry and business."
When they do, they will learn that a year is indeed something to celebrate.
Contact reporter Mike Weatherford at mweatherford@reviewjournal.com or 702-383-0288.