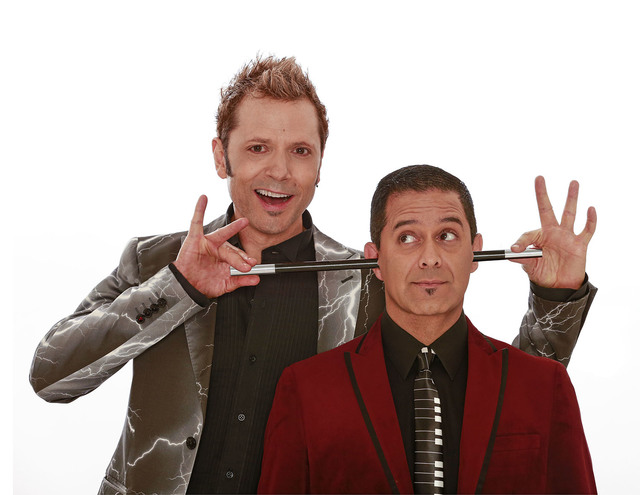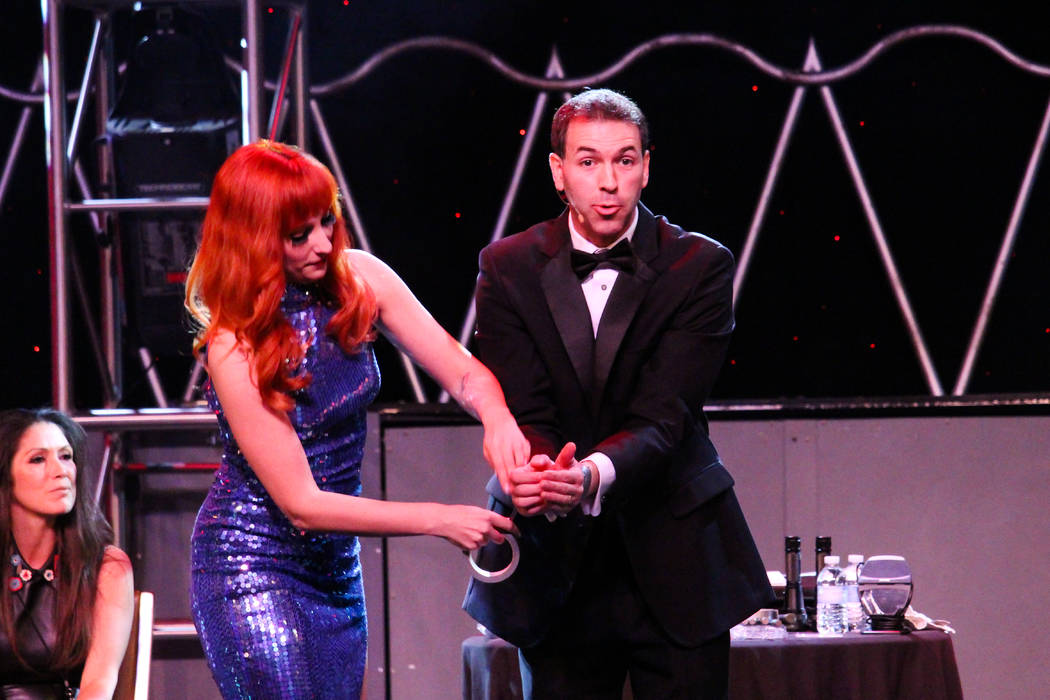 The showmen in the shiny jackets were seeking $750,000 from a panel of millionaire entrepreneurs. But first they had to give those rich folks a lesson in Las Vegas economics.
"When I mentioned a 'four-wall deal' to the five Sharks, they didn't know what it was," recalls Raja Rahman of the music-and-magic duo Jarrett & Raja.
Granted, every producer on the Strip has a different twist on "four-wall," a pay-to-play, or rent-the-room, venture for entertainers. But the phrase never came up at all with Nick Cannon or Howie Mandel when Jarrett & Raja were on the more familiar turf of "America's Got Talent."
Two new Las Vegas shows at least partly owe their existence to "Shark Tank," ABC's reality game show about the theater of business, where entrepreneurs pitch celebrity investors for funding.
But there's a plot twist.
Jarrett & Raja open "Magician vs. Maestro" at Hooters Casino on Monday, in a dedicated upstairs venue now known as the Jarrett & Raja Showroom. But the duo's "Shark" pitch, including an elaborate and expensive illusion, did not win over any of the show's celebrity investors.https://www.youtube.com/watch?v=fLo3ktma_7U
No, that honor goes to Jason Hanson, the guy teaching you how to break out of duct tape and zip ties in his "Spy Escape & Evasion" at the Stratosphere.
Hanson worked for the CIA until 2010, then became a corporate consultant, prepping executives for foreign travel in hostile environments. His 2014 "Shark Tank" pitch for a "spy school" included much of what you see at the Stratosphere now, and scored him a $150,000 investment from Daymond John.
"I practiced my pitch over a thousand times," Hanson says, and "did stuff like you do with the CIA. I knew how many kids (the investors) had. I knew their hobbies."
The TV appearance "opened me up to the masses," Hanson says. "It took us from kind of a niche business in the corporate world to everyday Americans wanting to know these spy secrets."https://www.youtube.com/watch?v=a_CWFcuOlSQ
On a practical level, the injection of capital made Hanson realize "I was stuck in a rut. We needed to hire employees. We needed social media experts." He has since gone from two to 15 employees. "It just made you realize you can't really grow a business until you start hiring, and start hiring experts in their niches."
Hanson is the first to admit "I'm not a showman." But he is working with Las Vegas pros to polish his 75-minute afternoon show. Jarrett & Raja, on the other hand, had the frustration of living in Las Vegas since 2000 yet doing their music and magic act mostly out of town.
"We always knew one thing we would not do is spend our own money," Rahman says. "We know how many sad stories there have been of entertainers going bankrupt. Losing their shirts, losing their homes over these dreams they've had."
The new venture at Hooters is self-produced, but it is not self-financed. When they finally did meet their investors, Rahman says the reaction was, "We're so glad you called us. We saw you on 'Shark Tank.' "
Jarrett Parker — the magician side of the team to Rahman's piano "Maestro" — has Shark-worthy pitch points in noting the new show is only the third in Las Vegas to have a dinner-in-the-venue option. And both he and Hooters management hope the family-friendly title will help Hooters "get over that little bit of stigma" from moms hesitant about the casino.
The two called in a lot of favors from entertainer friends such as Broadway director Phil McKinley and TV production designer Andy Walmsley for this do-it-yourself venture, which costs nowhere close to $750,000. But Rahman says the "Shark Tank" attitude still rubbed off.
"Every decision we make, let's rethink it five times. And sleep on it at least three nights," he says. "There's no margin of error. The shows that do survive in this town, you really have to have it right. Every element has to be thought through."
Contact him at mweatherford@reviewjournal.com. Follow @Mikeweatherford on Twitter.