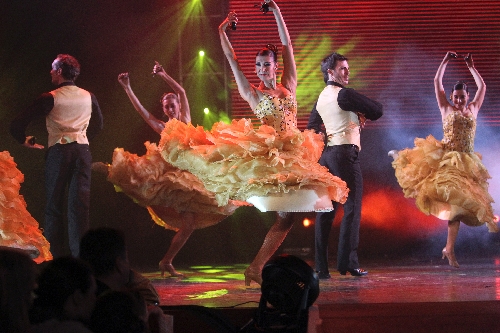 Any time a dance show comes to the Strip, we have to revisit the question: Do we like the dancing or just the stars?
No doubt "Dancing with the Stars" and its TV imitators have raised the overall appetite for ballroom and ethnic dance, giving at least a fighting chance to live fare such as "Battle of the Dance."
But without a chance to gossip about Chaz Bono, are the formidable skills of anonymous, fresh-faced young people enough?
The Anaheim, Calif.-based revue gets to test its Las Vegas viability during a slow holiday stretch, the Flamingo offering a window of welcome while Donny and Marie Osmond are on the road.
It's pleasant enough, especially when a lot of the big titles are on vacation. And it's worth noting for those international visitors who do populate the Strip this week: Aside from some English narration at the outset, the only words spoken from that point on are in Spanish.
As in Spain. The narration sets up the show's premise: A 1588 encounter between shipwrecked Spaniards and less-than-welcoming Celts sets up a far more pleasant cross-cultural rematch, inviting both nationalities to put their best feet forward.
In commercial terms, this means "Battle" can butter its bread on both sides, without having to choose between being either a flamenco show or another "Riverdance" knockoff.
It culminates in a kind of "West Side Story" finale. The Spanish master, Javier Valverde Hidalgo, pits his flying flamenco feet against those of Irish-stepping Kyle Hatfield (who must overcome the visual handicap of wearing a cumberbund against Hidalgo's shiny Tony Montana suit).
The women face-off too: the whiplash feet and hair of Irish dance champion Maggie Darlington against the podiatric percussion of Elena Romera.
They bring the show to a rousing finale, and it's not too much of a spoiler to say this rumble ends without switchblades. We Americans might say we love dance, but what we really crave is a good competition.
Which may explain why it seems like a long hour getting to it.
"Battle" doesn't offer a lot of forward momentum, just alternating sequences of the Spanish and Irish troupes strutting their stuff.
The show looks nice, with colorful costumes and attractive lighting on a stage that is, by necessity, stripped of everything but a rear video screen. The music sometimes adds a subtle touch of modern club beats to traditional folk music.
Those sitting close enough to witness the footwork will be even more impressed by the gravity-defying prowess of Hidalgo and Darlington in particular. And everyone gets an earful, thanks to the dance floor being amplified — none of that ridiculous "dance-syncing" to recorded tapping like they used to do in "Lord of the Dance."
Flashbacks to that nightmare should make us careful what we wish for. You could argue there's a purity in "Battle" for not forcing some new-agey story on it. And yet, if not a story, we're in need of some reason to be more involved with the people up there.
I think of last year's Christmas dance visitors, Twyla Tharpe's "Sinatra Dance With Me." A running time similar to the 75 minutes of this one created full characters for nearly every dancer onstage. In lieu of live singing or little story vignettes, we get …
Shadow puppets? Don't knock it. Sonny Fontana is a specialty act we haven't yet seen on the Strip. We go from "We are seriously slumming here" to "Did you see that? That guy just made Jimmy Durante and Frank Sinatra in profile!"
Contact reporter Mike Weatherford at mweatherford@ reviewjournal.com or 702-383-0288.
Review
"Battle of the Dance"
7:30 p.m. through Jan. 15 (dark Mondays and Dec. 31)
Flamingo Las Vegas, 3555 Las Vegas Blvd. South $39.59-$87.99 (733-3333)
Grade: B-