'Spoofical' offers rare new show on Strip
January 4, 2016 - 10:00 am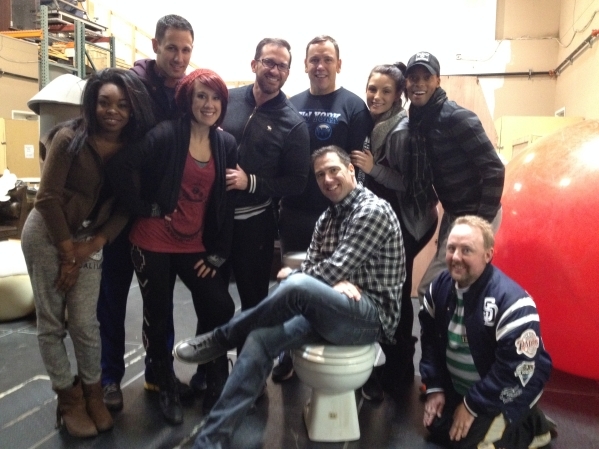 "You guys wanna do 'Jabbawockeez'?" David Saxe asks.
"Yeah!" is the answer, in unison, from eight performers. It's chilly in this warehouse rehearsal space, and spotlight-shaped space heaters blowing like giant hair dryers make it hard to be heard.
But this is a happy place. These are real jobs in show business. And not only that, these performers are helping to create something new. Where else is this happening in Las Vegas?
And no one is happier than the boss.
The show is called "Spoofical — A Musical," and this crude, crazy, try-anything "kitchen sink" of a musical spoof is all producer Saxe's idea.
He's the one who is going to have to take the blame for a big mock-up of a feminine hygiene product that will have something to do with Criss Angel ("He's gonna be so mad at me, because he's actually been really nice to me," Saxe says, shaking his head) and subtlety-challenged shots at Mariah Carey, Bill Cosby and Siegfried & Roy ("I feel terrible about it," he says of the magicians who gave his sister her first job as a dancer.)
It's even his voice narrating the temp track for the mock TV spot poking fun at the Jabbawockeez, based on Saxe's notion that everything the break-dance troupe does looks exactly the same. Jabba the Hutt and Chewbacca eventually crash the party, prompting the narrator to complain, "I did not say Jabba and Wookie!"
That's the general drift of this sketch comedy set to music, set to open at the V Theater in February. It's a concept emboldened by the unlikely success of Saxe's "Zombie Burlesque," which will be its roommate.
"I'm trying to break the mold. I've been doing this my whole life," says the producer who learned the Vegas rules before he could break them during his years at the helm of his sister's magic show, "Melinda — the First Lady of Magic."
Some of these ideas go way back. He's always wanted to do the quick hit in which Elvis Presley's "2001" music built up to a dramatic introduction, only to have the spotlight land on a coffin, which opens to reveal a skeleton in a jumpsuit.
"I'm sort of at the point where I'm fortunate I can do whatever I want," Saxe says. "I get to play around and do all the stuff I always wanted to do, but was afraid to because you had the casino and everyone else getting involved."
But now he runs his own show-business biosphere, operating two theaters inside the Miracle Mile retail mall at Planet Hollywood. He produces the flagship productions, "Vegas! The Show" and "V — The Ultimate Variety Show," promoting those and a slew of tenant productions with his own marketing team.
In last Sunday's look back at the year in casino entertainment, I noted how 2015 saw conceptual shows almost grind to a dead halt, as casinos pushed their chips over to concert productions built around names such as Jennifer Lopez.
So this "Spoofical," which would have been a footnote in the shadow of "Ka" a few years ago, is now fairly big and bold: A pool of 12 performers plus a live band, and original material not branded with ticket-buyers.
"There's a total freedom in owning your own venue and self-funding. It's all my money," Saxe says as the cast tees up a parody of "West Side Story" mashed with "Stomp," with rival gangs of sidewalk porn peddlers squaring off for a pamphlet rumble.
"We're trying to create some new kind of Vegas magic," says Jonas Shumpert, one of the skit's lead dancers. He has only been in town a few months, but already seems to realize how rare this gig is.
More magic could be happening this year in the 60,000 feet of industrial warehouse space housing David Saxe Productions. Saxe leads a quick tour through the two stories just starting to be carved up by drywall, showing where he will have the glassed-in dance studio, the recording studio, the kitchen with an outside door for barbecues.
Quite a leap for the guy who took over his mom's tiny "Showgirls of Magic" in a lounge at the San Remo (now Hooter's Hotel) in 2001. More than that, it's a hugely optimistic investment, this plan to not only create more new shows, but rent rehearsal space to other producers. Remember, only a few blocks away, "Jubilee!" and "Zarkana" are both getting ready to close.
"I hope this doesn't turn out to be like the guy who builds his dream house and then dies," Saxe says.
But at this point, at least, he can relish the moment, and worry more about Criss Angel killing him.
— Read more from Mike Weatherford at reviewjournal.com. Contact him at mweatherford@reviewjournal.com. Follow him @Mikeweatherford.
Like Neon Las Vegas on Facebook: