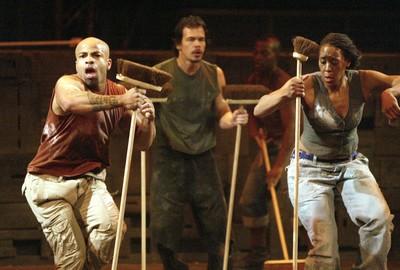 The secret of "Stomp" may be that you watch the performers drumming away up there and say, "This has got to be the most fun job in show business."
The youthful cast looks cool, dresses cooler, and gets to beat on stuff. Boy, do they.
Boxes, buckets, bottles. Big oil barrels and smaller trash cans (plastic and metal), not to mention the lids. They even have three guys with sinks hanging from their necks, just so writers can make the joke about everything and the kitchen sink.
Later, you may think about how muscles must ache the next morning, or the hours of rehearsal that go into preparing the synchronized assault of rhythm. But theater is illusion, proving that "Stomp Out Loud" — as the bigger, blown-out version of the off-Broadway hit is known — is indeed theater, if only in the fleeting, visceral way we've come to know it on the Strip.
More than a decade after the original "Stomp" first visited, British creators Steve McNicholas and Luke Cresswell finally got around to a custom Vegas version that officially debuted Tuesday (after discounted previews since March 24) to coincide with the Aladdin's change to the Planet Hollywood Resort.
They followed the Vegas playbook as written by Cirque du Soleil and the Blue Man Group: Make the 1,500-seat venue and the staging part of the show, creating more spectacular set pieces, hopefully without losing the smaller charms that made it a hit to begin with.
"Stomp Out Loud" is light on spectacle compared to Cirque, but the infrastructure leaves room to grow. It's already a strong contender for the family audience we dare not speak of anymore in the city's collective marketing.
Youngsters — with Mom and Dad "demonstrating" — will get a kick out of the lobby, which lets you turn old steering wheels and beat on rows of hubcaps before making your way down hallways lined with license plates and street signs to a theater decorated with even bigger, better junk.
The actual show begins in "Stomp" tradition with a lone broom-pusher (Carlos Thomas), caught up in the rhythm of his own sweeping. Soon he's joined by more dressed-down cast mates, forming a most unusual chorus line of sleeveless T's, tattoos, ratty cutoffs and work boots.
No one talks, and the context is all left up to the imagination. The easiest scenario is they are all bored workers in some industrial plant, left to their own devices when the boss is away. But there's no evidence that it even goes that far into fantasy. It could be we've simply entered the performers' "world," complete with an old beat-up fridge on a side-stage "break room," and that there is no back story beyond them being here to do a show for us.
Likewise, there's not much attempt to create character, other than bushy-headed Andres Fernandez as the comic contact point for the audience. He's reminiscent of the Hurley character on "Lost" — though he's about half the size — and gets the laughs when he's tweaking Thomas or somehow ending up with a smaller box or bucket than everyone else.
It's 40 minutes before we see anything that couldn't have been in the old "Stomp." The stage unveils a rectangular tank of water, where seven performers dunk tubular pipes to create tuned percussion. Soon, they're surrounded by drummers standing under shower heads that rain down on them as they hammer away on barrels.
McNicholas and Cresswell have a knack for pacing and seamless transitions. They spell the loud, showy moments with quiet comedy or chamber music from tubes that each play a note. The most spectacular sequence — nine drummers hanging in the air, pounding away on vertical walls of bric-a-brac — is followed by a pantomime, in which Fernandez's game of solitaire is interrupted by his cast mates' symphony of belching and newspaper rattling.
Even at 90 minutes, "Stomp Out Loud" seems to run through its bag of tricks before it's over, and you might be waiting in vain for the thunderous finale to land a knockout punch in terms of staging that hasn't yet been revealed.
You'll have to settle for a joke. In a show where cigarette lighters, car keys, soda cans and Styrofoam cups are turned into rhythmic instruments, Fernandez reaches into the fridge and pulls out a head of broccoli. He tries to shake it but when it makes no sound, he gives it the toss.
That's as subtle as it gets. Now go bang on something.
MIKE WEATHERFORDMORE COLUMNS
REVIEW what: "Stomp Out Loud" When: 7 and 10 p.m. Saturday, 7 p.m. Sunday, Tuesday, Thursday and Friday, 6 and 9 p.m. Monday Where: Planet Hollywood Resort, 3667 Las Vegas Blvd. South Tickets: $50-$110 (785-5000) Rating: B+ Watch Audio Slideshow