This Criss Angel trick seems oddly familiar …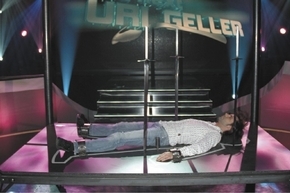 An illusion Criss Angel is staging on Fremont Street for television cameras today sounds extremely familiar to Riviera magician Jan Rouven.
A press release invites spectators to witness, and perhaps assist Angel with a "demonstration" at 10 p.m. in which Angel "will be chained to a wooden table with six nightmarish swords hanging high above him, with one fatally positioned over his heart.
"The audience will participate in the demo by picking the order in which swords will fall."
The German illusionist Rouven agrees it sounds a whole lot like a highlight of his ongoing show at the Riviera, in which an audience recruit chooses which swords fall one at a time around Rouven.
"This one I invented for the German 'Phenomenon' series," Rouven says of his "Table of Death" illusion. The illusion developed by his team aired on German television in 2009.
"I think Criss Angel saw it at the Clarion," where Rouven performed in 2011. "He really liked that one. … We had a fun conversation about it," but Angel never asked for permission to perform it.
Angel films the stunt for a new Spike series debuting in October, carrying the same name as his live show: "Criss Angel BeLIEve." A spokesperson for Spike sent a statement crediting the illusion to Clive Barker and his 1995 horror film "Lord of Illusion."
"Before Criss even began the creative process for this demonstration, he sought out Mr. Barker and was given his whole-hearted approval of the homage," the statement says.
Rouven's manager, Frank Alfter, responds that the movie "might be the original idea, but we turned it into a magic illusion. It's totally different."
Rouven says it's hard to copyright or protect an illusion. "It's an ethical thing. You don't do it," he says. "You don't steal other people's ideas."
That notion of settling disputes within the fraternity was challenged last year when Teller of Penn & Teller sued Dutch magician Gerard Dogge for allegedly stealing his copyrighted illusion "Shadows."
The Spike series gets Angel back into the Magic in Media game that now has Penn Jillette of Penn & Teller out in front, having made the final four of "Celebrity Apprentice."
The May 19 finale of the Donald Trump firing fest has plenty more Las Vegas connections. It's based in New York but promises guest appearances from the Blue Man Group, Taylor Hicks, Wayne Newton, George Wallace and that Teller guy.
Jillette's camp has to be vague because an in-between episode airs Sunday (the series was shot in November). But Jillette will be doing a 10 a.m. Monday promotion for Opportunity Village, the charity he competes for on the show, at Walgreens on the Strip near Planet Hollywood Resort. …
Show producer David Saxe has seen bad reviews, but nothing like a decision from the National Labor Relations Board that left him bloodied but victorious.
Saxe prevailed in a complaint by former dancer Anne Tracy Carter, who had alleged she was dropped fom "Vegas! The Show" for complaining about working conditions and trying to organize employees.
Eleanor Laws, the administrative judge who presided over a hearing in December, ultimately found Saxe did not violate Carter's contract by choosing to let it expire, rather than firing her during the contract period.
In a 29-page decision, Laws recommended dismissal of the complaint in lieu of convincing proof Carter was let go in retaliation for "protected concerted activities."
However, she found David Saxe Productions did violate labor law by "prohibiting employees from engaging in protected concerted activities and threatening and demeaning employees."
Saxe was ordered to rescind rules that prohibit employees from discussing wages or working conditions, and to post notice informing employees of their rights.
Saxe's choreographer, Tiger Martina, impressed the judge more than the producer himself.
"My belief of Martina's testimony, coupled with the serious credibility problems of Saxe's testimony, presents a conundrum," she writes. "I found Martina to be credible and I believe his desire to replace Carter … was based on legitimate concerns about her dance style and her attitude."
"While I do not doubt that Saxe valued Martina's input, it was clearly not the only thing he considered," she wrote. In a footnote, the judge added, "At various points in the trial, Saxe noted his ADHD, medication for allergy/sinus problems were impacting his concentration."
Saxe was no fan of the judge either. He said the hearing cost $150,000 in legal fees and was "unprofessional, inappropriate and so biased it was ridiculous. It's just a waste of government money to go through something so stupid."
"They should look into the NLRB because it's a scam," he says.
Contact reporter Mike Weatherford at mweatherford@reviewjournal.com or 702-383-0288.
Click here to go to a YouTube video of an illusion performed by Jan Rouven.