Ticketed shows grow amid free options in downtown Las Vegas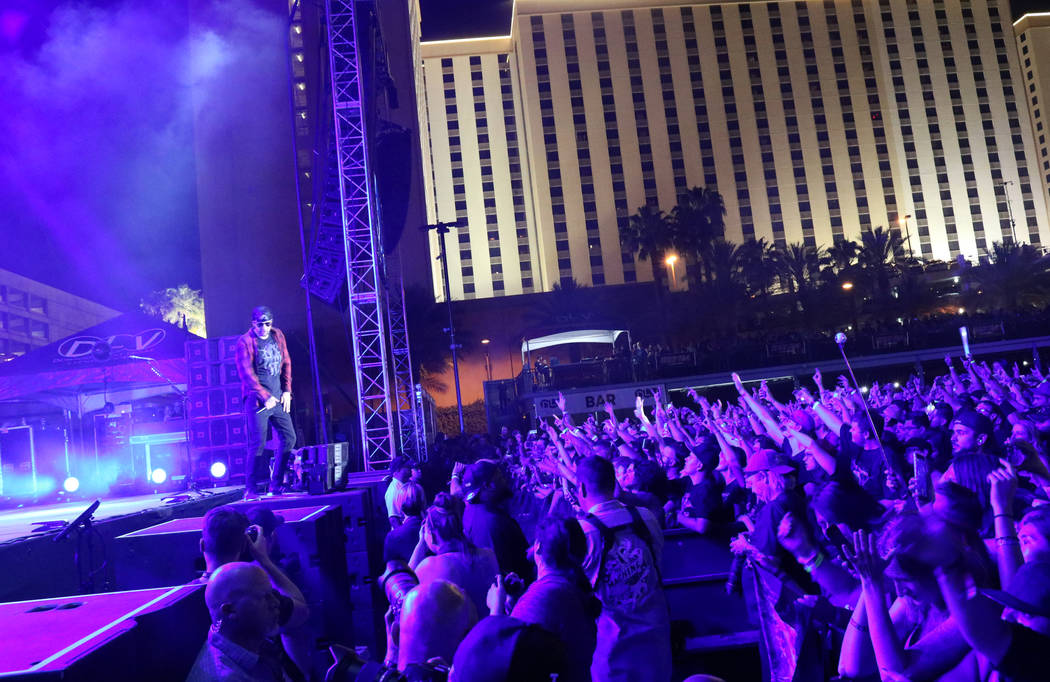 Spider-man and the buff dude coated in silver bodypaint turn a lot of heads out on Fremont Street, but Derek Stevens' vertical-stripe ringmaster's jacket attracts attention too.
Especially when he's wearing it while introducing hard rockers Avenged Sevenfold to their tattoo and black T-shirt crowd, as he did at last month's Las Rageous festival in the outdoor Downtown Las Vegas Events Center he built near his D Las Vegas.
"I usually introduce every band that we've got," Stevens said last week. "I like to see what the crowd looks like. I like to see if people are smiling and if they're happy. For me, that's a lot of feedback. I like to walk the crowd, even if it's like a Dropkick Murphys-type thing. Mosh pits and whatnot."
That old-Vegas personal touch helps explain why ticketed entertainment is expanding in a downtown that created plenty of free distractions: live music on two stages, yard-long margaritas and a carnival midway's worth of costumed characters.
The two old-school hotel showrooms that always anchored Glitter Gulch — the Plaza and the Golden Nugget — have awakened from their slumbers. But the growth is in festivals and focused events.
"This year we'll have four festivals and last year we had none," Stevens says of the Events Center, which opened in late 2014 at Carson Avenue and Third Street.
This weekend, the Events Center is hosting Punk Rock Bowling, which moves over from a vacant lot near the freeway. Saturday brings the Scars and Stripes festival, with 3 Doors Down headlining a bill to benefit veterans causes.
Last weekend also saw the debut of the Crapshoot Comedy Festival in seven clubs and venues in and around Fremont Street. Promoter Paul Chamberlain calls it a strong start, despite Mother Nature sabotaging the first night. Strong winds and an unseasonable chill canceled two shows and wreaked havoc on the kickoff party and outdoor box office in front of the Zappos building.
Even so, "the prototype went into space and came back. It didn't blow up on the launchpad," Chamberlain says.
The experiment was risky when it came to testing unproven venues. "The comics really enjoyed the rooftop at Commonwealth," Chamberlain says, and "the little shining star out of all of it was the Fiesta Room at El Cortez."
By contrast, the outdoor Beauty Bar patio proved too noisy, and next year's fest will attempt to "keep it to Fremont Street" instead of straying to other downtown locations.
"There's some really fun things available as we go east instead of trying to cross the Rubicon," Chamberlain says, including new bars and potential spaces that "didn't pencil out for our first year."
But Memorial Day weekend also hosted Vince Neil in a free Saturday show in front of the Downtown Grand, followed by tribute bands channeling the likes of Journey and Foo Fighters on Sunday. And the Third Street Stage hosted Canadian rockers Theory of a Deadman on Friday.
How can you compete with free?
"I think the combination of the ticketed and the free actually works well together," says Rikki Tanenbaum, the Golden Nugget executive who oversees marketing. "I think it's overall a pretty comprehensive entertainment experience."
Rumors of a Broadway musical for the Nugget's showroom haven't been completely quashed by veteran showmen Frankie Moreno and Clint Holmes sharing the room for at least the summer. "The reality is we're always looking for options, because we have so many repeat guests," Tanenbaum says.
But whatever is on the stage, "We're very bullish on keeping our showroom alive," she adds.
Stevens says he still has to be "tight-lipped" about whether the redevelopment of the Las Vegas Club and surrounding properties will have a formal show venue. But he doesn't think that anything inside will be hurt by what's outside. "I'm such a big believer in Fremont Street and how much fun it is," he says. "I think just the element of having more people around is a positive for all businesses."
Contact Mike Weatherford at mweatherford@reviewjournal.com or 702-383-0288. Follow @Mikeweatherford on Twitter.