Vegas 'Phantom' star loses mask, takes on new icon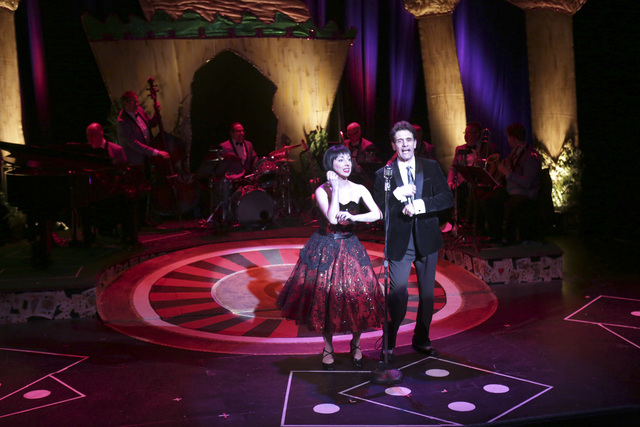 Anthony Crivello hadn't heard about the musical based on "Duck Dynasty" yet.
(His reaction was the usual: "Are you kidding me?")
That's because he's been busy in Chicago starring in one he thinks would be a much more natural fit for Las Vegas. Start with the title: "Louis & Keely 'Live' at the Sahara."
Crivello has shed the mask he wore for six years as the star of "Phantom — The Las Vegas Spectacular" and is playing Vegas lounge legend Louis Prima in the musical, which recently opened to strong reviews at the Royal George.
Prima and singing spouse Keely Smith gave Las Vegas a musical image in the 1950s, turning "lounge" into a sound and an attitude as well as a location. Though the Sahara is now the SLS, and lost its formal show spaces in the conversion, you don't need Crivello or me to connect the dots back to the Strip.
"Louis & Keely" follows the format of "Million Dollar Quartet," in blending biographical drama with straight-up re-creations of the duo's Las Vegas act.
"It's not an impersonation," Crivello says of the play directed by Taylor Hackford, whose movie credits include "Ray."
"We are grabbing the essence of what that act was and what those performers were, and their energy."
If "Million" managed to gain a foothold on the Strip and avoid confusion with standard Elvis impersonations such as "Legends in Concert," maybe the "Louis & Keely" piece could follow suit.
Actors usually roll their eyes when people are shocked to see them play wildly different roles.
"I've already gotten that. 'Wait a minute. It's the Phantom? That voice is going to be singing Louis Prima?' " Crivello says with a laugh.
Yet, it isn't hard to see parallels in the stories of older men trying to possess and dominate young ingenues. Prima was 18 years older than Smith, and couldn't handle it "when her star superseded his," Crivello says. "It was such a blow to his ego" and made him confront his age. "All those insecurities come roaring to the front."
The actor calls Prima "a multilayered very complex, happy but tortured Pagliacci kind of man." So it's no wonder he wants to follow this to Broadway or Las Vegas.
And it's an odd convenience for producer Hershey Felder to have a leading man with more than a passing knowledge of Las Vegas entertainment. Crivello had a front-row seat for "Phantom" going into The Venetian under lopsided terms as a rent-paying tenant, then renegotiating to stay on with more hotel support after the recession hit.
"It was bloody difficult," Crivello recalls.
He may not be able to line up a good deal, but he can help Felder steer clear of a bad one.
But first things first. "The objective right now is conquer Chicago," he says. "We have to show people this is a moneymaking commodity."
Read more from Mike Weatherford at bestoflasvegas.com. Contact him at mweatherford@reviewjournal.com.