'X Burlesque' has staying power due to wider appeal
February 20, 2014 - 11:21 pm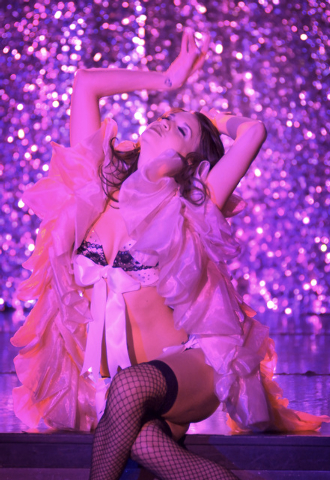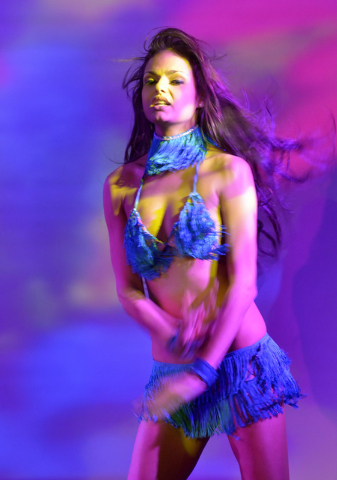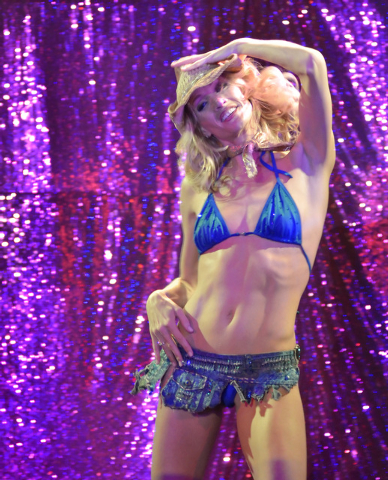 If you get to "X Burlesque" early, there's a preshow video in which Howard Stern asks the same question I always used to ask.
"Who goes to burlesque shows?" Stern wants to know, interrogating "X Burlesque" dancer Chiara (Strzesiewski).
"I don't get this burlesque," sidekick Robin Quivers chimes in. "Why not just go to strip clubs?"
Chiara tries to explain there is no physical contact in the casino show, and that the "X" girls tend to be better dancers than most strippers.
Granted, both of those answers could be turned into negatives. So Howard and Robin really need to visit the Flamingo and look at the audience to really find out why I quit asking about the strip club thing years ago. (A recent Las Vegas proclamation honored 12 years of "X Burlesque," but technically it must stick around until fall to celebrate its debut as "X" in what's now Planet Hollywood Resort.)
There are way more couples in the crowd than single dudes or groups of guys. When comedian Nancy Ryan does her 10 minutes of crowd work, she unearths that some of them have been married 14 and 22 years ("Three more and you're done!" she declares of the latter).
So it's a little tricky for a guy to duck out on his wife or girlfriend to visit a strip club during a Vegas vacation. But somehow she agrees to play along when the show is within casino walls and packages its topless attractions with energetic choreography and creative, often witty vignettes. There is a stripper pole, true, but only as an accent mark to certain numbers.
"X Burlesque" has become a cottage industry for producers Angela and Matt Stabile, who have spun off "X Rocks" and "Raack N Roll" in recent years. But the Flamingo original remains the strongest of the three, with the largest stage and the widest musical appeal. It starts with Maurice Chevalier and gets to Metallica and Rihanna before the 70-plus minutes have wrapped up.
The more forgettable numbers come and go as the producers update the music and offer new segments for repeat visitors. But the new stuff is always built around the "greatest hits," including a bathtub scene that's been a highlight since "X" debuted: As the house lights go down to create a series of sequential blackouts, two dancers move in the darkness then freeze when the lights come up, creating a "moving pictures" scene of how they get to be good friends.
A guy will always be pulled from the crowd to be plunked into a chair and embarrassed by the crew of "flight attendants," making him either relieved or sorry about his choice of underwear that day, or wishing he had gotten some sun on that belly.
And we will always see three sets of stockinged legs in the air, the rest of the bodies concealed as they make synchronized patterns, until the top halves of the other three dancers come into the scene to, pun intended, pair off.
The cast, of course, changes over the years, although thankfully, sisters Shakeera and Meeka Onstead started so young they've been onboard for a good 10 years. But the other constant of the show is that each of the six dancers gets to sport her own "look" and have a featured solo.
Shakeera Onstead is always a showstopper as she mimes the words to a retro-naughty tune called "Would You…?" by Touch and Go. In perhaps the closest nod to old-school burlesque, Tiffany Green is "the girl in the Champagne glass," as they used to call the number in the 1950s (alas, no liquid in this one).
Nanako Hawley turns an eye-roller of a song, Aerosmith's "Dream On," into an offbeat turn in ballet slippers in front of a three-panel mirror, which delivers an eerie punch line tied to a black-and-white video that sets up the sequence.
Don't worry, these few artsy touches don't get in the way of your chair dances and boas, and your Daisy Duke cowgirl shakin' to Justin Moore's "Back That Thing Up." Whitney Giron gives us the bump-and-grind Led Zeppelin medley, while Meeka Onstead turns on a sparkly pedestal as the Shirley Bassey Bond theme "Diamonds Are Forever" gives way to Rihanna's "Diamonds."
Such a blatantly democratic appeal explains the show's dozen-year longevity, and how a topless casino revue competes with a strip club. If it's not clear to Stern, it seemed pretty obvious to the older guys in the ball caps in the front row.
Contact reporter Mike Weatherford at mweatherford@reviewjournal.com or 702-383-0288.
Review
"X Burlesque"
10 p.m. daily
Flamingo, 3555 Las Vegas Blvd. South
$49.45-$61.55 (702-733-3333)
Grade: B