Vintage railroad depots offer glimpses of Nevada's past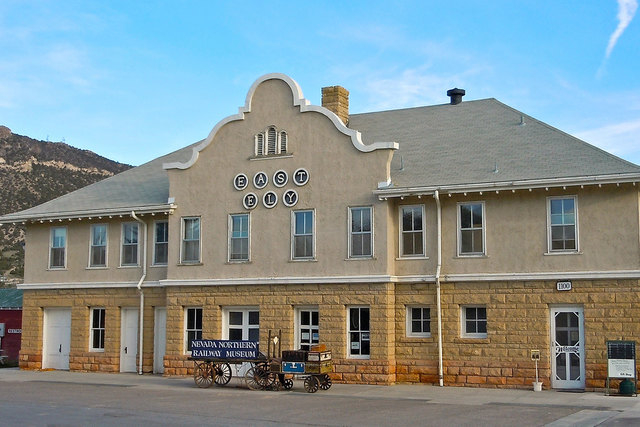 Symbols of a bygone era, vintage railroad depots survive across Nevada. Take time to visit a few of them for glimpses of yesteryear. They represent an era when dozens of railroads connected Nevada's boomtowns, mining camps and cities with the rest of the country. Most of the shining rails and wooden ties were long ago repurposed for other uses, leaving scars of roadbeds, scattered trestles and bridges, tunnels, a few sheds and fewer than two dozen depots still standing.
Although Las Vegas started life in 1905 as a railroad town and welcomed its first Union Pacific depot in 1906, all signs of the days of passenger train travel have disappeared from downtown. The first two-story, red-tile-roofed mission revival-style depot with arched porch galleries surrounded by lawns and shade trees served the growing town for more than 30 years on Main Street at the end of Fremont Street. It was replaced in 1940 by an art deco/streamlined moderne structure that saw Las Vegas to the end of the passenger train travel in Southern Nevada. The second depot was demolished in 1969 to make way for the Union Plaza.
The Union Pacific built a similar mission revival-style depot in Caliente in 1923. Saved from demolition, the Caliente depot now houses city offices and a small public library. A trackside boxcar nearby displays artifacts of Caliente's railroading past. To see what the Union Pacific's mission revival-style depots looked like, visit the restored 1924 Kelso Depot about 135 miles south of Las Vegas on the Mojave National Preserve, now a National Park Service visitor center and museum.
The Union Pacific's spur from Las Vegas to Boulder City carried building materials for the construction of Hoover Dam in the 1930s and later served the industrial plants in Henderson. Boulder City's wooden depot was relocated to the Clark County Museum in 1976, the first historic structure to be moved to the site. Some of the Union Pacific's track through Boulder City is now part of the Nevada Southern Railway, a state museum and excursion line.
Located just 4 miles from Beatty, about 120 miles from Las Vegas, the ghost town of Rhyolite features lots of scenic ruins, an intact house built of liquor bottles and a mission revival-style depot built in 1905. The depot served three parallel railroads when Rhyolite was in its heyday, then home to 10,000 people.
One of the best preserved vintage railroad facilities in the country, the Nevada Northern Railway's depot, railroad yards, maintenance buildings, steam and diesel locomotives, rolling stock, tracks and outlying facilities were formerly part of Kennecott Copper's operation in Ely. Donated for use as a museum, the railway is part of Nevada's museum system with a busy schedule of excursion trains and railroad experiences. The distinctive brick-and-stone East Ely depot was built in the popular mission revival style in 1907. The depot at Cherry Creek was relocated to Ely for use by the White Pine County Museum. The 1907 wooden depot in Curry is still in place, part of the Nevada Northern's holdings, as is the depot in McGill.
Several depots in the Reno-Sparks area still stand, including the 1926 stucco Southern Pacific/Virginia and Truckee depot on Center Street in Reno, which is now an Amtrak stop. The V&T's 1872 depot in Gold Hill is now a museum. Wadsworth's depot was moved to the Sparks railroad yards in the early 1900s, where it still houses offices and an Amtrak stop. The distinctively trimmed, three-story, red-brick depot on Reno's Fourth Street, built in 1910 by the Nevada-California-Oregon Railroad (later part of the Western Pacific), is now open as the Depot Craft Brewery and Distillery.
Elsewhere in Nevada, the Southern Pacific's 1906 Wabuska depot was moved to the Nevada State Railway Museum in Carson City. Fernley's 1914 Fernley and Lassen Railway depot was relocated and restored. Dayton's 1881 wooden depot on the Carson and Colorado Railroad was relocated to U.S. Highway 50. Lovelock's 1880 Central Pacific depot is the only remaining Eastlake, or Stick style, of six built by the railroad. Restored, it houses a visitor center and business.
Old passenger stations still stand in Elko, Gerlach, Goldfield, Luning, Hawthorne and Winnemucca, most repurposed.
Margo Bartlett Pesek's column appears on Sundays.