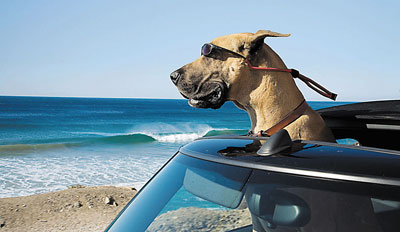 Movie: "Marmaduke"
When: Opening Friday at local theaters
Cast: Voices of Owen Wilson, Kiefer Sutherland, Sam Elliott, Christopher Mintz-Plasse, Fergie, Steve Coogan, George Lopez, plus William H. Macy, Judy Greer, Lee Pace
Director: Tom Dey
The story: Everything's just beachy for the title comic-strip canine when his family moves to Orange County — at least until Marmaduke reverts to his mischievous self.
The buzz: Owen Wilson adds another voice-over to his credits, following his starring turn as "Cars" speed demon Lightning McQueen and his droll supporting role as "Fantastic Mr. Fox's" Coach Skip, who so memorably explained the convoluted rules of whackbat. After co-starring in "Marley & Me," however, Wilson should have no trouble giving voice to this movie's lovable Great Dane. Wilson and director Dey first worked together on what might be described as a live-action cartoon: the 2000 Eastern Western romp "Shanghai Noon," which teamed Wilson with Jackie Chan.